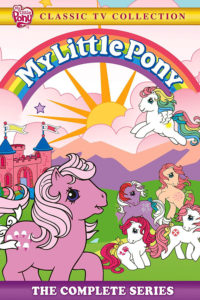 Title: The Glass Princess (Parts 1-2)
Summary: Pony Olympics! Yes, it's the Pony Olympics! With no explanation about why! Can't make it up. (Although, I guess the writers did.) More 'villain of the week' crap; this time it's Porcina and the Raptorians, who are after magic to use in order to repair Porcina's magic cape. Dove's favorite, the Sasswoolies, return for more madcap adventures with the Ponies.
Grade: D-
Initial Thoughts:
Hello and welcome, again, to this continued semi-nightmare road trip of childhood nostalgia that is the first season of My Little Pony 'n Friends. I'm sad that I can't say this is the halfway point through season 1, since that won't be until episode #25, and we're quite a ways off from that, still.
Anyway, Dove and I are doing our best to get through these poorly crafted/written episodes involving Ponies and their, um, friends. On deck today is the first half of "The Glass Princess", which I honestly do not remember. I keep confusing it for the episode when the Princess Ponies show up, but that's not for a while. The fact I remember nothing — and probably won't even when I'm watching it or will suddenly something will trigger my memory? — should be interesting.
[Dove: I also thought this was about the Princess Ponies. Clearly we're so frazzled that we can only react to a single word in the title. This is further evidenced by my confusion over The Ghost of Paradise Estate being the episode where furniture comes to life.]
Let's just get this over with.