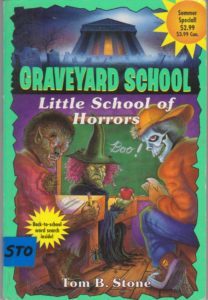 Title: Graveyard School #26 – Little School of Horrors
Author: Tom B. Stone/Nola Thacker/D.E. Athkins
Cover Artist: Mark Nagata
Tagline: N/A
Summary: It's The Most Horrifying Time Of Year In Grove Hill – Back-To-School Time!
Back to school.
Ghouls rule. Teachers drool.
Dead things walking are nothing shocking.
Blue is new at Graveyard School. But he knows right away that he's going to class at Creep Central. Just look at the teachers. The principal. Even the janitor. But worst of all, look at the kid who wants to be Blue's best friend. With friends like these, who needs enemies?
Welcome to Dead Kid 101.
[Wing: This summary made me laugh. I'm delighted.]
Initial Thoughts
Looking at the cover Wing you can guess why I picked this for your b-day month, and lucky for you this is also one of my favorite books in the series.
What's weird about it is this book has got some world building shit going on, and the way it reads you'd THINK it would've been the first in the series. It gives a much better sense of how big the sixth grade class is, even for a small town, which puts it at odds with the Fear Street Seniors series for how it only focused on a handful of the 12th grade class and then made sporadic, frustrating references to all the OTHER kids in the graduating class.
But this is frustrating for me because this was the third to last in the line, and none of the other kids introduced in this book appeared in "Here Comes Santa Claws" or "The Spider Beside Her." I can't help but wonder what Thacker might've had planned for this series if #28 wasn't the last. God knows I still have some notes from way back in high school on ideas I had for stories with these guys.
And we also get a look at racism through the eyes of a kids horror book!
[Wing: I do love the surprise on that cover, thank you! It's strange that this isn't the first book in the series, or that the world building here wasn't included in the first book, at least. Though, I did like the pacing on the first book, and this information might have slowed it down.
No matter what, I'm super excited about this!]