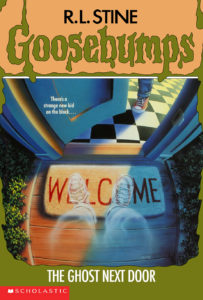 Title: Goosebumps – The Ghost Next Door
Author: R.L. Stine
Cover Artist: Tim Jacobus
Tagline: There's a strange new kid on the block…
Summary: "How Come I've Never Seen You Before?"
Hannah's neighborhood has gotten a little-weird. Ever since that new boy moved in next door.
But when did he move in? Wasn't the house empty when Hannah went to sleep the night before? Why does it still look so deserted?
Shes not getting any answers from her new neighbor. He just keeps disappearing in the oddest ways. And he's so pale…
Is Hannah being haunted by…
…the ghost next door???
[Wing: Adorable summary.]
Initial Thoughts
Now we've reached one of the true classics of the original series, the tenth of the first twenty books back when Stine was still establishing the trends and style of the franchise. For those who've read the early books, you know already a number of them had an atmosphere that hasn't been properly revisited in any of the later works. They seemed to carry with them a sense of real despair and fear before Stine began to realize the books might've been too scary for kids. [Wing: Which is a shame. Kids are better at scary things than adults want to give them credit for handling.] I think he's mentioned if he got the chance he'd rewrite "Welcome to Dead House" to make it funnier. Which I hope he never does.
This one's got a twist in it most people might already be familiar with considering it was adapted for the trading card series, the TV show, as well as the movie. Well, I'm not spoiling it for new readers just yet, and since I don't have any commissions related to this one I'm gonna be scanning the three trading cards depicting certain scenes. Luckily they were illustrated by Walter Velez, who provided some of the best artwork for the card series.