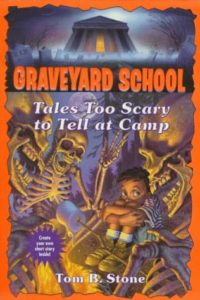 Title: Graveyard School #13 – Tales Too Scary To Tell At Camp, a.k.a. "1001 Graveyard School Nights"
Author: Tom B. Stone, a.k.a. Nola Thacker, a.k.a. D.E. Athkins
Cover Artist: Cam De Leon (U.S. Cover), ???? (Lithuanian Cover)
Summary: Warning: Don't Read This Book In Your Bunk!
These thirteen chilling stories will send you screaming for cover. From howling heads to shrieking stalkers to larger-than-life lice – read about the unnatural, the bizarre, and – worst of all – the unexplained.
Stay near the campfire. The scariest creatures of all might be right behind you!
Initial Thoughts
As thanks for putting up with my depression last month, I've chosen to do recaps focusing on some of my favorite books which means another short break from the chronological order. I just wish I had some commissions to add to this one.
"Tales Too Scary" is special in the Graveyard School series because it's the only entry that's an anthology of stories. Unlike the "Tales To Give You Goosebumps" books, this one has a framing story encompassing the first and last chapters, and a features an eclectic grouping of the GS cast including my favorite, Jordie "The Human Computer" Flanders. The situation's a cross between "Hansel and Gretel" and "1001 Arabian Nights" which of course captured my interest right away.
One of the stories is interesting because it's told in three parts by three different storytellers.
You wanna believe I began the draft for this last year after I was officially made a recapper by Wing? I couldn't wait to share this with all of you.
Also, I simply had to include the Lithuanian adaption's cover artwork because I can't tell if it's horrible or amazing.
As a head's up Wing, there IS a story with bugs, but it doesn't include spiders.
[Wing: Thanks for the head's up. I personally adore the Lithuanian cover, though that doesn't really answer the whole horrible or amazing question, because either, both, whatever, I would still adore it.]