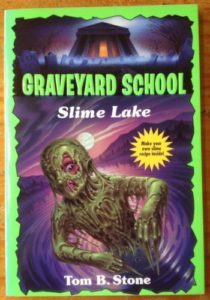 Title: Graveyard School #7 – Slime Lake, a.k.a. "Protect The Environment! Or I'll FUCKING KILL YOU!"
Author: Tom B. Stone, a.k.a. Nola Thacker, a.k.a. D.E. Athkins
Cover Artist: U.S. – Cam DeLeon, U.K. – ??? [Wing: That UK cover is something else!]
Tagline: "You've Been Slimed!" (U.K. Version)
Summary: Don't Go In The Water!
Marc and his twin sister, Terri, are excited about spending the summer at their uncle Nicholas's lake house. Even though their uncle is an old grouch, Marc and Terri enjoy the lake and their summer friends in Grove Hill.
But this summer is different. Suddenly the once placid lake has motorboats, fishermen, and crowds. Even worse is the gross green slime that's been popping up on boats and docks and swimmers. When Terri goes for a swim and doesn't return, Marc wonders what exactly is lurking under the water…
Initial Thoughts
Hey Wing, so a little good news/bad news for you. The bad news is this book doesn't have werewolves. The good news is it's got your other favorite thing, twins!
(Terri and Marc by zackdoesalotofstuff)
[Wing: I think you may be overestimating my excitement for twins at this point, thanks to Sweet Valley, but Terri and Marc are super cute!]
This is the first and only book in the series to have twins as the main characters, and it's also one of the books that heavily feature a message about environmentalism.
Slime Lake was previously referred to in the last book, "Camp Dracula," but now we're gonna find out just how gross it really is!