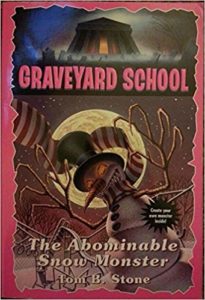 Title: Graveyard School #9 – The Abominable Snow Monster, a.k.a. "Where's Global Warming When You Need It?"
Author: Tom B. Stone, a.k.a. Nola Thacker, a.k.a. D.E. Athkins
Cover Artist: Came DeLeon
Summary: There Must Have Been Some Magic…
Kyle's convinced – he's created a monster! But what else is there to do when Grove Hill gets hit with thirteen snow storms?
Now his sinister snowman is on the loose, and Kyle has to figure out a way to melt him down. If Kyle fails, the snow monster is sure to go on a rampage – and he won't be a jolly happy soul!
Initial Thoughts
Nothing puts you in the mood for summer than a nice story about a killer snowman. It's interesting to me that Kyle Chilton would only be the main character in two books that are both about winter, but the placement is odd because I have to believe this takes place AFTER "Here Comes Santa Claws." The book explicitly ends during the last few days of winter when spring is around the corner. For some reason, online bookstores like Amazon made it sound like "Here Comes Santa Claws" was a sequel to this book, even though it's NOT. There's mention of a great aunt's funeral, but it definitely didn't sound like Mab's.
So take your mind off the July weather by imagining all the trimmings of winter. Roaring fires in the hearth, delicious mugs of piping hot chocolate, thick wool socks on your feet, plush and cuddly quilts and comforters to keep you nice and toasty, and the sound of hot radiator steam fogging your windows.
[Wing: You son of a bitch.]