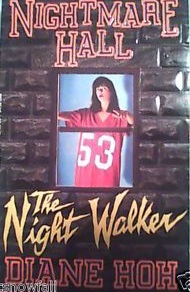 Title: Nightmare Hall #9: The Night Walker by Diane Hoh
Summary: Quinn Hadley is sure she must be the only sleepwalker at Salem. It's so embarrassing, especially since she never remembers where she was or what she was doing. But it's never been a problem. Until now. Because someone is roaming the campus, attacking people in the middle of the night. No one knows who the crazed night stalker is. But all the clues point to Quinn.
Tagline: None.
Notes: I will now refer to the bad guy as "Muffin Man" because of The Mall. It doesn't necessarily mean they're male.
Initial Thoughts
Apologies for the delay in this recap. I have spent the last month fighting an infection in the big toe of my left foot. A small little scratch has led to two visits to hospital (one of them a week long), several combinations of antibiotics, and wearing a knee-length cast on my leg to keep pressure off it. I had put most things off while trying to get better, but at this rate, everything will be on hold until October (well, that's what it feels like), so I just have to get back to it!
Much to my relief, Queen of YA Suspense, Diane Hoh, has returned to Nightmare Hall. Nola Thacker's work tends to leave me sad, and angry at the world. I'm looking forward to this one. If I remember correctly, it had a slightly more tricky plot than usual. I have no idea if its representations of sleepwalking are anywhere close to the truth, but after The Experiment, and recent life events, I'll just be happy with a fun, fast-paced story.
[Wing: Damn, I had no idea a small scratch could lead to so much pain and difficulty. I hope you finish healing quickly.]