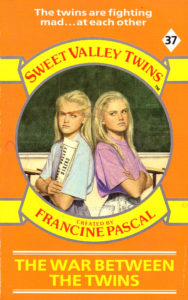 Title: The War Between the Twins
Tagline: The twins are fighting mad… at each other!
Summary: Bitter rivals…
Jessica Wakefield has written an article about the Unicorn Club for the class newspaper The Sweet Valley Sixers. As its editor, her twin sister Elizabeth has promised to run the article in the very next issue. But when Elizabeth has to take Jessica's article out at the last minute, Jessica is furious!
Jessica and her fellow Unicorns decide to teach Elizabeth a lesson by starting their own paper, The Unicorn News. Before long, it's clear that Sweet Valley Middle School isn't big enough for two newspapers, and Jessica's begins to take the lead. Will Elizabeth's beloved Sixers be able to hold its own against the sensational news that the Unicorns print?