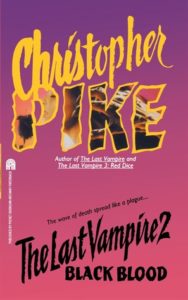 Title: Last Vampire #2: Black Blood by Christopher Pike
Summary: Believing that she and her partner, Ray, are the last remaining vampires, five-thousand-year-old Alisa is stunned when she learns about a series of brutal murders in the United States that can only be the work of their own kind.
Tagline: The wave of death spread like a plague…
Initial Thoughts
I know I've read this one before, but I have no memory of what happens. Apparently, my memory, like the last book, ends in that cliffhanger of whether Alisa will live or die. I mean, I'm assuming she lives, considering there's still a number of books to go, but I suppose Ray could be the new last vampire. But I doubt it.
Reminder: Last book ended with Sita: breaking her vow to Krishna and making another vampire; blowing up Yaksha, her creator; accidentally getting impaled by a piece of wood; and potentially dying in true peace because she realises she didn't actually break her vow to Krishna.
ALISA I'M BETTER THAN ALL Y'ALL PERNE ROUND TWO.
Let's do this.