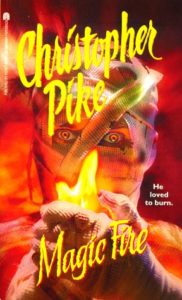 Title: Magic Fire
Author: Christopher Pike
Cover Artist: Franco Accornero
Tagline: He loved to burn.
Summary: He just had a thing about fire.
Mark Charm is a pyromaniac. Since the time he was a child, he loved to watch fires. But it is only in his senior year at high school that he takes his personal obsession citywide. It is a dry autumn in Southern California and the desert winds are blowing. Mark has a box of matches, and it is late at night. Would it be so bad, he thinks, if the whole state burned?
Initial Thoughts
My first Christopher Pike recap! I ran it by Wing and made sure this wasn't one of the books she plans to recap for the website. [Wing: I've never actually read this one before! Excited to see what it's like.]
[Wing: We encourage recappers to tie the personal to their recaps if they're comfortable doing so, because, as you may have noticed, we bring different perspectives and experiences to the table, and that's a part of what I cherish about this site and this community, recappers and readers and podcast listeners. Jude talks about quite a personal story in this recap, and he wrote an introduction to why. For length and site design purposes, I have moved that to the end of the recap, where the bulk of the discussion takes place.]
This book is strange, because the online summaries didn't do it nearly enough justice. This is one of those books like "Fear Hall" which I tend to cling to. A lot of you may feel the twist at the end comes from out of nowhere, but as I'll discuss in the final thoughts, I believe there were clues from the beginning.
Also, I'm not sure how to feel about usage of the term "Pyromaniac," if that falls under ableism or not. That type of thing's never really been something I've thought about in regards to mental illness, so if anyone wants to start a discussion I wouldn't argue against it. [Wing: That is an interesting point. It is an actual diagnosis, and I don't think "pyromaniac" and "pyromania" themselves as words are ableist, no more than "mania" or "manic" is. To me, ableism comes in how the word is used, particularly whether it is being used pejoratively, whether it is being used in a way that causes harm to or others the people to whom it is applicable.]