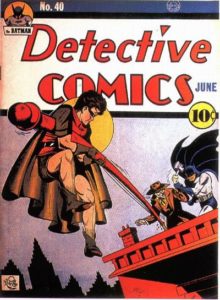 Title: Detective Comics #40 – The Murders of Clayface
Writer: Bill Finger
Penciller: Bob Kane
Inker: Jerry Robinson
Initial Thoughts
I don't talk about this as much, but before I was ever a Titans or Legion fan I was a Batman one. It started, of course, thanks to Bruce Timm and Paul Dini's animated series, but as I got older I tried to dig deeper into the more obscure aspects of Batman's history. I was more fond of the Golden and Silver Age stuff like Kathy and Betty Kane, the original Batwoman and Batgirl, and villains like Doctor Double X and the Rainbow Beast.
My favorite member of Batman's Rogues gallery is undoubtedly Clayface. But here's the thing, there are over seven of them! If you watched the Batman cartoon, you probably remember Clayface looked like this:
And in the comics, he did. One of them did. Well, after the cartoon happened, people began using THAT design as a default appearance which made things frustrating. The cartoon version was a combination of the first three Clayfaces. The very first, who appeared in Detective Comics #40, wasn't a shapeshifter. No, he was a serial killer with a grotesque face. But I can't say much more than that because it would spoil the story.