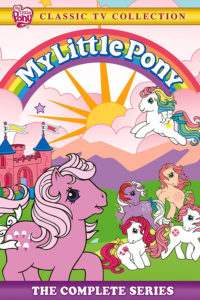 Title: The Revolt of Paradise Estate (Part 1-2)
Summary: The Ponies are terrible slobs and fail to do any upkeep or property improvement on their vast land holdings, so Paradise Estate (and its contents) rise up again their equine oppressors. There's some kind of magic paint involved and yet another character who wants to steal the Ponies' home. Wash, rinse, repeat.

Grade: F—————————–

Initial Thoughts:
OH MY GOD. I DID IT. I SUCCESSFULLY SURVIVED SEASON ONE OF G1 MY LITTLE PONY. HOLY FRICKIN' COW, I AM FREE. FREEEEEEEEEEEEEEEE!
[Dove: Really? It feels like the recap equivalent of being at Newark Airport. I know that eventually it will end, but I've no illusions it'll be any time soon. (Dove is very bitter, in the space of two layovers, she spent 30 hours there.)]
Well, okay, as soon as this damn recap is completed, then I am free. Until we start season two. Which, from memory, is awful, possibly worse than season one.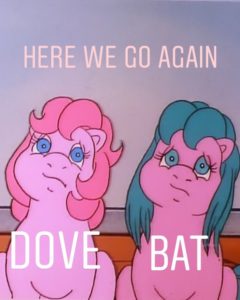 But holy shit I am celebrating now, because this has been a very long slog. How many years ago did we start this, Dove? How much have we aged and how bitter and more jaded have we become, due to this cartoon?
Honestly, it's been an honour to suffer (alongside Dove) through what seems like hundreds of hours of bad plots, terrible writing, subpar animation, insufferable Ponies, cartoon teen girls with white savior complexes, MAGIC THAT HAS NO EXPLANATION WHAT SO EVER, and then there was that episode with the red ball. God, I'm never going to get over that particular nightmare.
Throw in some heavy handed topics like drug use and predatory grooming, plus all the times the writers botched the moral messages… it's amazing Dove and I didn't give up. (Dove still has two episodes to go, appropriately entitled "Through the Door".)
Okay, focusing in on this final installment, this is one I partially remember, at least in concept. I kind of don't want to say anything because it is a wild concept — just look at the title — and leave it all for a surprise for those that haven't seen it. I will, however, leave you with a cartoon from The Far Side (which I read constantly as a child and probably explains some things) which has always reminded me of this particular episode:
[Dove: This is the one episode I actually remember. Well, except for the one where the travelling fair comes to town and… something happens. In my games, a witch stole everyone's magic and symbols and the ponies were so upset, they couldn't bear to look at themselves without their beautiful symbols, so they wore robes to hide them (a nice scarf my mum never wore, cut up rather roughly with her best dog trimming scissors). Eventually Strawberry Fair saved the day with super Mary Sue powers. But that never happened in the show.
Anyway, back to this episode. I seem to remember this being a fun idea in concept, but since it's MLP, it's bound to be terrible in execution.]