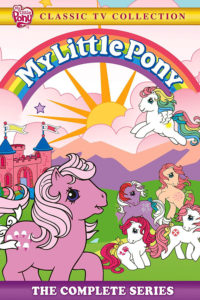 Title: The Magic Coins – Parts 1-2
Summary: Those crafty Baby Sea Ponies give the …land?… Ponies a chest full of cursed magic coins which grant the Ponies wishes! But, without much explanation, the magic comes at a cost. This is basically the plot of Pirates of the Caribbean: The Curse of the Black Pearl but… without… pirates and Johnny Depp. Oh, no it isn't. Unless that's Johnny Depp voicing the Moochick?

Grade: C

Initial Thoughts:
"This will be fun!", we said. "Look how much fun we'll have reliving our favorite childhood cartoon!" WE FUCKING LIED TO OURSELVES, PEOPLE. DOVE AND I HAD NO IDEA WE'D END UP IN A CANDY-COLOURED CARTOON HELLSCAPE FULL OF TALKING PONIES LED BY A WHITE GIRL SAVIOR TROPE. [Dove: We chose this. Why would we do that?]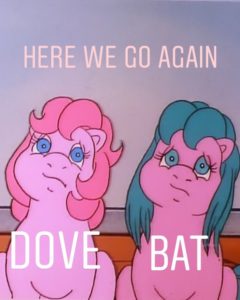 Hello and welcome back to yet another installment of sheer torture My Little Pony and Friends, the 80s cartoon that did not deserve 50 episodes for a first season but my god, it was so popular in 1986, that's what it got. I'm pretty sure that last entry gave me some brain damage (probably that and the antibiotics, ugh) and coupled with the fact that the way we planned this out (to equalize our suffering) it's my turn for the back-to-back-to-nearly-back recap run. Literally anything that follows that goddamn nightmare of imagination games has to be better, right?
Probably not. This is My Little Pony for cripes sake, a show with no show bible, where magic has zero rules, Ponies can't save themselves from anything, and rely on a human to do all their thinking and there's so many villains who want to "rule" Pony Land for… pick a reason. It won't matter. Megan always wins. [Dove: ♫ Evil may be powerful, but Megan always wins ♫]
I always confuse The Magic Coins for the Golden Horseshoes for some stupid reason (the titles aren't even remotely similar?) so at first I was excited then remembered I was thinking of the wrong episode arc. Oh well. I'M JUST GOING TO SPOIL THIS NOW: THIS IS THE LAST TIME WE EVER SEE MOLLY. SHE IS GONE FROM THE SERIES AFTER THESE FOUR EPISODES! (Sorry, Dove, for stealing that. But it just made me so happy. It's given me reason to get through this recap!) [Dove: That's not spoilers. That's on par with "Hey, Dove, did you know it's Christmas (or any other enjoyable day in the year that comes with a day off work) tomorrow?" That is excellent news that needs to be shared.] [bat: HEY DOVE, HAPPY CHRISTMAS! IT'S YOUR BIRTHDAY!]
No more of Molly's redundant anxiety and whinging. This is a gift. It's not Megan but I'll take it.
Anyway, I'll just get on to recapping this. It's that or go back to watching Annie. The 1982 version. Which is terrible. But Tim Curry! (TBH, that film is so over-produced, it's ridiculous. And the bridge chase at the end still upsets me; it terrified me as a child, so some of that is residual. But, and 37-year-old-spoilers ahoy, the fact that they're trying to throw Annie in the river so she'll drown is almost so fitting for an 80s movie, since those "children/family" films scarred the crap out of my generation.) [Dove: Pretty much everyone I know was traumatised by Return to Oz. I was traumatised by some random anime (I don't remember the name) where a bunch of birds killed a little boy by pecking his head. He then turned into an old man telling a story and both old him and the little boy died. Or something. I was very confused and upset over it for days.]