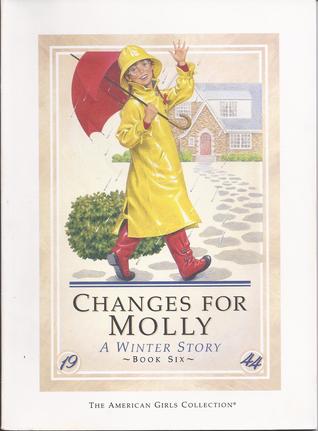 Title: Changes For Molly
Author: Valerie Tripp
Illustrator: Nick Bakes
Summary: Molly can hardly wait for Dad to come home! She's especially excited because he'll arrive in time to see her dance the part of Miss Victory in the big Red Cross show. Molly isn't worried about her tap dancing because she's the best in Miss LaVonda's dance class. But she wants to look sophisticated so Dad will know how much she's grown up while he's been away at war. Unfortunately, Molly's hair is all wrong. When Jill finally finds a way to give Molly glorious curls, everything seems to be perfect. Then Molly gets sick. Things couldn't be worse – until the doctor comes just in time.
Initial Thoughts
Why the hell did I agonize about putting this off for so long when that back summary gave away nearly the entire book?
Seriously though, this project shouldn't have taken as long as it did for me to complete. That's all on me, but, I think maybe it's for the best I did wait until now to finish this recap. Things right now are a nightmare because of the coronavirus pandemic. People are dying and this country's healthcare system's finally been exposed as the joke it is. Unemployment's on the rise and toilet paper's being hoarded like gold. [Wing: This recap has been waiting awhile for me to comment on it, and I want to recognise the ongoing violence against Black people, including the extrajudicial murder of so many by a corrupt, over-powered, unchecked police force. This is not new, of course, but the wide-spread coverage is bringing light to a problem that Black people deal with daily. I hope the protests and demands bring actual, practical change. The Nostalgic Bookshelf family of recap sites have made donations to various bail funds and community support systems, but there is so much more fighting to do. Here is one potential resource, a Google doc, of things people in the USA can do; it also links to a Google spreadsheet with more.]
Right now both my stadium and census jobs have been delayed and my biggest fear's losing the comic shop. My sibling works at a Trader Joe's and my dad's a security guard at a nursing home, so both of them are dealing with worse shit. In fact, my grandpa's staying at the very same home and the virus has gotten into the building. Thank God he's okay for now, but my dad doesn't feel well and he doesn't know if it's the virus or not.
So, re-reading this book, it talks about the way life changes during a time of crisis. This isn't a war we're dealing with, but it feels like it. This also talks about doing what you can in similar situations, which makes me realize I need to do more writing for myself and others. I'm not sure how much these recaps can help, but if they put a smile on at least one person's face that'll be worth it.