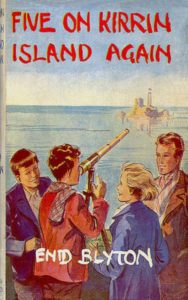 Title: Famous Five #6: Five on Kirrin Island Again by Enid Blyton
Summary: What is Uncle Quentin up to on Kirrin Island? He won't let anyone visit—not even the Famous Five! But he's not alone on George's island—somebody is watching his every move! Can Julian, Anne, Dick, George and Timmy the dog find out who and warn Uncle Quentin?
Initial Thoughts
*sigh* I'm really sorry, but I hate this one. This is the book I've been dreading, and hoping it wasn't allocated to me. I don't know why – it's not particularly different to any other book in the series. Maybe it's the fact there's a silver tower constructed on the island, maybe it's a lot about the adults, or maybe there's just not enough godamned lettuce. Who knows?
Let's do this thing.
(Also, I started this recap a month early because I knew it would drag hard.)
(For reference, the kids' ages should be roughly: Anne: 13; George and Dick 14; Julian 15.)