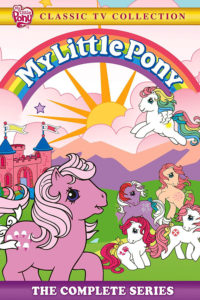 Title: The Return of Tambelon (Parts 3-4)
Summary: So, the Unicorns were winking because that's how they roll, except that when they winked out, they never winked back in. A city called Tambelon disappeared 500 years ago, and somehow when they winked, they ended up there. It might have been explained, but I've been recapping this series for nearly a year now, and very rarely is anything explained.
Then Grogar, a pissed-off goat who lived in the city of Tambelon, rocked up and pony-napped a load of ponies. Megan had a psychic dream. The ponies saved themselves, and Megan rocked up at the last minute to take credit for it. Just as they were about to leave through the city gates, Grogar showed up again to capture them once more.
Peach Blossom (I think), a Flutter Pony who acts exactly like Wind Whistler, saw everything and told the rest of the ponies. And Danny and Molly.
In a shocking turn of events, there was no song in Part 2. My gast is well and truly flabbered. [bat: It was (allegedly) cut. It was supposed to be between where Megan was sitting around the fire with her siblings and the Ponies and then she's suddenly standing and talking to Danny.]
Finally, I think Tambelon sounds like a sanitary product. The kind that helps you wear white jeans and go roller skating with a cute boy and a dog, while some very now pop music plays. (I may have just had a flashback to the Dr Alban 'It's My Life' tampax advert here.)
I will refer to My Little Pony: Friendship is Magic as FiM, to save typing it all the time.
Initial Thoughts
I don't really have any. bat tweeted that Tambelon was not what she thought it was. So I'm intrigued. At this point, I haven't watched any of the four episodes (I'm going to batch watch them), but I'm guessing this won't be as good as the FiM Crystal Empire plot.