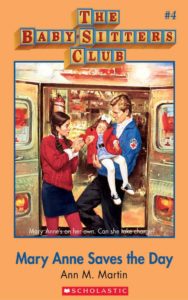 Title: Mary Anne Saves the Day
Summary: Mary Anne has never been a leader of the Baby-sitters Club. She's left that up to Kristy… or Claudia… or Stacey. But now there's a big fight among the four friends, and Mary Anne doesn't have them to depend on anymore.
It's bad enough when she's left alone at the lunch table at school. But when she has to baby-sit a sick child without any help from the club members, Mary Anne knows it's time to take charge.
The Baby-sitters Club is going to fall apart unless somebody does something – fast. Maybe it's time for Mary Anne to step in and save the day!
Tagline: Mary Anne's on her own. Can she take charge?
Initial Thoughts
I remember this book mainly as "the one where Mary Anne's father finally agrees to let her do stuff," and I used to find it HUGELY UNFAIR that his change of heart happens because she handles an emergency well. (And I mean, really well. Many parents, possibly including me, wouldn't be as clear-headed in a crisis as Mary Anne is in this book.) What if an emergency had just never happened, huh? Would she have been in pigtails until she left for university?
On rereading, I may possibly have misjudged Mr. Spier. In fact, now I'm wondering if the emergency was even the whole reason he changed his mind.
I also remember that this is the book where all the BSC are in a fight with each other. That still bothers me enough that I felt anxious at the beginning, waiting for the fight to start.
[Wing: DAWN DAWN DAWN DAWN DAWN DAWN DAWN DAWN DAWN DAWN DAWN DAWN DAWN DAWN.]