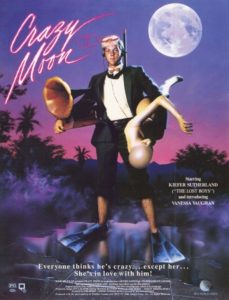 Title: Crazy Moon (1986)
Summary: No website can agree on an "official" synopsis of this film. Let's just say it's a "rom-com" before that was a thing, and it's really… strange.
Tagline: Sometimes acting crazy is the only way to stay together.
Note: I found this on YouTube. I believe it is still there; this is a hard film to find, except maybe on VHS tape. So, what I'm watching isn't the best in picture quality, but I'll live.
Initial Thoughts:
Happy Valentine's Day, y'all! It's kind of fitting that I ended up aiming to post this recap on the one day of the year that we're all pressured to be romantic and shunned if we don't have a partner. Crazy Moon is one of those "super quirky in an obvious way!" kind of films that I don't think intended to be a "super quirky in an obvious way!" kind of films.
'Weird' is the adjective I keep using to describe this film to everyone I know. It's a hot mess and needed a better director, writer, and editor. I see so much I want to fix. It's painful how much I want to fix it.
Because of its age (32 years) and the fact that it was so low budget and is technically a foreign (Canadian) film, information is…lacking. I'm cobbling together what I can from four websites. Talk about frustrating.
A bit of back story: Kiefer Sutherland, who most of you probably best know as Jack Bauer (or in the case of Dove and Wing, as David of The Lost Boys), wasn't well known until the mid-80s. And even then he'd done more theater then film. Literally his first acting job in the United States was Stand By Me, which he thought he failed at and was convinced he'd doomed his career over. Yes. Amazing, isn't it.
So. Somewhere between 1985, when Stand By Me was filmed in Oregon and California, and 1986, when he went off to Santa Cruz to film The Lost Boys, he made Crazy Moon in Québec, Canada. Why do I know this? His hair. His hair is the same color as it was in Stand By Me, although longer. And he's way too tan, which was because the hoodlum gang got frequently sunburned while filming the car scenes in Stand By Me.
Yeah, I am a strange font of even stranger knowledge but I would hands down win "Trivial Pursuit: Kiefer Sutherland Edition".
Plus, he's super young. Maybe 19, probably closer to 18, because he was only 20 when he filmed The Lost Boys. Honestly, it wouldn't surprise me if he filmed this before Stand By Me, but I swear the info I can find is conflicting in every which way. The film appears to have been theatrically released in Canada in 1986, but wasn't released theatrically in the US until December 1987, in a bid to capitalize on Sutherland's sudden fame after The Lost Boys was a box office hit that July.
Ironically, the character in Crazy Moon is a complete opposite of David in The Lost Boys, although I think he talks even less in Crazy Moon.
Honestly, I would try to summarize the film, but I don't want to. I think I'll leave it all for the recap.