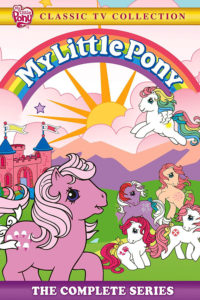 Title: Bright Lights (Parts 3-4)
Summary: A pony called Knight Shade, who is not based on The Symbol Formerly Known As Prince at all, has enticed the baby ponies to become his groupies (just keep pushing past the squick), and his manager Zeb has stolen their shadows for Arabus, a giant cloud monster. Megan is functionally useless and WE HATE HER. Our intrepid heroes have gone back to Grayvale (Knight Shade's home town) to… do something… but of course, Grayvale are going to burn them as witches, because Knight Shade helped STEAL THEIR SHADOWS. So… things are kinda tense.
Oh, and there's some mice/rates which punny cheese names that nearly gave bat a migraine. Let's not talk about them.
In other news, I rated this as B- and bat gave it a C-. So read to the end to see if we stuck to our grades.
I will refer to My Little Pony: Friendship is Magic as FiM, to save typing it all the time.
Initial Thoughts
I have an uncomfortable feeling that this is a metaphor for sexual assault in the entertainment industry. So, it's very awkward that Knight Shade is forgiven for his enabling of all this.
I actually enjoyed the previous two episodes – more than bat, definitely – so I'm hopeful that this will continue to be an adventurous romp. I like the dark subject matter – especially when bat pointed out that one interpretation of Galaxy's assessment of the situation is that the shadows represent the ponies' souls.
[bat: I had zero intention of actually watching the episodes, but now that Dove's made the connection to the super dark suggestion that this plot is a semi-expose on the abuses of the music business, I totally just put them on. So help me, I want to see how this ends.]