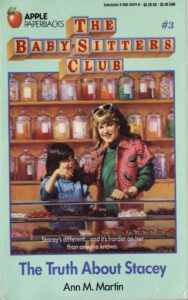 Title: The Truth About Stacey
Summary: The truth about Stacey is that she has diabetes. Nobody knows… except her friends in the Baby-sitters Club.
But even they don't know the real truth about Stacey. Stacey's problem is her parents. They won't admit she has the disease, and they drag her to practically every doctor in America!
Seeing so many doctors made Stacey lose one friend, and she won't let it happen again. Especially now – when the Baby-sitters Club needs her more than ever.
Tagline: Stacey's different … and it's harder on her than anyone knows.
Initial Thoughts
Growing up, I was always annoyed by this title, because we learn Stacey's big secret, which is that she has diabetes, at the end of book one. I think, now, that the real secret is how much she's struggling to deal with her parents and their frantic desire to find a new way to help her and their terror that their only child will die. That is a much sadder story.
[Dove: I have no initial thoughts on this book. I'm still just getting into this fandom, and haven't really bonded with any of the characters, except for Janine, thanks to her queries over apostrophes.]
[Wing: Janine is great, and I love that you've bonded with her already.]