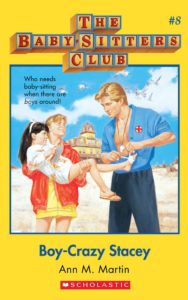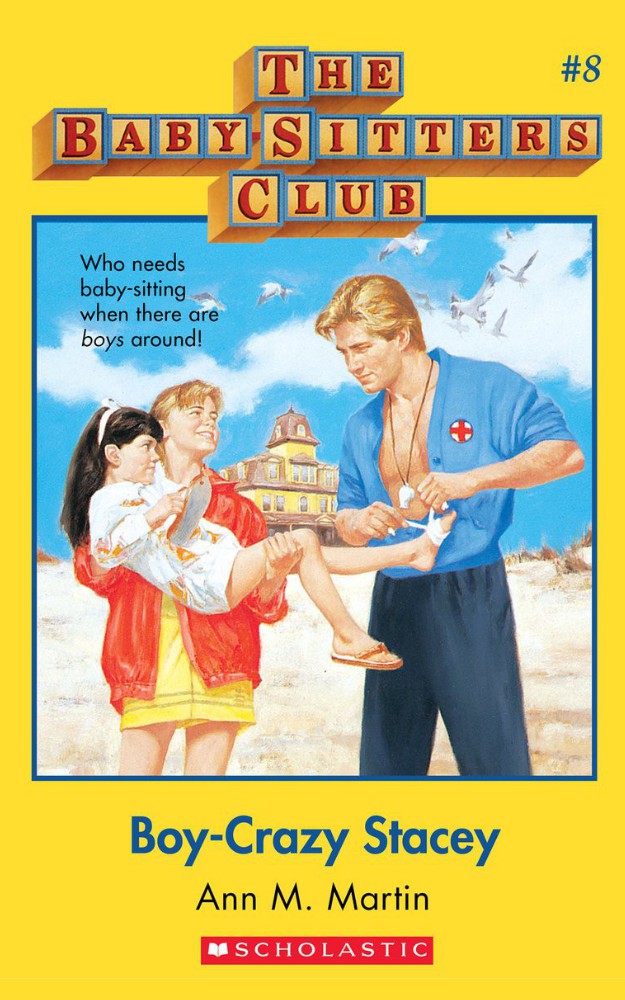 Title: Boy-Crazy Stacey
Summary: Stacey and Mary Anne are mother's helpers for the Pike family for two weeks at the New Jersey shore. Things are great in Sea City: There's a gorgeous old house, a boardwalk, plenty of sun and sand… and the cutest boy Stacey has ever seen!
Mary Anne knows that Scott the lifeguard is way too old for Stacey, but Stacey's in love. She fixes Scott's lunch, fetches his sodas, and spends all her time with him… instead of with the Pike kids.
Suddenly, Mary Anne's doing the work of two baby-sitters, and she doesn't like it one bit. But how can she tell Stacey that Scott just isn't interested—without breaking Stacey's heart?
Tagline: Who needs baby-sitting when there are boys around!
Initial Thoughts:
I unabashedly love Sea City and wish it were real and I could vacation there, so this is going to be difficult to recap just because I love it all so much.
That said, I do have some issues with the title.
On the one hand, yes: I vividly remember that age when my friends' group were getting interested in boys, only we were all doing that on wildly different schedules, so there were frequently times when one of us was visibly making a fool of herself and the others saw it and discussed it. I'm not sure "boy-crazy" was ever a term we used, but it fits the perspective and attitude I remember having.
But on the other hand: I kind of hate that we do this at all. It's easy, looking back on this as an adult, to see that Stacey isn't trying to be selfish (and definitely isn't trying to look foolish!); she's just grappling awkwardly with new feelings and experiences.
And I wish that, as a culture, we gave girls a little more guidance not just on the crushing/dating stuff, but on the "being an honest but also kind friend to the person currently wrestling with hormones and emotions." Because really, I don't remember anyone ever giving me clear instructions about not falling into the "not like the other girls" mindset, and I could have used them.
Besides, she's not "boy crazy." She's making an ass of herself over one particular guy. It's not, like, a generalized thing she does with every guy she meets.
My only memories of this book aside from Sea City itself were being mad at Stacey for not doing her share, but even more mad at Scott the lifeguard for taking advantage of her (and his other fans).
[Wing: So word to all of this and thank you for saying it so well. Unlearning the drive to reject "feminine" things so as to be "not like other girls" is a terribly hard thing to do, but important. It took me forever, and I rage at all the time I lost to it.]