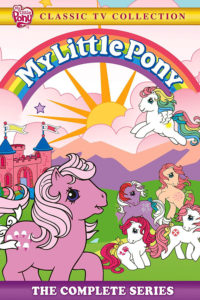 Title: The Quest of the Princess Ponies (Part 1-2)
Summary: "Look! It's Malibu Stacey! And she's wearing a new hat!" When your merch begins to drive your story lines, you have a problem. Speaking of, look! There's Princess Ponies! And they all wear hats! And each has a Bushwoolie slave servant! I don't even care what the plot line is at this point. BUY OUR MERCH! [Dove: Literally the best summary of this show I've ever seen.]

Grade: D

Initial Thoughts:
I'm back.
My break from the land 'o Ponies wasn't long enough but what can one do, especially when one is so very much wanting to be free of this series yet there's still *checks notes* 13 episodes to recap? (Yeah, see there's technically 15 but Dove and I already recapped Escape From Catrina in the order in which the specials aired, because tacking the specials onto the ends of the seasons was bullshit.)

Yeah. So. 13. Normally that's my family's lucky number but this just feels… the opposite.
Let's see, 13 is a huge drop in episodes, down from the 48 "original content" episodes in that first season. Y'know, that was just a godawful amount of episodes. Dove and I are still traumatized by that 10-part "the movie flopped so here's an entirely rehashed account of it" Flutter Valley nightmare. There is nothing that epic in season 2. Nope. Mostly two-part episodes. I can't say any of them are any good; I only remember some of the titles and that doesn't mean I remember plots.
I can, however, say that I clearly remember when the Princess Ponies were released as toys. Oh my god, that was huge. They had tinsel in their manes and tails, they had resin wands, they had pointy damsel hats that princesses wear, raised metallic cutie marks, and (in the US at least) they came with the first physical incarnation of the Bushwoolies! I specifically remember when my mom and I came across them in Toys-R-Us and she was liked Princess Tiffany the most. Until the Carousel Ponies came along, these were my mom's favorite release. I also had Princess Serena from the first release, and when the second wave of Princess Ponies was released, I got Princesses Moondust and Pristina. Those little crown/tiara clips were one of my favorite accessories.
TIL that the UK got baby dragons with their Princesses, which explains why Dove never had Bushwoolie figures.
[Dove: We not only got different slaves/companions for the ponies, our ponies had completely different names too. I can't be bothered to look them all up, but I remember that Princess Tiffany is Princess Pearl over here. I have no idea why. Also, it's fairly easy to get Bushwoolies in the UK, but people will fight to the death over the dragon pals – I've seen them go for over £50 per dragon. (But, to be fair, I've seen the same dragon sell for half that in the same week, so part of that is people who can't walk away from a bidding war.) I don't actually remember these guys being released over here. Looking at the years, I know I was still young enough to unashamedly stand in the MLP section of a toy shop for hours, thinking about which pony I wanted next. So either: they didn't get a huge release in the UK; or they did, but a large amount of shops in Kent never bothered to buy them in. Maybe the latter, because I had Strawberry Fair (or Sugarberry, to the US audience), who was released the same year, and she was the most beloved and cherished of all of my ponies ever. Behold my obsession. So yeah, tl;dr: I don't remember these ponies being around at all.]
Now that I've been reminded that the Princess Ponies each had wands, I can foresee a lot of MAGIC: HOW DOES IT WORK ranting in my future. You've been warned. Also, wait, if Majesty was a queen… HOW DOES THE ROYALTY SYSTEM WORK IN PONYLAND??? I don't even know if MLP:FiM ever addressed that. Dove? Did it? [Dove: Not exactly, but the most recent season seems to imply that it's not a bloodline royalty, but a title bestowed on the most worthy candidate, chosen by the current monarch. Possibly in reaction to Majesty being superbly absent, and the Princess Ponies being incapable of thought?]
Already this shaping up to be a fucking nightmare. What did I expect…