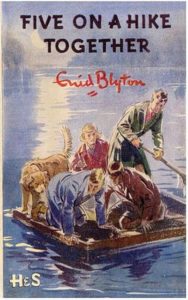 Title: Famous Five #10: Five on a Hike Together
Summary: When Dick is woken by a light flashing through his window, he is puzzled. Is someone trying to send him a coded message? And when the Famous Five hear of an escaped convict in the area, they are on red alert. The police won't help, so the Five have no choice. Yet again, they'll be solving this mystery by themselves… [Wing: Does anyone else ever solve a mystery? Ever?] [Dove: Adults are useless. Where have you been?]

Initial Thoughts
At last I have returned from the war! The war known as life. I'm certain the dear Famous Five have changed not one whit and will be as precocious and fun and sometimes assholey as ever I'm looking at you Julian.
(I love how the cover shows them actually on a raft and not hiking at all.)
Onward to adventure. And probably some hatred of Julian.
[Dove: I figured this would be helpful: For reference, the kids' ages should be roughly: Anne: 14; George and Dick 15; Julian 16. I have a spreadsheet that figures out their ages, because I'm pretty sure Blyton couldn't be bothered.]