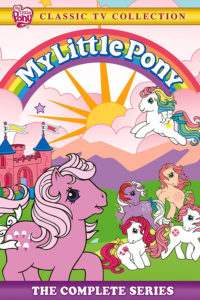 Title: The Prince and the Ponies
Summary: The Ponies recieve a mysterious invite to a party at a palace. Without question, they attend. The writers then commence a story about enslavement and product placement, in this series finale.

Grade: A big fat fuckin' F. Because F is for finale, kids.
Initial Thoughts:
*cues up appropriate song*
This is the end, beautiful friend
This is the end, my only friend
The end
Welcome, friends, to the last ever Season 2 and utterly worthless series finale episode of My Little Pony 'N Friends. Yes, it seems fitting that I be the part of the duo that closes this chapter of our lives. Dove started this whole project with her review of My Little Pony and Friends: The Movie, although it was posted third in the series, after I explained Rescue/Escape From Midnight Castle was *technically* the originator of this Pandora's box of stupid.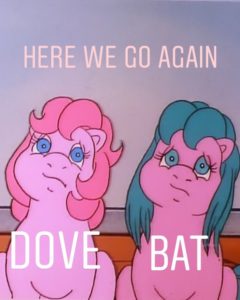 We have survived so much stupidity I'm not sure either of us will ever be the same. From white girl savior tropes, cages/nets, baybee twak, crab cops [Dove: The JOHN CENAs of Ponyland.], a whole menagerie of fantasy creatures and talking animals/bees, oodles of poorly written villains/villainesses, buy our merch, SHOO-BEE-DOO, Danny, Spike, super bad animation, continuity errors, plot says so, smash cuts, and everything in between.
Of course, I would be remiss if I didn't point out that I STILL DO NOT KNOW HOW MAGIC WORKS IN PONYLAND.
I feel like I have a lot to say but I also feel like it deserves to be written at the end of the recap, or in a final "very special" post where Dove and I chat about how this series has turned our brains to mush and disillusioned us of the very toys that once (and in some cases, still do) made us happy.
So, let me set the scene. It's the final episode of the series. Hasbro has already co-opted several episodes in order to shill new toys in a stable-but-starting-to-fade toy line. They had one last shot at shilling two new types of Pony: New Born Twins and First Tooth Baby Ponies.
We've already shilled Princess Ponies, Big Brother Ponies, and now New Born Twins with a slight rehash of Baby Pony but NOW WITH A FIRST TOOTH. As for the New Born Twins I remember these, very well, and I'm 99% my first set was Milkweed and Tumbleweed. I think, if they weren't, then it was Doodles and Noodles. These are all terrible names. [Dove: Especially because either Snuggles or Snookums had already been used as a name, so that's confusing.] Anyway, I remember my mother loved these because they were a different, smaller mould than the standard Baby Pony mould and they came with different kinds of accessories than the Baby Ponies. We all hated the Baby Pony diapers, though. Those fucking things were nightmares and the stupid Velcro tabs always ripped, just like real diapers.
The First Tooth Baby Ponies? That implies that the Baby Ponies are running around gumming everything or at best have their baby teeth. Either way it is not… a pretty picture. Besides, if the Baby Ponies are magic mirror'd clones of the Adult Ponies, why wouldn't they have teeth? I HAVE QUESTIONS AND I HAVEN'T EVEN STARTED THE DAMN RECAP.
I guess it's something that Hasbro went with different Baby Ponies, giving us (potential clones of) Tic-Tac-Toe and Quackers and Fifi, oh and I mustn't forget North Star and Lickety-Split. I know for certain First Tooth Baby Fifi was my first from that series. [Dove: But why is her mum so-soft when Baby Fifi isn't? EXPLAIN THAT, BAT?!] [bat: MARKETING'S FAULT!] I think I have all of them except Baby Bouncy. I know I wanted Baby Graffiti but I have no idea why. I think it was just the name. I'm not sure I ever got her.
Moving on, there is a titular prince in this episode. Remember how, waaaaaaay back when, during Escape From Midnight Castle, Spike was semi-protected by Scorpan? Who, at the end of the special (sorry, 30+ year old spoiler ahoy) was turned back into a human prince?? He's literally shown wearing a… tiara? A gold chain of office, and a robe edge in ermine. I mean, hello! What a prime opportunity to bring the show FULL FUCKING CIRCLE, am I right?
It ain't happening. I'm allowing you to have full disappointment early on.
But, one of the show's very favorite special topics does come up: enslavement! Because that's the trope it wants to go out on!
Without further adieu, let us begin the very final episode of My Little Pony 'N Friends.