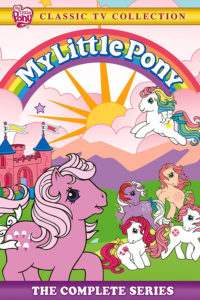 Title: The Would Be Dragonslayer
Summary: In what is a rather random rip off of both Sleeping Beauty and The Sword in the Stone, the Ponies befriend a human boy who just wants to become a knight but must "do a good deed" before that will happen. Join the damn Boy Scouts, moron.

Grade: F

Initial Thoughts:
Hi-ho, bat here, ready to sit through another soul-sucking episode of My Little Pony & Friends and complain my way through it. The misadventures of Woebegone was bad but…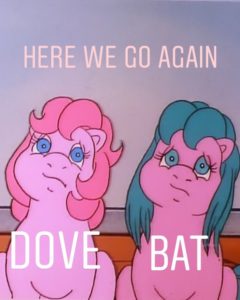 Yet again I get a one-shot filler that's probably going to have a failed "moral" at its core and just my luck (because it can't hold out forever) MEGAN AND SPIKE ARE IN THIS ONE. Ugh. My first complaint and I haven't even started watching the episode!
At least this episode is only ten minutes, which means it won't take an eternity to recap. Which means I can get back to mourning(?) the loss of Game of Thrones. (Here's an unpopular opinion: I thought the ending was fine.)
[Dove: I'm actually with you re GoT, but then, I was doing the "partner-watch" thing. I'd been kind of into it to begin with, but had become progressively bored as the seasons went on (the bits with the Ironborn were particularly snoozy – except Reek) and I was only there to keep my husband company, so I was at least glad that things happened. Oh, wait, that's not what we're here to talk about. We're talking about this dire filler episode of MLP. My initial thoughts were correct: 1) it's a one-shot, so at least it's short; 2) it's a one-shot, so it'll be awful.]