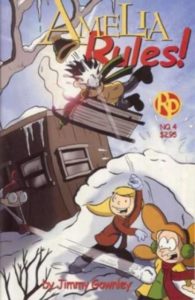 Title: Amelia Rules! #4 – Amelia McBride and the Other Side of Yuletide, a.k.a. "What the hell is Ninja Kwanzaa?"
Writer and Artist: Jimmy Gownley
Editor: Michael Cohen
Marketer: Karen Gownley
Initial Thoughts
My first Christmas review for Nostalgic Bookshelf, and I swear to bring as much enthusiasm to this month's reviews as I have for Point Horror. To that end, I wanted to start off with a special one-off comic review with a series I admittedly don't have as much history with.
"Amelia Rules!" is a YA comic series written and drawn by Jimmy Gownley. It's about Amelia McBride, a young girl adjusting to life after her mom and dad split up. Amelia has to move from NYC to Connerton, Pennsylvania, where she and her mom are now living with her cool Aunt Tanner. She gains new friends in the form of the bombastic Reggie, the stubborn Rhonda, and the amazing yet silent Pajamaman. Together, the four become G.A.S.P. (Gathering of Awesome Super Pals), and get into all sorts of hi-jinks as Amelia navigates life.
This particular comic is the fourth issue in the series, and as you can guess it's a Christmas story. In it, Amelia and her friends find themselves wondering if there really is a Santa Claus, and the answer is different from what you'd expect. I had this in mind remembering Wing's thoughts on Santa Claus from last year's reviews on PH. Naturally I'm curious to see how she feels about this particular story.
How I acquired this comic is a rather bizarre, disturbing tale. In the spring of 2015, a woman came to my comic shop hoping to sell a massive collection she inherited from her dead uncle. He owned Disney and cartoon comics ranging from the Golden Age to the early 1990s. Bugs Bunny, Donald Duck, Disney, Sleeping Beauty, Looney Tunes, Hanna Barbera, Animaniacs, Pinky and the Brain. The books showcased the transition from Dell Comics to Gold Key to Whitman. He even had some picture books and old Disney Adventure digest magazines.
However, there was a LOT more.
To this day, no one has brought in the amount of furry comics and porn comics as that woman did. Omaha the Cat Dancer, Battle Vixens, Four-Footed Furries, Albedo, it was baffling. I don't even want to remember the fairy porn issues. The man practically bought every badly done 90s manga rip off comic out there (Ninja High School, Gold Digger, etc.). And guess what? I had to go through everything. EVERYTHING. Because we needed to figure out what the conditions of the books were in so we could sell them online. I had to make sure to leaf through every single comic the man owned, checking to see if pages were falling out, if they were missing coupons, or if they had writing on them. A lot of the porn comics had pages torn out of them… and so did some of the kid comics.
I did NOT enjoy this task at all. I'm not trying to bash furries, but I am very much not fond of anything NSFW related and I don't want to think about why so many pages were missing. Not to mention a lot of the comics were incredibly dirty and grimy. I'm just glad the pages weren't sticky.
So anyway, that's another chapter out of my twisted life story. Onto the recap.