The Baby-Sitters Club (2020): Claudia and the Phantom Phone Calls (s01e02)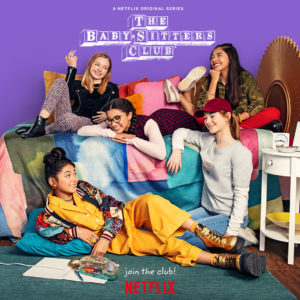 Summary: The spooky spirit of Halloween sweeps through Stoneybrook. Meanwhile, Claudia explores budding romance and struggles to connect with her parents.
This is one of my favourite books in the series, they're so silly and sweet and spooky all at the same time, and I'm thrilled to see it in this adorable show. Fingers crossed that I love it as much as I do the book. 
Also: Claudia narration? CLAUDIA NARRATION!
Ep 2: Claudia and the Phantom Phone Calls
(Here's our recap of this book.)
(I love the paper flipping sound during the opening.)
Oh my god, Claudia's clothes. I love her clothes. And even more I love how she loves her art. AND TREVOR SANDBOURNE KNOWS HIS ART. Oh, Claudia, you adorable girl you. This delightful, adorable flirting is killing me. She's so awkward and sweet and her giggling with Stacey and god, I am so fucking charmed by this show.
He asked me if I was going and said he'd see me there. So he basically asked me. We'll be there together. Basically.
CLAUDIA.
Claudia was going to be a troll doll. Oh. My. God. Claudia, I love you.
Kristy's rant about guys and their disappointments is fun, but damn has this episode already thrown her into her strident self. Let your friends like things, Thomas! 
(I figured out a long time ago that one of the reasons I like Kristy less than some of the others is that some of her worst traits are traits I have, too. Believe me, I know.)
Awww, Mary Anne crushing on Logan in the library (with theladder? Clue crossover, here we come). She's so adorable.
Aaaand we have the Phantom Caller! I love how this is basically that urban legend about the calls coming from inside the house and yet it is still creepy (creepy in the construct of the show, at least) but also a little silly because, again, urban legend.
He heard us! The Phantom Caller.
I LOVE THESE GIRLS SO MUCH.
Decent jump scare, too. Telegraphed if you watch horror, but better than a lot I've seen in actual horror movies. That zoom in on the phone, too, delightful.
I love how Mary Anne is so gentle when she calls Kristy out on dodging all the jobs with Karen and Andrew. Gentle, but not spineless. She's wonderful here, determined and still supportive and when Kristy does her thing and gives Mary Anne the job (because of course she does), Mary Anne doesn't push her past where she can be pushed. [Dove: I don't remember clearly in the book, but it feels like Mary Anne has more oomph in the show, without losing her personality traits.] [Wing: I agree!]

FRIENDSHIPS. I LOVE THESE GIRLS AND THEIR FRIENDSHIPS SO MUCH.
Oh my god, Claudia cooking with Mimi.
ALSO, Claudia's narration focusing on all the things she's good at is perfect. In the books, it so often boils down to her being good at art and unique fashion, but here she's confident in her baby-sitting and her cooking with Mimi and so much more. I love this version of Claudia even more than I love the book version, and I love the book version a lot.
She's taught me a lot. Mimi is the best person I know at everything. I think it's because whatever she does, she does with so much love.
Oh. My. God.
And her listening to Claudia talk about Trevor and his art and his art-world parents and how much she wishes that her parents understood her more. It's so emotional and warm and sweet and perfect.
UH, CLAUDIA'S DAD IS FUCKING HOT.
That was an unexpected twist for me. Damn.
Stoneybrook Middle School is sixth through eighth grade, and this should be seventh grade for them, so middle school isn't exactly a clean start. (Or, I guess this could be the beginning of eighth grade. Did we get that established in the first episode? I honestly can't remember and don't want to skip out of this episode to go check. I may come back to this before I post, we'll see if I remember.) (Note from the future: I remembered, and it is seventh grade.) [Dove: So they're a year older than the Wakefields. I'd love SV to get this treatment. Any Netflix execs out there? Writer right here and ready to work!]

Thinking about how old they are also brings me to this point: It is amazing how young the actors look, and that is because they cast actors right around the same age as the characters, so approximately 13 (a couple are 14). It's such a change from casting people in their late teens, or even adults, as high school students, much less middle school students, and I love it.
That they look realistically young (plus, you know, tv styling) helps capture the charm for me. They are young and growing up and facing all these layers and layers of important life issues, and it is warm and sweet and charming.
And, you know, Mr Kishi: HOT.
I love that they're using chopsticks.
JANINE. What the fuck are you doing, older sister. Do not encourage them to threaten her with the dance oh my god. What the hell, girl. What. the. hell.
(I mean, I love her, but COME ON.)
MR SPIER CREEPILY SITTING IN THE LIVING ROOM IN THE DARK SO HE CAN MAKE A POINT OF HOW DANGEROUS TWENTY MINUTES CAN BE AND HOW MUCH HE WORRIED. He's so overprotective and it's kind of terrible and I love it.
Especially him giving back her old phone, that neon monstrosity. I am dying. And that creepy music. DYING.
Claudia's smart outfit is Ruth Bader Ginsburg chic. You guys, I legit teared up a little, because RBG is such a badass and means so much to me and to women's rights and to so many women and girls and this show gets that and shows it in a very Claudia way and oh, god, my heaaaaaaaaart.
And math genius Stacey! With great advice. Breathe, go slow, check your work. And of course she's so confident that you always know when math is right. 
And then, adorable giggling over Trevor coming over to talk to Claudia — only for that to be interrupted by Mary Anne with bad news and an annoyed Kristy. Your timing, Kristy! Your timing!
…where were you that you were late, Mary Anne? It seems a little weird that her dad didn't ask that last night, actually.
Okay, Kristy, back the fuck up. Mary Anne is your friend, and I get that you feel strongly about not sitting for Karen and Andrew because of all your dad issues and Watson, but AGAIN, MARY ANNE IS YOUR FRIEND, STOP BEING SHITTY AND TAKING IT OUT ON HER. 
(Realistically! But annoyingly!)
Also: stop throwing around crazy and psycho as a goddamn pejorative, show.
Oh, damn, and then Mary Anne lashes out, too, challenging what Kristy would know about having a normal dad because Kristy keeps insulting Richard. Again, so realistic and understandable and mean, and just the right button to push because they are close and they know how to love each other and hurt each other both.
I LOVE THESE GIRLS SO DAMN MUCH.
Kristy and Mary Anne had been best friends since kindergarten, and I'd never seen them like that before. But right now, I had to think like a mathematician, not a marriage counselor.
C L A U D I A
(I love you.)
(Also, I hope a new generation of fans enjoy the shippiness just like a lot of us did with the books.)
Oh my god, Trevor is talking so fast and so nervous and so adorable and I am dying over him offering her a ride to the dance and how his dad can drive them and ugh, this is so cute and awkward and adorable.
I'm pretty sure I've already used up my allotment of the word adorable. I mean, my allotment for the rest of my life, not just, you know, today. BUT THIS SHOW! THESE KIDS! THESE FAMILIES!
OH MY GOD THE FLASHLIGHTS! i LOVE THAT THEY'VE KEPT THE FLASHLIGHTS AND I LOVE WHY THEY ARE USING IT AND I LOVE EVERYTHING ABOUT THIS. And Mary Anne's face when Kristy shuts the blinds. My heaaaaart.
The next day was my own moment of truth. Would tonight be a dream or a nightmare? Would I ride to the dance with Trevor, resulting in our eventual life partnership and rise to the pinnacle of the art world, or would I have to spend the rest of my life at home, watching Janine correct people's grammar on Reddit.
God, I love Claudia's narration so damn much. I know, I know, last episode I said I hoped we were getting a different narrator for each episode, and I am glad that we are, that the narrations align with the books, but at the same time, I would listen to Claudia narrate, well, everything. Always. [Dove: Also, loving Janine's free time is ticking off people on Reddit. That's an uphill slog, presh.]

Oh, damn, Claudia. Poor girl. 
Oh, damn, Stacey's offer of a brief lie to the Kishis, and Claudia's moral dilemma, and Claudia needing to go somewhere she could think, somewhere she could be herself — the art studio, of course. 
My heart. These girls own it so hard, but so far, Claudia owns it the most.
And of course Trevor is already there, struggling because his dad called his work derivative, like something his dad painted in the 80s, and Trevor is painting like him because he wants his dad to be proud of him for once and whatever he tries doesn't work and oh my god, these two and their parental issues and their struggles, I love them so much.
That's when I realized, no matter who your parents are, they can always make you feel like you're letting them down. And that feeling, the one that makes you feel sad and scared and not good enough, that's the real Phantom Caller.
Jesus. Fucking. Christ. This. Show.
No, seriously, this show. I am so fucking touched by that, and how nuanced Claudia's portrayal is here without it feeling like a deviation from the books. She's still Claudia, we've just come far enough along (and the medium has changed) so that we get more of her, a better understanding of her, and she can be layered. And so fucking well-written.
(You know, for a series about a baby-sitting club, they sure are doing very little baby-sitting.)
TREVOR KISSED HER CHEEK! Adorable. And of course that bonding moment in the studio (and the kiss) is what tips her into lying. Oh, Claudia. AND YET. Still realistic and well-written and smart.
First, speaking of baby-sitting, well hello Kristy and the Brewer kids. Second, WHAT THE FUCK ARE YOU WEARING, WATSON AND ELIZABETH?! I AM HORRIFIED.
Watson is fucking adorable with his love of the whispering gallery, though.
Look at Karen peeking around the corner. Oh my god. Oh. my. god. And Andrew hugging Kristy good-night, I am dying. And she stands so firm against his adorableness.
Get out cookies. I need some refreshments for the wake I'm having for my doll.
K A R E N?!
Children of the corn what? Shining who? SHE'S SO CREEPY HERE AND I LOVE HER ALREADY. [Dove: Karen is fucking epic. I loved every word she said. Also, can we just have a moment to highlight how young the cast is, and yet there was never a moment where I thought, "Oh, you ran out of talented kids…"]

CLAUDIA IS GOING AS THAT WOMAN FROM THE BIRDS, OH MY GOD I LOVE HER SO MUCH. And it's a nice nod to the (kinda weird) way the books referenced pop culture from the 50s and 60s more than, you know, the 80s and 90s when they were published. 
And Mimi being proud of her because she is "my Claudia" and is more than enough, oh my god, my heart. I AM NOT PREPARED FOR WHAT IS COMING, Y'ALL, EVEN THOUGH I CLEARLY KNOW WHAT IS COMING AND HAVE KNOWN FOR FUCKING DECADES. NOT. PREPARED.
(Actually, I don't know if we reach that far in the series. I glanced at the episode titles awhile back, but I can't remember which ones they skip off to except I assume based on a screencap I saw recently that they hit Kristy's Big Day at the very least, because I can't imagine Kristy in a dress like that for any reason other than the wedding.)
Kristy: Should we close her eyes?

Karen: No. It's dark enough in the grave.
JESUS KAREN IS A CREEPY KID AND I FUCKING LOVE THE HELL OUT OF HER.
And her doll is named Krakatoa! Damn, kid.
Kristy: Do we say a prayer?

Karen: Krakatoa was an atheist.
I AM DYING. Both their line readings and their expressions are perfection.
And then Kristy gets an unknown call on her mobile (inherently creepy!), and of course Karen goes in for the Phantom Caller part. God, this kid, she's so fucking creepy. SO. CREEPY. And I love her.
Damn, she'd be good telling ghost stories around the fire.
And back to Claudia and her parents being so proud of her over the test and Claudia's guilt and then she does the right thing. Oh. Claudia. Oh. Claudia.
And she talks about how she's tired of trying to be Janine and she'd rather focus on the things she's good at, but she is trying to do better at her other classes, as well. Claudia, you are so damn brave and so damn smart and so damn talented and I love you so damn much.
And that family hug. Even though she can't go to the dance (and more mental health: with tact and sensitivity bullshit), I love this.
Stacey's so overdressed and perfect and awkward and I love her so much.
I love how Karen and Kristy are just staring at Kristy's phone ringing, and that of course Kristy hasn't considered the fact it might be Mary Anne from an unknown number what with her not having her regular phone. Kristy's let Karen creep her out, and it is delightful.
HAHAHAHAHA. Of course it is Mary Anne, and of course she's calling both to apologise and to tell Kristy that Karen is going through a spooky phase (YOU DON'T SAY) but she's also a lot of fun and that there's a freezer in the basement with frozen Snickers bars, which is the real important information here.
And even with all of this, Mary Anne still gives Kristy good advice about dealing with her stuff with Watson and how he's going to be a part of her family, so she has to find a way to live with it and still be happy.
And over to Stacey and her own horror movie, alone at a dance in a super fancy costume.
OH MY GOD THE JOHANNSENS. You know damn well that the show set us up for that moment of WTF ARE YOU DOING, SHE'S NOT MRS JOHANNSSEN, SHE'S DR JOHANNSEN AND THEN AND THEN AND THEN.
And then.
I swear I trust you, show. I do. And damn, Dr Johannsen is super hot.
Oooh, and that set-up for the Baby-Sitters Agency! I am here for it. HERE. FOR. IT.
(Also here for Claudia painting in her Halloween costume, because she's just — so Claudia and I love her.)
And that "Vampire Vamp" mix by The Fangs. What a great end credits song.
THIS SHOW. THIS. SHOW. THESE GIRLS. THESE FRIENDSHIPS. THESE ACTORS. I have all the feelings. All of them. My heart is like a billion sizes larger now, and I am filled with joy and delight, and I am utterly and completely charmed by this show and these characters as portrayed by these actors and the changes and nuances and layers and oh my god, I love this show so much.
My heart, y'all. My heart.
I thought I'd be sad when I realised they were completely dumping the actual house invasion story, but since that also dumped the boys stalking the girls story, I'm okay with it. Also: Karen is fucking a billion times creepier than the book all by herself, in all the best ways. And I love Claudia's point about what the phantom phone calls really are, those doubts and difficulties.
So basically, not really like the book at all, but so much better. SO. MUCH.
[Dove: As someone who's only read the first few books once, to me it felt like a "near enough" kind of thing. I've watched the whole series — good god did I binge hard on this — and everything seemed familiar, but also awesome. As I said above, I would love Sweet Valley Twins (not High, they had their shot, and there's a movie coming at some point) to get a TV series like this. I'd love to see what gets changed, while still hitting my nostalgia. I'm going to re-watch the whole series now. It was too awesome not to.]