My Little Pony: Spike's Search (S02E05)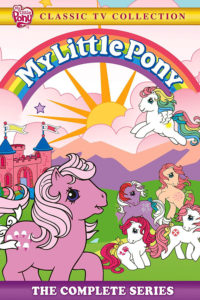 Title: Spike's Search
Summary: Spike suffers from an inferiority complex when his "flame" is "too small". Megan makes things worse by telling Spike, it's not the size of the flame, it's how you use it. Spike runs off to find more dragons with Danny for accompaniment. WAIT, WHY IS DANNY BACK??

Grade: (a big fat) F

Initial Thoughts:
Welcome back to yet another recap in which Dove and I chronicle our descent into the 17th circle of hell that is known as My Little Pony and Friends. [Dove: Actually, it's 'n Friends. The apostrophe makes it cool.] At this point, can you even find differences in our recaps? Excluding the title changes, they're practically the same.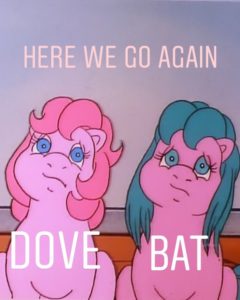 This show sucks but we're not quitters. We fight the good fight and continue to sit through this dreck, slowly losing our minds. We will be different people by the end of this nightmare, but stronger and more wary of taking on complicated recap projects, perhaps. (I say this as I've already committed myself to at least two other cartoon recap series that are non-MLP related. I'm stupid, what can I say.)
If I didn't hate Spike already, I get the "very special Spike-centric" episode to recap. Didn't I already do one? You know, I shouldn't have felt sorry for that plastic toy Spike that got thrown away by my babysitter, seriously, I manage one act of (strange) kindness (compassion? empathy??) and I'm cursed by a fucking little purple dragon for the rest of my life.
Oh well. I'm already nauseated by the fact I am stuffed to the gills with antibiotics, why not make myself feel even worse by tacking this recap?! [Dove: I'm coming at this after a two-day buying binge at PonyCon, followed by watching the final episode of FiM. I'm utterly broken. I suspect I'm going to be very bitter throughout this recap. (If you didn't well up during the final few episodes of season 9, you're probably made of stone.)] [bat: I am 9 episodes behind AND they have not aired the final three episodes in the States yet. So I am clueless as to what happens.] [Dove: Note from the future, the above was true for half the recap, but life intervened and we both were away from this recap (which can only be a good thing) for a few weeks. So if anything seems to not match the PonyCon/season finale timeline, that's why. Also, bat has now watched the finale. She has a heart of stone. I ugly cried. All three times I watched it.] [bat: I CRIED AT THE FLUTTERSHY PART! My heart is only 2/3rds stone.]
Recap:
How long has it been since we've seen an actual Flutter Pony in this cartoon? (It's a rhetorical question. I'm not actually going to go and find the answer.) But yet, they did not update the opening credits animation what-so-ever. Because there's Queen Rose Dust. It's the second season, morons, an update wouldn't have hurt!
Oh god. We open on a shot of a random waterfall and slowly pan right to find Megan, a fuck ton of poorly drawn Ponies, some paint blobs that are supposed to be Bushwoolies, a blob that's kind of Spike-shaped, and Molly (WHEN THE FUCK DID YOU GET BACK?!) [Dove: You promised she was gone! You're lucky we have a fire-forged friendship, otherwise I'd be very upset!] [bat: I WAS TOLD SHE WAS GONE! Luckily she seems to have zero speaking lines, so in essence, she's still a cardboard cutout.] playing volleyball. I don't know why volleyball is so popular among the Ponies but it has shown up in so many episodes at this point.
Okay, I have to stop right here and show you all this:
Anyway, as I was saying, Ponies apparently like volleyball because not only can they hit the ball with their faces, they can also kick the ever living fucking shit out of the ball with their back hooves. It's kind of like watching G4 Appleback pick apples by kicking a tree.
Baby Twiddly-Winks kicks the ball and sends it flying over the net, which means Spike has to scramble to find it. He goes running after it, towards those paint blob Bushwoolies, screaming he's got it, before grabbing it out of the air and falling on his face. STRANGELY, THE BUSHWOOLIES HAVE ENTIRELY DISAPPEARED.
For some reason, Ribbon and a pink Pony (she has the color of Cotton Candy but no discernible cutie mark) get a reaction shot. WTF.
Spike, holding the ball, walks back up the hill and now we see there is a regulation volleyball court painted onto the grass. What the hell, since when did the Ponies go all out for regulation anything. Spike serves the ball, grumbling something about Baby TW, as Baby TW basically spikes the ball back over the net like a fucking boss.
Moving to hit the ball back, Spike erupts in flames, searing several Ponies, horrifying others, and there are mass casualties, and… who am I kidding? Grievous bodily injury NEVER FUCKING HAPPENS in this cartoon, even though I'm sure if Dove and I sat down and really thought about it, we could think of instances where it should have. (Like that big wedge of crystal basically decapitating Wind Whistler in the previous episode. [Dove: Literally the best thing that happened in the entire run of the show.])
We are treated to some of the most violent-appearing imagery, though, with Spike's blast of fire knocking Baby TW back, nearly singing several Ponies around him, and for SOME FUCKING REASON (PLOT SAYS SO?) MEGAN IS NOW STANDING RIGHT IN THE MIDDLE OF THE GROUP EVEN THOUGH SHE WAS CLEAR FAR AWAY IN THE OPENING SHOT AND WAS NOT SHOWN REMOTELY MOVING CLOSER.
Fuck. I hate when cartoons do that shit.
So all the Ponies are panicking, and there's even a random Bushwoolie running through the shot, and apparently no one got the color chart memo because half these Ponies aren't even painted in the correct colors. Megan rushes in, asking Baby Lofty if she's all right. WTF. Baby Lofty wasn't in any of the previous shots.
As Megan comforts Baby Lofty, Spike walks up and demands Megan to tell him this won't happen again (?? Oh, of course, Megan has a doctorate in Dragons, how forgetful of me) and Megan just cuddles him (?!) and says he's getting to be a "big" dragon now and she rambles about his "fire breathing" powers (?!) and how he'll have to learn to control them.
Ow, my head.
"Growing up isn't so great," Spike mutters.
I'VE IDENTIFIED THE MORAL OF THIS EPISODE, DOVE. GROWING UP / GETTING OLD(ER) SUCKS!!! [Dove: Fuck off, Spike, come back to us when you've had a hip replacement or spent hours waiting to see if one of your organs is working well or needs immediate attention. Then we'll feel for you.]
I'm about 99% certain that the majority of popular 80s cartoons had a "growing up is HARD" episode or story line. It was a common theme. Hell, I'm sure you can trace this trope clear back to… I dunno, several episode of The Brady Bunch come to mind. I'm sure it was a trope farther back than that but specifically, it was used in full force during the 1980s.
Anyway. Spike sneezes again and sends a jet of fire into the grass. If only Megan was standing four steps to the right. She tries to comfort Spike but he runs away, holding his mouth closed. Wah wah.
OH SHIT…. NOOOOOOOOOO!!! GOD DAMN IT, WHY ARE YOU BACK, DANNY?? I THOUGHT WE WERE RID OF YOU!!
Ugh. Danny runs after Spike, telling him everything's fine, none of the Ponies or Megan were hurt. Uh huh. Spike laments he "can't make it go out". Danny tells him NBD, dragons breathe fire. "Who's going to show me how to use my fire breath?" Um. Is it me or are we learning about "dragon puberty"? I don't want to watch this. I didn't sign up for this!
Well, I have to commend Danny for suggesting Spike read up on dragon lore and history (READ BOOKS, KIDS!) but, although we've seen the Ponies with books, I don't think Paradise Estate has a library. And all the Ponies' collective knowledge seems to come from fairy tales or legends that the tend to forget parts of. They are not a reliable source for any life skills. [Dove: These are creatures that go six steps in any direction and are in a new and unfamiliar land they've never heard of. They're knowledge of anything beyond having a nice time in familiar settings is a big fat zero.]
"I need experience!" Oh shut the fuck up, Spike.
Spike just said he needs to find some dragons. "YOU MEAN GO ON A QUEST??" Where the fuck did you hear "quest" in that sentence, Danny?? Are you so starved for adventure and attention that you just randomly decide that you and Spike should randomly wander the unknown until you stumble upon dragons? Where you will hopefully be eaten by them?
Yes. You can only learn how to be a "real" dragon by learning from "real" dragons. Welp. FiM totally recycled this story line and made it 1000x more watchable. Spare yourselves and go watch those episodes and skip this garbage.
Wish I could.
HOLY SHIT ARE YOU FUCKING KIDDING ME?! We go from Danny telling Spike he's not traveling alone to DANNY AND SPIKE HIKING ALONG A MOUNTAIN TRAIL. NO GEAR, NO SUPPLIES, NOT EVEN A JACKET FOR DANNY, I'M TOTALLY SURE HE DID NOT INFORM HIS SISTER HE WAS LEAVING, LET ALONE WANDERING AROUND IN THE UNKNOWN WILDS OF PONY LAND TO FIND SOME FUCKING DRAGONS.
Wow. This is just infinitely shitty story telling, that's what this is. This is why a SHOW BIBLE is an important tool. So you know where shit is located, so characters can plan, and not just wander around until the background painters paint them into "new" locations. Ugh. I've said it before many times but I have so had it with this goddamn cartoon. [Dove: We're nearly done, though. We've only got The Golden Horseshoes, Flight to Cloud Castle, Ice Cream Wars, Somnambula, The Prince and the Ponies, Escape from Katrina (which we've already done) and finally Gusty's Quest. We're nearly done, batty boo.] [bat: ….yeah, with this series. We have the cartoons from G2-G3.5 to get through before we can even start thinking about G4 cartoons!] [Dove: Despite having G2 art, there's no G2 cartoon, just two lots of G3. And I'm still very confused about what went on there. Research!]
Hiking along said cliff-side path, with the shitty animation that literally makes it look like the characters are going to walk off said cliff (if only) Spike pants and perspires and announces this maybe wasn't a good idea. I want to know where they found these mountains, because they sure as hell aren't remotely located near Paradise Estate. We've encountered a desert, a forest, several mountain ranges, Flutter Valley, the kingdoms of whatever villain-of-the-week, a huge river, where ever Catrina lived, those things that were distantly related to the Bushwoolies…. see, my point is we've encountered many different, uh, physical settings but NO GOD DAMN CLEAR INDICATION OF DIRECTION AND SYSTEM OF MEASUREMENT TO KNOW HOW THE HELL LONG IT TAKES TO GET ANYWHERE IN PONY LAND.
Just as Spike is complaining about how they haven't encountered any dragons (like, who is to say you're not the last dragon, Spike?! [Dove: Sho'nuff.]) we hear a screeching noise. An eaglet is running along an upper cliff, frantically flapping its wings, hovering over the edge of the cliff, before failing directly into Danny's open arms.
Of course the eaglet can talk. Why am I so surprised.
"WHO ARE YOU GUYS?!" Stranger Danger!! I dunno, maybe don't run along plateaus and jump off cliffs into the arms of random strangers, eaglet? Spike introduces himself and Danny, and the eaglet is like whatever, I'm fine, I just can't fly. Well, I can't fly either but you don't see me whinging about it.
Oh god, this stupid eaglet was separated from its parents and instead of trying to find them, has just been trying to teach itself to fly. Brilliant. OH GOD SPIKE IS CRYING?! OH CRIPES, EVERY ONE IS CRYING. EXCEPT ME. AND I DOUBT THIS WILL MAKE DOVE CRY. THIS IS JUST EMBARRASSING. [Dove: MLP has made me cry twice. The first time was when the CMCs got their cutie marks, and the next was the final episode, which had me ugly crying for the last 5 or so minutes. This particular scene? I feel nothing but irritation.]
Spike sneezes more fire and startles the eaglet and I'm just wondering… how did Spike go from surviving Tirek (Scorpan obviously helped Spike and protected him, duh, bat) to becoming a whiny pre-teen who (most obviously) will go back to living among the Ponies without really solving his "quest". (Sorry if that's considered spoilers but this cartoon is 30+ years old.) We don't know how Spike ended up in Tirek's castle, let alone how/when he was born. Was it from an egg like G4 Spike?? Does Spike even have biological parents? Maybe he was wished into existence?? (I DID NOT WISH FOR SPIKE TO EXIST.) [Dove: I theorise that Majesty made everything, and that's why the world doesn't work to our known rules. It's like Fantastica/Fantasia from Never Ending Story. Go in any direction and you will arrive where you want/need to go. Maps are impossible. Creatures/beings/races come into existence as the world requires, but have always been there once they do exist, etc. Once again: we have put more thought into worldbuilding than the creators/writers did.] [bat: …that… that actually makes TOTAL FUCKING SENSE OH MY GOD you solved the riddle, Dove! Quickly name the Childlike Empress so we can get the fuck out of this series and return to our "normal" lives!] [Dove: *throws open the window and hollers something that nobody can understand, to the point where people theorise (before reading the book) that it was meant to be indecipherable, so as to be a blank space for their adventures in Fantastica*] [bat: Well done, Dove!]
Why the fuck do I bother asking these deep questions because HERE'S ANOTHER FUCKING SONG.
Have I mistakenly put on Annie?? Why do all the "parents" look weird? WHY ARE BOTH SPIKE AND THE EAGLET BEGGING TO BE TAUGHT "RIGHT FROM WRONG" AND "GOOD FROM BAD" WHEN THAT'S BASICALLY THE SAME LESSON?? WHY IS DANNY NOT DAY DREAMING ABOUT HIS VERY MUCH ABSENTEE PARENTS AS WELL??
I apologize (not really) for the amount of capslock I am using but I CANNOT UNDERSTAND THIS CARTOON'S HANDLING OF ANY THING.
Why would you need a quilt in a straw nest? Also why are you taking up the whole nest in the first place? Why does Spike's "dad" look like a melted mix of Barney and Gumby? Why does the father eagle need spectacles? WHY ARE SPIKE AND THE EAGLET DOING THAT WEIRD HIGH STEP DANCE??? SERIOUSLY, WHEN DID I PUT ON ANNIE??!
Great. You just had to ask its name, Danny. Westin, formerly eaglet, is immediately told by Spike that he can come on the quest to find dragons and then promptly move into Paradise Estate, because no Pony will care.
We move to another cliff, how I know this, it's the background painting changing to a different mountain peak and now the sun is setting, wtf, and somehow (PLOT SAYS SO) Danny can see a forest in the valley below and there's a plume of smoke rising from the trees.
We've officially cemented this second season as PLOT SAYS SO FUCK YOU WE DO WHAT WE WANT WE DON'T HAVE TO MAKE SENSE.
Never has seven minutes seemed longer.
WELL IT'S DARK NOW AND THEY'VE COME DOWN THE MOUNTAIN! (HOW DOES TIME WORK) Danny is apparently a skilled bushwhacker. At first I couldn't figure out why Westin was as tall as Danny, but he's riding on top of Spike's head, yet Spike can't remotely be seen among the bushes. Huh?
The trio hears the laughter of idiots. (I don't know how else to describe it. You'd know what I mean if you heard it.)
OH LOOK IT JUST HAPPENS TO BE A TRIO OF GROWN UP DRAGONS SITTING AROUND A FIRE, ROASTING MARSHMALLOWS (…what?) Spike is disappointed and Westin is scared. Uh huh. Wait, wait, what?! Spike puts Westin on the ground, tells him good luck in finding his parents, and basically is ditching Danny and Westin to… there's got to be some man/bird-eating monster in these woods. I would beg for one. What the actual fuck, Spike?! You just told Westin he could go back to Paradise Estate with you yet now you're abandoning two idiots who were "helping" you??
Spike is an arsehole.
One of the dragons… this is basically a camp ground, what with that weird lean-to and… what appears to be a pile of skeletons/bones… okay… one of the dragons notices Spike rudely wandering into their camp ground. Spike looks like walking misfortune. Woe to thee, o dragons.
"I thought if it wouldn't be too much trouble, you would allow me to join your band?" SO NOW THE DRAGONS ARE A MUSICAL GROUP AND YOU WANNA PLAY WHAT, SPIKE, THE KAZOO?
I know, I know, but go with it, it's much more fun to imagine Spike being shot down that way.
The other two dragons, who weren't remotely in frame a mere three seconds ago, immediate start picking on and calling Spike names and complaining that he'd only get in their way. Which is all valid and true. The head dragon points out there's "criteria" to joining a dragon camp. Huh. Who knew. Does this involve an 80s-style action montage where Spike fails at everything? I CERTAINLY HOPE SO. [Dove: Me too. I do love any song they set the montage to. You're the Best Around from Karate Kid is a personal favourite.]
Head Dragon twists and manipulates, saying they gave the local townsfolk a generous offer of "protection" in trade for the best "food stuffs and delicacies" but the townsfolk have been slow to bring said "offerings". Look, kids, these dragons are basically cartoon stand-ins for the mob. It's as simple as that. So in addition to covering drug abuse, child abuse, and other messy topics, now the writers are writing weird cartoon allegories for the mob. GREAT.
My god, that head dragon just used the word "magnanimous."
I'm not sure what just happened but the head dragon totally brought Spike with them to "check on progress" in the town and to see what kind of dragon Spike is. So it was night when that scene ended but now it's totally DAY LIGHT as we're shown a large manor house (WHAT IS TIME) but it's really supposed to be kind of a castle with a courtyard market. I swear to god, nothing means anything anymore.
The townsfolk… I don't know how to describe them. They're bits and pieces of rats, warthogs, hyenas, I don't know, it was DRAW SOMETHING THAT LOOKS WEIRD AND HUMANOID DAY [Dove: Oooh, what if they've got a wheel they spin and that's how they pick what creatures are going to be mushed up?], and there's food stalls but they all sell the same large red round balls, so I'm not sure if they're apples, cheeses, or terrifying imaginary friends. Also, the townsfolk all are smiling in a forced fashion, so that's also disturbing.
Head Dragon stomps in and immediately blows fire onto the carts and stalls, sending townsfolk fleeing, then the camera moves out and he's actually set a building on fire (??!?) and Spike wanders up and immediately looks… well… unsure. That's the best I can do. Spike doesn't start yelling or be concerned about the townsfolk, he just holds his chin and stares. YOU ASSHOLE.
Shadows of townsfolk flee. I say shadows because they're black blobs fleeing over a painted background and weren't given any detail. Nice way to stay on budget. We're given a shot of the three adult dragons making "blargh" and "bleh" sounds while standing among the burning ruins — wow someone put a lot of effort into painting those red apples in that cart, what a waste — while Spike watches a young girl flee with a bowl of sausages.
"YOU!" the head dragon bellows at Spike. He demands Spike pick up the fat sausage that fell from the girl's bowl. Conveniently, there's now a blanket that is covered in meats and a large green pumpkin (??) which is apparently where the dragons have been collecting their payment. But who the fuck knows, no one bothered to animate it, they just slapped it in the shot.
Instead of Spike carrying the sausage, he's carrying what looks like potatoes, but morphs into bread rolls as soon as he lays them on the blanket. "This isn't right," he states before walking off to gather more stolen goods. What the fuck. That's not how you teach children stealing is wrong.
I swear, these writers are going to half ass the rest of this stupid season and Dove and I will suffer for it.
In a not-remotely-shocking-plot-twist, Danny and Westin are watching all this bullshit go down. "We've got to stop 'em!" Danny yells, which means, what? Get the authorities? Or are you going to go get your white girl savior sister and her talking Pony friends to have peace talks with the dragons? Let's see what Danny does!
"LET'S GO TO PARADISE ESTATE!"
Oh, Danny. You fucking moron. [Dove: Not really. Can you think of a higher authority in the entire universe than Megan? She's very nearly god.]
Okay, this is random and weird. Instead of drawing the Ponies, everyone is a black silhouette standing under a tree next to a totally misplaced waterfall. Wow, budget woes this early on?? Like there's no physical or scientific explanation for any creature to be a full black silhouette when everything else in that shot is fully lit. Sigh.
Danny has explained the predicament Spike has found himself in and before Megan can make a non-plan plan, Locket announces she's off to see what the mean dragons are up to. Um, again, without a map or proper unit of measurement to explain distance, how the actual fuck does Locket know where to find them?
This is the episode that fully and truly broke my brain.
Back at the dragon camp hideout base of operations and stolen goods cache, the big dragons are laying around a fire, while Spike sits dangerously close to the flames. The king dragon asks Spike what he thinks of dragon life (…is it like gang life?) but apparently it's a rhetorical question, because the king dragon just continues on without waiting for Spike's assessment.
"You might have more fun if you were more like my friends, the little Ponies!" Spike, what the hell, that's not… how did we totally jump the track here? I realize you have been raised by dim-witted "magic" horses and some random white girl from another dimension, but not all life is "fun and games". Your sense of reality is skewed, m'boy.
Oh god, Spike, shut the fuck up. Telling domestic terrorist dragons where the Ponies live and that they spend all day playing games (and make cookies and cupcakes, wtf?) is just asking for trouble. Yep, that seals the deal, the dragon king is totally interested in meeting Spike's Pony friends, although for some reason, his mouth totally does not move while the voice over drones on. Ugh.
Apparently Spike's gang initiation is to take them to Dream Valley. There's no mention of murdering Baby TW or jumping Megan. Pity.
Oh look, Locket just randomly flew over the now abandoned dragon camp. What timing. And from the opposite direction the dragons are headed in. WHAT IS DIRECTION WHERE IS MAP HOW THE HELL DID LOCKET JUST RETURN TO THE SO LARGE IT MAKES EVERYTHING BLACK TREE WHERE MEGAN AND CO ARE JUST STANDING AROUND WAITING INSTEAD OF DOING ANYTHING
Danny suggests a "proper welcome". Megan's eyes bulge out of their sockets but she does not speak. Dove, are you terrified by this as well? [Dove: I'm kind of hoping that Danny's going through a "girls are icky, ponies are silly, and I'm sick of pastel colours" phase, and we're going to see ACTUAL WAR in Ponyland.]
Yes. Putting Westin in a hole in a tree as a look out was a great idea. (WTF) Spike leads the dragons into Dream Valley, utterly clueless that Danny has arranged a coterie of locals and those crab cops Dove loves so much [Dove: They are the John Cena of Ponyland. How can you not love them?] to slaughter them…
…oh, wait, that was me writing wishful fanfic. Sorry.
Spike causes a dragon pile up when the king dragon discovers a table full of food and a large painted sign welcoming dragons. Okay, even I'd be confused by that. Cue Megan and the Ponies stepping out from behind trees, which aren't large enough to hide a single Pony though that's what we're meant to believe when two or four step out from behind a single tree. Ugh. Megan welcomes the dragons and Locket can't decide if she has an American or British accent as she announces they have laid a "big meal" for the dragons.
This is just getting more and more stupid by the second.
The king dragon is shoveling cupcakes into his mouth, yammering about how "easy" this will be. What will be easy? The murdering you're intending to do? Please elaborate.
"MOVE OUT OF THE WAY, SPIKE!" Megan shoves the little purple dragon. Wow.
The king dragon announces the Ponies are smart for giving them food, and to keep it coming. Okay, so, no murder but extortion. Sure. Clearly these dragons have never heard of any of the things the Ponies have done to other denizens of Ponyland. This will end well.
When the king dragon threatens there will be trouble if the Ponies don't meet the dragons' demands, SPIKE SUDDENLY COMES TO AND PITCHES A FIT. The king dragon reminds Spike he's "one of us" now and no longer is friends with the Ponies. (And I didn't even get to see Spike drink magical blood that made him a half-dragon… wait…)
The dragon gang proceeds to eat the contents of the food service table while the Ponies and Spike watch. I hope it's laced with poison. Spike screams about how the dragons don't have to be mean, the Ponies will share everything they have! Wait. You want me to believe that the Ponies are running some kind of hippie commune and everything is community property?? The Ponies are Socialists? HAVE ANY OF THE WRITERS EVER WATCHED THE CARTOON? THE CARE BEARS ARE BETTER AT SHARING THE PONIES EVER WERE! [Dove: If the writers say it's a utopian paradise, it's a fucking utopian paradise*, ok? *as long as the plot requires.]
(This is like watching Flashback where the storytellers are trying to convince me Sutherland's character grew up in a hippie commune in Oregon/Washington state when the film is VERY CLEARLY NOT FILMED IN OREGON and the hippie parents also named their only son FREE. Which he promptly changed to John upon getting a job at the FBI. I'm going to stop talking about that now.)
CUE DANNY STANDING ON THE CLIFF THAT WAS DRAWN SPECIFICALLY FOR HIM TO STAND ON NEAR THE TOP OF THE WATERFALL, REVEALED BY THE PONIES TAKING THE WELCOME SIGN DOWN. My brain hurts. You know what, I am rewinding this and checking…
OKAY TOTAL BULLSHIT. THE CARTOON MAKERS ARE TRYING TO CONVINCE ME THAT A TINY WOODEN TROUGH HELD BACK THE WATER FROM THE WATERFALL YET WHEN WE FIRST SEE THE WELCOME SIGN, THE WATERFALL IS CLEARLY NOT BLOCKED BY A TINY WOODEN TROUGH. YET HERE'S DANNY PULLING THE BOARD PLUGGING THE WOODEN TROUGH AND THE WATER IS POINTEDLY SPRAYING THE DRAGONS.
And somehow the Ponies have a garden hose. Which two of them pick up in their mouths but it's not turned on, yet the water sprays the dragons just the same.
That's it, Dove. I've officially fucking had it.
The dragons, soaking wet and apparently this has put out their internal flames, cower as Danny screams that there will be more water sprayed upon them if they continue making trouble. Spike wails about how he wanted to learn to be a dragon and not a bully. WRONG MOMENT TO THROW THAT IN, SPIKE.
I'm honestly shocked that Danny not only came up with a plan but executed it, and apparently with success. His sister Megan has never actually managed that, right?
The dragon gang departs, grumbling about Ponies not having senses of humor (they don't) and that's the end of that. Because that's how this show rolls, right? All bluster and build up with no payout.
BUT WHO CARES BECAUSE MEGAN IS NOW TALKING TO WESTIN AND CAN'T UNDERSTAND WHY HE'S NOT ENJOYING HIMSELF. SEE, THE WRITERS TOTALLY DIDN'T FORGET ABOUT THIS C-LEVEL PLOT THREAD!
I can't understand why Westin looks 90 years old and so tired of living, yet is supposed to be a baby.
BUT WHO CARES (AGAIN) BECAUSE WESTIN'S PARENTS JUST FLEW IN. AND JUST LIKE THAT, WESTIN AND HIS PARENTS ARE ETERNALLY FORGOTTEN. [Dove: *contemplates just walking off in a huff* This episode, dude. It sucks.]
Spike and Danny are sitting on a rock beside the… river? lake? pond? random body of water? and Spike is bitching that he'll never know how to be a grown up dragon, because he doesn't want to be a bully. "Nah, look at how many kinds of Ponies there are!" Danny admonishes.
Um. Back the fuck up, Danny. There are only three flavors of Ponies – Earth, Pegasi, and Unicorn – and ALL of them are vapid, half-witted, vain, selfish, bullies. Dove and I have done extensive research into this. We know what we're talking about. We have called G1 Ponies "mean girls" for a reason.
Also – Flutter Ponies are fucking Pegasi, Danny. Why did you leave out Unicorns??? [Dove: And if he's going to list the subcategories, he should add the twinkle eyes, the twice as fancy, the so-softs, etc.]
SPOILER ALERT: SPIKE NEVER FOUND ANY OTHER DRAGONS FOR THE REST OF HIS EXISTENCE.
Spike also decides to stay with the Ponies. Because, really, where the fuck else would take him in?
We end on Spike saying he learned how to shove marshmallows on a stick, sneeze, and burn them. Of course, I want to know where the hell he got the marshmallows from. [Dove: Whereas I didn't even think of that. I was too busy wondering who'd eat anything that they had literally just watched someone sneeze on to.]
The end.
Final Thoughts:
Damn. This ended up taking… months. Unfortunately, life kicked my ass. Between the aforementioned antibiotics (which ended up leading to more medications, some answers, but also triggering more issues) then my grandmother passing away two weeks before Thanksgiving, then holiday hell descending upon me… yeah. The dumb ass purple baby dragon's adventure got shoved into the bin and ignored until now. There's no way you can watch this episode when you're already miserable six ways from Sunday and write a recap at the same time.
This is just a shitty (so shitty) filler episode. We've had Spike-centric episodes before but it really feels like the writers were trying to appeal to the boys watching the MLP cartoon (because they had to, because it was their sisters' turn to choose the TV programme) so making a dragon-filled episode but also let's talk about bullies and oh throw in a lost eaglet who really isn't all that lost, that'll give the boys something to enjoy!
Not really.
At least it wasn't a two-part episode, or worse, a four-part episode. It was a simple one-shot waste of time that added nothing to the MLP canon (except that the Ponies are hippies who share their worldly possessions with whatever random creature wanders by and do nothing all day but have "fun") and managed to deepen my dislike of G1 Spike.
This gets an F. It was poorly executed, poorly written, it was just plain poor all round.
Hopefully, now that things are gaining a modicum of stability and normality again, we'll get back on the recap wagon. Which means I get to recap The Golden Horseshoes next. So I don't even get to hand this off to Dove, I get to tell myself GET TO IT ALREADY.
Until next time!
[Dove: Agreed all over. I'm not a huge fan of the G4 version of this story (mostly because I don't like Spike episodes in any generation), but this was just breathtakingly bad. It was a jumble of barely-connected scenes, dropped plot threads and paper-thin characterisation. The only high point of it was that bat managed to get another screencap that makes it look like Megan's on fire.]