My Little Pony: The Magic Coins – Parts 1-2 (S01E31-32)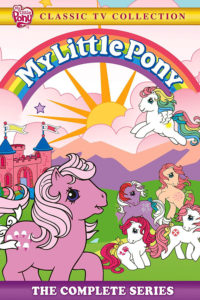 Title: The Magic Coins – Parts 1-2
Summary: Those crafty Baby Sea Ponies give the …land?… Ponies a chest full of cursed magic coins which grant the Ponies wishes! But, without much explanation, the magic comes at a cost. This is basically the plot of Pirates of the Caribbean: The Curse of the Black Pearl but… without… pirates and Johnny Depp. Oh, no it isn't. Unless that's Johnny Depp voicing the Moochick?

Grade: C

Initial Thoughts:
"This will be fun!", we said. "Look how much fun we'll have reliving our favorite childhood cartoon!" WE FUCKING LIED TO OURSELVES, PEOPLE. DOVE AND I HAD NO IDEA WE'D END UP IN A CANDY-COLOURED CARTOON HELLSCAPE FULL OF TALKING PONIES LED BY A WHITE GIRL SAVIOR TROPE. [Dove: We chose this. Why would we do that?]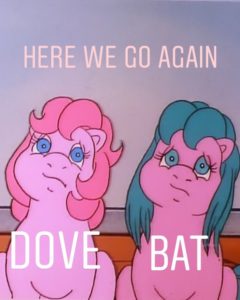 Hello and welcome back to yet another installment of sheer torture My Little Pony and Friends, the 80s cartoon that did not deserve 50 episodes for a first season but my god, it was so popular in 1986, that's what it got. I'm pretty sure that last entry gave me some brain damage (probably that and the antibiotics, ugh) and coupled with the fact that the way we planned this out (to equalize our suffering) it's my turn for the back-to-back-to-nearly-back recap run. Literally anything that follows that goddamn nightmare of imagination games has to be better, right?
Probably not. This is My Little Pony for cripes sake, a show with no show bible, where magic has zero rules, Ponies can't save themselves from anything, and rely on a human to do all their thinking and there's so many villains who want to "rule" Pony Land for… pick a reason. It won't matter. Megan always wins. [Dove: ♫ Evil may be powerful, but Megan always wins ♫]
I always confuse The Magic Coins for the Golden Horseshoes for some stupid reason (the titles aren't even remotely similar?) so at first I was excited then remembered I was thinking of the wrong episode arc. Oh well. I'M JUST GOING TO SPOIL THIS NOW: THIS IS THE LAST TIME WE EVER SEE MOLLY. SHE IS GONE FROM THE SERIES AFTER THESE FOUR EPISODES! (Sorry, Dove, for stealing that. But it just made me so happy. It's given me reason to get through this recap!) [Dove: That's not spoilers. That's on par with "Hey, Dove, did you know it's Christmas (or any other enjoyable day in the year that comes with a day off work) tomorrow?" That is excellent news that needs to be shared.] [bat: HEY DOVE, HAPPY CHRISTMAS! IT'S YOUR BIRTHDAY!]
No more of Molly's redundant anxiety and whinging. This is a gift. It's not Megan but I'll take it.
Anyway, I'll just get on to recapping this. It's that or go back to watching Annie. The 1982 version. Which is terrible. But Tim Curry! (TBH, that film is so over-produced, it's ridiculous. And the bridge chase at the end still upsets me; it terrified me as a child, so some of that is residual. But, and 37-year-old-spoilers ahoy, the fact that they're trying to throw Annie in the river so she'll drown is almost so fitting for an 80s movie, since those "children/family" films scarred the crap out of my generation.) [Dove: Pretty much everyone I know was traumatised by Return to Oz. I was traumatised by some random anime (I don't remember the name) where a bunch of birds killed a little boy by pecking his head. He then turned into an old man telling a story and both old him and the little boy died. Or something. I was very confused and upset over it for days.]
Recap:
Part 1
Oh god. Megan, Molly, Danny, and the Ponies are having a picnic. Because… whatever.
Yes, it's another perfect/beautiful day in Pony Land, where nothing ever goes wrong or results in some weird creatures attacking Ponies, and Danny is being an asshole about setting up a picnic blanket by the riverside. Way to shit on your little sister Molly's excitement, Danny. A huge butterfly, the size of Danny's face, alights on said face. What the hell?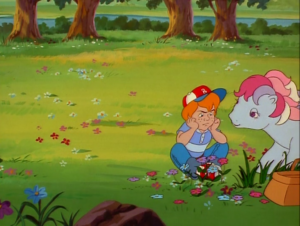 In an effort to shoo the butterfly away, Danny trips over the picnic basket and lands in a patch of wildflowers. Megan, Molly, and some of the Ponies find this goddamn hilarious. I don't. Sweet Stuff points out he's lucky he didn't land in the water. IF ONLY HE HAD, AND PROMPTLY DROWNED.
Oh. Wait. I guess any mention of water and that's the immediate cue for SHOO-BEE-DOO, because he's the frickin' Sea Ponies — WHY ARE THEY CALLED SEA PONIES IF THEY LIVE IN FRESH WATER?? I DON'T SEE A FUCKING OCEAN IN THIS SERIES! [Dove: Fucking long overdue, but NEW TAG: Are they Sea Ponies or Fresh Water Ponies?] — singing their stupid musical theme. My bad, it's Baby Sea Ponies. Because only Baby Sea Ponies need those flotation devices. Man, I never really thought about how ridiculous those are until this moment. THEY HAVE FLIPPERS AND APPARENTLY BREATHE UNDER WATER, WHY DO THEY NEED FLOAT RINGS??? [Dove: Also, if they're float rings, why don't they prevent the ponies from diving?]
Apparently one of the Baby Sea Ponies — I had to pause and identify her, lord help me, I used to be able to do this on sight — Surf Rider has taken offense to any insult to water. I don't get how this segue was made but whatever. She slides down a water fall like it's a fricking water slide, then dives deep down into the river, which makes no sense because shouldn't her goddamn fish-shaped floatie make her spring back up? HOW DOES ANYTHING MAKE SENSE HERE.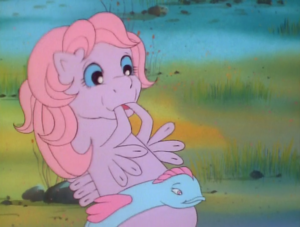 What does it matter. It never matters. Surf Rider swims along and is startled by the sight of a wooden chest. Because sure. Why not. Somehow separating her flippers into fingers, she jams two in her mouth and WHISTLES UNDER THE WATER, summoning the other Baby Sea Ponies. I'm sorry, I'm going to have a meltdown about how entirely implausible this is.
Heeding the call of their… sister?… the other three swim down and help raise the wooden chest from the depths. Everyone else is just standing around on the bank of the river, not remotely confused or curious. Somehow, even though it was just removed from being half buried in silt on the bottom of the river, the wooden chest now floats as the Baby Sea Ponies push it over to Megan and co.
OH OF COURSE MEGAN JUST OPENS IT WITHOUT A KEY OR EVEN THOUGHT BECAUSE OF COURSE. I HATE MEGAN AND THESE WRITERS SO DAMN MUCH.
Inside, because what else would be in a wooden chest that opens without a key, is a pile of golden coins. Why do we know they're golden? They've got yellow lines to indicate "glowing" and sparkles. They also have images on them. It looks like a sun, a star, a heart, what is a green blob that could be a clover, and a crescent moon. OH MY GOD, IT'S A BOX OF LUCKY FUCKIN' CHARMS! (Where's Mad Sweeney when you need him?)
Megan picks up a single coin. "They're very pretty. I wonder where they came from." YOU'RE IN PONY LAND. WHERE MAGICAL ITEMS ARE EVERYWHERE. YOU FUCKING TRIP OVER MAGICAL ITEMS EVERY DAMN WEEK.
Damn it. Wind Whistler immediately busts out the gigantic words and terms, ugh, yammering on about how the coins are from "virtually anywhere", and there's a "myriad" of streams and rivers with currents strong enough to carry the chest to where the Baby Sea Ponies found it. THIS. THIS IS WHY I HATED WIND WHISTLER.
OH YES PLEASE GET IN ON THIS GALAXY. GALAXY "SENSES" THERE'S MORE TO THE COINS THEN THE FACT THEY LOOK LIKE COINS. WELL SHIT, WE WOULDN'T HAVE AN EPISODE IF THAT WASN'T THE CASE.
Dove. I can't. I just can't.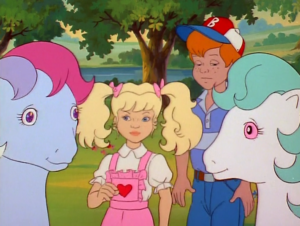 Gusty, sensible as ever and sounding just like Bart Simpson, slams the chest's lid down and declares that they're there to have fun! FUN, DAMN IT. REMEMBER FUN?? She demands they play volleyball. (I hate volleyball. I've hated it ever since I was forced to play it in gym class in early elementary school.)
No one objects, of course. They just run and/or gallop over to where a row of squat bushes make a natural net. That's when Gusty realizes hey, we have no volleyball! Ugh.
BUT. WE HAVE UNICORNS. WE HAVE FIZZY. Who promptly summons a giant bubble from the standing water nearby, before she kicks it over to the others. Sure. Whatever. I have no objections to this. (I do, I have just lost the will to care or complain. It's become too taxing.)
It's depressing how excited Molly and Galaxy look at the sight of Fizzy's bubble. Like, this show is literally saying fuck physics, science, natural laws, etc., and children are none the wiser. Anyway, Molly calls it (?!) and hits the bubble like it's a volleyball, it even makes a weird sound when she does. Ugh. There's a moment when Wind Whistler is called out for hitting the bubble while flying but it doesn't matter, Danny spikes it and scores a point. WHAT THE FUCK WAS THE POINT OF THIS SCENE.
Across the field, a ginormous blanket has been spread over the grass, where Megan is carrying a bowl of what I suspect to be fruit. It's round orange and red objects. Baby LS is WHINING IN ANNOYING BABY PONY TALK about wanting to eat. Megan tells her to HUSH then sets the bowl of fruit in front of the Baby Pony. Of course Baby LS licks her lips then realizes Megan is watching, so she doesn't steal fruit.
(Do… do the Ponies tell their children to not misbehave because Megan is watching???? THINK OF THE IMPLICATIONS OF THAT!)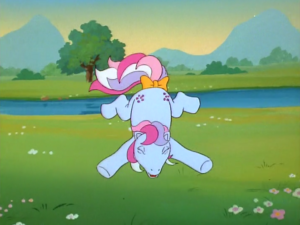 The stupid volleyball game is still going on, until Sweet Stuff misses and goes galloping after the "ball", tripping over a RANDOM GIANT TREE ROOT THAT ISN'T ACTUALLY ATTACHED TO A TREE BECAUSE THERE'S NO TREES EVEN REMOTELY IN THIS SCENE, and that causes her to tumble into the picnic blanket and smash into the treasure chest, spilling the coins everywhere. [Dove: She tumbles for about the length of a football pitch. They really do love to oversell the gag.]
For once, Megan inquires if the Pony is okay, what a concept. OH MY GOD THE FIRST THING THAT HAPPENS IS SWEET STUFF APOLOGIZING TO MEGAN AND HOW SHE'LL PICK UP ALL THE COINS. ARE YOU KIDDING ME. THIS IS WHERE APOLOGY CULTURE CAME FROM????!!
Megan tells Sweet Stuff to finish her game first. Ugh. How magnanimous of you, Megan.
Even though they've basically played a full game without incident, as soon as Gusty calls it and leaps for the bubble, she pops it with her horn. So, did we learn something? That magic bubbles aren't safe around unicorn horns? Or what?
Wow, Molly immediately taunts Gusty, saying "you've got it all right!" in a bitchy way. Taking more and more after her older sister and brother, huh. Fizzy says she'll just make another bubble ball. BECAUSE MAGIC.
BUT – PLOT TWIST – AS FIZZY IS WALKING TO THE RIVER BANK SHE WISHES ALOUD THAT SHE COULD MAKE BIGGER, STRONGER BUBBLES THAT COULD WITHSTAND PLAY, JUST AS SHE STEPS ON ONE OF THE MAGIC COINS!
The coin disappears and the musical score changes to the very obvious CONCERNING / TROUBLE piece that's become standard in these cartoons. Fizzy begins to magic a bubble into existence, which promptly grows to… well, to be honest, I can't figure out if it's a bubble as large as a Pony or what, because WHAT IS SIZE COMPARISON IN PONY LAND.
Whatever it is, it impresses the others, prompting Molly to ask Fizzy to do it again. Taking a deep breath and holding it in concentration — do all the Unicorns do this?? — Fizzy repeats the magic and a whole group of massive-sized bubbles form and rise out of the river.
Hm.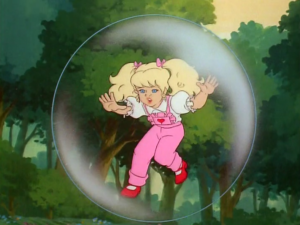 They rain down on the Ponies and Molly, causing joy, until Molly is sandwiched between two bubbles. They join and Molly finds herself rising above the ground. Uh oh. Molly is having a fucking fantastic trip, scaring a random bird and twirling around inside the bubble as it rises higher and higher. Megan yells at her little sister to not break the bubble, as the fall will likely kill her.
Of course that's when Molly screams about being scared and begging Megan to get her down. Um, YOUR SISTER CANNOT FLY BUT YOU HAVE LIKE SIX UNICORNS AND PEGASI STANDING AROUND STARING AT YOU. Ugh.
Wouldn't you know it, Wind Whistler is the only one with a brain! She dashes over to the picnic basket, tossing items out left and right until she comes to a salt shaker. But, instead of DOING THE THING ON HER OWN, Wind Whistler takes it over to Megan. UGH. ARE YOU KIDDING ME. Megan is CONFUSED as to why Wind Whistler has brought her salt. "Salt has a corrosive affect if you sprinkle it on the bubble's surface!" OH MY GOD WHO WROTE THIS CRAP AND WHY WOULD THIS MATTER IT'S A GODDAMN MAGIC BUBBLE.
So. Like I said, instead of doing this on her own, Wind Whistler has to wait until Megan jumps on her back, then she has to gallop up a hill to gain enough altitude to reach the bubble that's floating higher and higher. SURE. MAKES TOTAL SENSE. Megan directs her to headbutt the bubble and push it over the "pond" (THAT'S A RIVER, MEGAN CAN'T EVEN IDENTIFY DIFFERENT BODIES OF WATER) before Megan reaches over and liberally shakes salt onto the top of the bubble.
Which pops.
Sending Molly tumbling through the air, until she lands in the (now redrawn as a pond) body of water.
You know what? If this was FiM, one of the other pegasi would have flown up and hovered below Molly to catch her. BECAUSE THIS IS FUCKING RIDICULOUS. [Dove: Of course they go for the Soft Water trope. I wonder how many people have died leaping off bridges thinking, "It's ok, the water will break my fall." No, kid, the water will break your neck. Also, if Wind Whistler's so smart, why didn't she guide the bubble to the ground then pop it there? FFS.]
I'm so angry on Molly's behalf. I'm kind of shocked.
Oh shit, SHOO-BEE-DOO indeed. The Baby Sea Ponies surface and crowd around Molly, using their… flippers? to hold onto her as they swim her towards shore. Still, even more insulting is the fact that only Cupcake runs to shore to make sure Molly is okay. Megan could not fucking care less about her younger sister. [Dove: She was sure quick to ask if Sweet Stuff was ok after she fell over though. It's things like this that inspired my 2018 NaNo project (shameless plug from my Sweet Valley/MLP Gens 1 and 4 crossover).]
And then it gets even weirder, because there's no segue, it's just suddenly Baby LS yelling about how she's still hungry, she steps on a coin while wishing for a pile of food as high/tall as a tree and then weird edit and Megan is suddenly on the ground by the picnic blanket and there's food on plates and cups spread all over it. WTF.
That's when the picnic basket explodes, spewing baked goods and sandwiches and fruit and that's a can, what the hell?? There's a river of it and Fizzy and Galaxy are dancing in it and Megan is JUST CONFUSED and Danny looks fearful. Megan lands on her ass in the pile, some of the Ponies' heads popping up out of the mountain of food.
Wind Whistler pops up, a cupcake balancing perfectly on her mane, explaining she believes the magic coins are responsible for this nonsense. OH GEE, REALLY. At least she backs up her theory by rushing over to where some of the coins are, explaining she saw Baby LS step on one as she made her wish, which caused the coin to "glow and de-materialize".
HOW MORE STUPID… oh god, seriously, Baby HN starts this weird dancing on her back hooves, yelling about magic coins. Instead of giving Wind Whistler PROPER CREDIT, Megan announces that Baby HN is correct and the coins have pictures on them that show what kind of wish they grant.
If there is one that that pisses me off it, it's when proper credit is not given. Megan, you are so on my shit list. I mean, you were before this, but you've rocketed right to #1. [Dove: Also, how fucking lucky is it that both Fizzy and Baby Asshat both stood on the coin they needed to make their wishes come true? What are the odds of that happening twice in a row?]
That's when the sky goes dark, heavy clouds magically form, and there's lightning. It's a downpour and Megan announces PICNIC IS OVER and somehow gets the blanket rolled up and under her arm without touching it. Megan and Ponies flee back towards Paradise Estate.
Here's another plot twist: Baby LS, pitching a fit, stomps on another coin and yammers in baby talk about how she wants it TO NEVER RAIN EVER AGAIN IN PONY LAND. [Dove: THEY ACCIDENTALLY TREAD ON THE CORRECT COIN THREE TIMES IN A ROW? WHAT THE ACTUAL FUCK?] [bat: PLOT SAYS SO!]
Can't wait for those consequences to appear.
Oh, wait, HERE THEY ARE!
Just as suddenly as the storm started, it stops, and the sun is boldly shining. Everypony and the humans stop running, as Molly cheers that the picnic isn't ruined. Megan is suspicious, and a EXTREMELY STONED/SUBDUED Galaxy chimes in that it seems very odd indeed that the storm dissipated that quickly.
THE SUN GLOWS MENACINGLY AND A TREE CRUMBLES AND DIES AS FLOWERS WILT. MORE TREES LOSE THEIR LEAVES AND THE WATERFALL DRIES UP, LEAVING SHALLOW PUDDLES AND A DRY RIVERBED.
Wow. How does it feel to have murdered Dream Valley / Pony Land, Baby Lickety-Split?? (Yet another reason I hate both Lickety-Splits.)
For some reason (plot, what plot?) Megan, Cupcake, and Spike don't seem to notice the fact the grass is either yellow or gone (it's hard to tell) and Posey wanders up telling them there's a total disaster and they need to come see.
This is playing out real weird, even for My Little Pony. The pacing is real off.
OKAY WHAT THE FUCK. Posey takes them to see her withered and dead garden, with a giant dead oak tree right beside it, and Wind Whistler announces this is a meteorological anomaly, and that it HASN'T RAINED IN WEEKS.
WAIT A MINUTE HOW DID WE GO FROM THE PICNIC TO LITERAL WEEKS LATER IN THE SPACE OF A SCENE? WHAT IS TIME?? HOW DOES TIME WORK??? HOW DO THEY NOT KNOW THIS WAS CAUSED BY THE COINS EVEN THOUGH LESS THAN A MINUTE AGO WIND WHISTLER TOLD THEM ABOUT THE COINS??????????
???????????
Posey laments that she never knew you could miss rain.
Suddenly we're over at Paradise Estate, which is surrounded by dead trees and the ground it sits upon is full of huge fissures and cracks. I HAVE A LOT OF QUESTIONS.
Oh shit. IT'S TIME FOR A SONG. BECAUSE THAT'S HOW PONIES DEAL WITH PLOT ADVANCEMENT.
[Dove: The last two times I've been to the USA, I went to Las Vegas and Santa Cruz. By the end of the holiday, this irritating video sums up my feelings. I'm a Brit, I'm used to the rain. But I'm a unique Brit. I love it. Not just the big storms, but the boring grey sky, and the feeble drizzle, and the crap rain that ruins everyone's day. That's what I love. So I'm in a weird position where I actually get what they're moaning about. But I'm also in the usual position of "Eh, who cares? I'm sure Megan will fix it. Or at least take credit if someone else fixes it."]
Posey was one of my favorite toys but this song annoys me greatly. We see rain falling and the Baby Sea Ponies swimming in it (HEY WAIT, WHAT'S BEING DONE TO SAVE THEM??) and Spike is walking on(?) the water in a yellow rain slicker, before he suddenly morphs into a Native American with a headband with feathers, dancing below a burning sun, while Cherries Jubilee beats on a drum. Oh look, Spike is performing a "rain dance". Nice. Welcome to the 80s!
Spike "dances" until he points out small storm clouds gathering into one big cloud. Wind Whistler dumps a bag of "rain seeds" into the cloud (the bag literally has RAIN SEEDS written on it, ugh) and Lofty tries to push it towards Paradise Estate but bounces off it.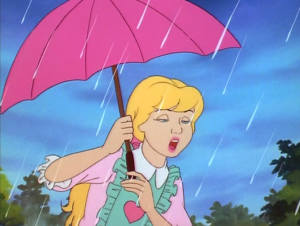 Now Spike is standing on top a pillar of Ponies, wearing a cowboy hat and tossing a lasso at the cloud. STOP ALREADY. But the lasso fails. Now the cloud has three large buckets in it? Literally?? That dump water on the ground. Megan twirls a pink umbrella and sings her verse in the song. "SUN SUN, GO AWAY!" Spike demands. [Dove: Also, Megan's mouth does not match her voice. She looks like she's yawning.]
The end of the song shows Megan, Spike, and the Ponies standing under an assembly line of black rain clouds that pour down water, making Pony Land green again.
BUT THERE IS NO DISTINGUISHING THAT IT WAS A FANTASY SCENE BECAUSE SUDDENLY WE'RE BACK IN A YELLOW AND BROWN REALITY OF DEAD PLANTS AND SCORCHING SUN.
Baby LS walks up to Megan & co, proudly announcing that it will NEVER RAIN EVER AGAIN because she wished it so. I vote we sacrifice Baby LS to the gods to bring the rains back! [Dove: Seconded. And the motion passes.]
"SO THAT'S WHY IT HASN'T RAINED!" Megan, ever so clever, solves the goddamn mystery. Instead of scolding and punishing Baby LS, she just walks off and now we're inside a room in Paradise Estate, and there's the pirate chest the magic coins were in. Were, as in the chest is empty.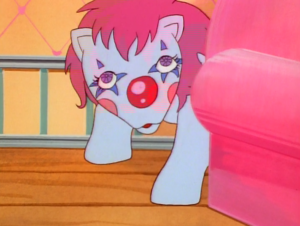 Megan asks if Heartthrob used a coin, which she admits she did for a very good reason: the heat ruined her makeup. (WHEN DO PONIES WEAR MAKEUP??) It was a coin with a mask on it. That's when they realize Sweet Stuff HAS TURNED INTO PENNYWISE THE CLOWN. [Dove: God bless you for quoting Tim Curry, and not the new IT. I feel like I'm the only IT devotee who loathes the new film. Also, there are so many ponies in my collection that look like this, because their young owners did not realise that felt-tip and biro pens stain forever.]
Wind Whistler barges in to announce that the METAPHYSICAL POWER OF THE COINS HAVE UNFORESEEN AND HAZARDOUS SIDE EFFECTS!
No shit, Wind Whistler.
Megan says they have to find the rest of the coins. It's a weird cut and we're back outside, Magic Star wandering up to Megan. Megan asks if she's seen the coins. Turns out Magic Star put them in her good luck collection (??) for safe keeping. Sure.
Long story made even shorter by shitty story writing, Magic Star returns with the last three coins. Megan doesn't understand any of the images on the coins but the Ponies all wish for rain none the less. Sure. They sound like a cult, chanting repeatedly. Nothing happens.
"Pony Land is going to dry up and blow away!" Lickety-Split, ever the Debbie Downer, announces. HEY YOUR CHILD CLONE IS RESPONSIBLE FOR THIS MESS.
Oh god. Megan pockets the coins, announcing they're going to have to consult with the Moochick to figure out how to use the coins. Please no.
Megan, Danny, Molly, Whizzer, and Ribbon take off to… isn't it the forest where the Moochick lives? I can't remember. Anyway, they hear "SHOO-BEE-DOO!" as they're walking along and come upon…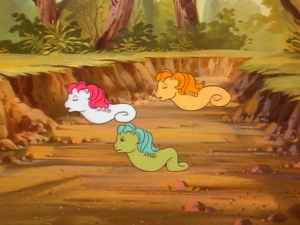 …three dead Baby Sea Ponies laying on the dry creek bed. [Dove: Literal LOL at your image caption there.]
I TOLD YOU, WHY WAS NO ONE DOING SHIT ABOUT THEM WHEN THEY KNEW THERE WAS NO WATER HOW STUPID IS THIS SHOW GONNA GET
Of course Megan goes running towards them, gathering Rip Tide in her arms as the others crowd around the other two Baby Sea Ponies (WHERE ARE THE ADULT SEA PONIES?? ALL PONIES ARE SHIT PARENTS.) as Molly and Danny each lift one up in their arms and SCREEN FADES TO BLACK.
Part 2
(That would have been a hell of a cliff hanger ending to the series, say, if My Little Pony & Friends had been cancelled before the rest of the episodes were produced. Dead Baby Sea Ponies. [Dove: Like Alf?] [bat: The one on that list that I remember vividly was Dinosaurs. I have NEVER felt so bleak and depressed after watching a season ending like that. So chilling.])
ALAS here is part two, because… because.
And because there is ZERO CONTINUITY IN THIS SERIES (my god, my poor brain) the opening shot has moved everyone to a dried up river bed, not a dried up pond/lake bed, and the Baby Sea Ponies are now wearing their animal float-y thingies. Oh, and none of the human children are holding them. Danny's holding what looks like a red purse and standing off to the side while Megan and Molly are on their knees beside a Baby Sea Pony each.
Oh. And the giant kicker? THEY ADDED TWO OF THE BABY SEA PONIES THAT WEREN'T THERE AT THE END OF THE PRIOR SEGMENT.
This, like, wins the biggest discontinuity award ever. [Dove: Yep, you win.]
I have to say this: when these episodes originally aired (and this is for those of you reading who didn't grow up watching them and have only found them on DVDs and/or the Interwebs) the segments were packaged with two to three other cartoons. So you got one 10 minute segment, then another, followed by one or two more. They didn't air in 20 minute blocks with the segments back-to-back. You had frickin' Glo-Friends and the Potato-Head Kids, and what Wikipedia tells me was MoonDreamers (I had the toy lion from that, though I rarely watched the show).
MY POINT IS that continuity didn't matter to us children who were watching. We would hardly know if something was changed because this package of cartoons aired every afternoon at the same time and our attention spans were so short that remembering anything beyond the basic plot points was asking too much. (Later on, obviously, a lot of us would notice the shortfalls and discontinuity in the plot/characters/etc, because here I am screaming about it on the internet some 30 years after the fact.)
Wikipedia also tells me this particular episode aired just before Halloween 1986, which means I would have been five years old and I was not remotely capable of understanding that someone fucked up the story line AND added shit that hadn't been there the prior episode. Sigh. I was probably terribly upset that someone was trying to kill the Baby Sea Ponies, though. I would wager on that.
BACK TO THE EPISODE.
Megan is screaming and poking Rip Tide, going on about how the Baby Sea Ponies have run out of water. (Again, pointing out the goddamn obvious, Megan.) Wind Whistler chimes in that they will "not long survive out of their natural habitat." GEE, YOU THINK.
"I KNOW, WIND WHISTLER!" Megan claps back (damn) and now I see she's wearing a backpack she wasn't wearing in the prior episode and also a canteen . Actually all the children are and so are some of the Unicorns. WAIT A MINUTE, WHO THE FUCK DECIDED TO JUST KIT THEM OUT AND PRAY NO ONE NOTICED SUCH A GIANT CHANGE??
Megan is screaming about where to find water to put the Baby Sea Ponies in to save them. (Where are the adult Sea Ponies????? [Dove: Dead.]) Whizzer rattles off that there's a pond due south about a mile. (CAN WHIZZER TELL ME IF A MILE MEANS THE SAME MEASUREMENT IN REALITY AS IT DOES IN PONY LAND?? I DOUBT IT. [Dove: She can't. But she'll waste 30 minutes using long words regardless.])
Once again, Megan dons her White Girl Savior hat and splits everyone up. She sends her siblings with some of the Pegasi to take the Baby Sea Ponies to the pond while she and most of the Unicorns head off to find the (utterly useless) Moochick. Because the Moochick will know how to make it rain. [Dove: This is how you make it rain.]
Joy.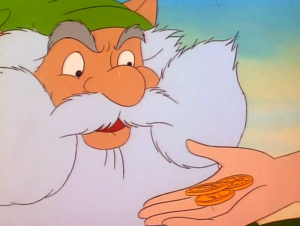 The journey is short, natch, because this is a 10 minute segment. Megan and co wander into Mushromp (lord, how high on mushrooms were the writers) where the Moochick is casually sitting under some kind of home-made fan. He says he wasn't expecting visitors because it's too hot.
OH LOOK THE POOR RABBIT LIVES AND HAS BEEN ENSLAVED TO PEDAL THE FAN CONTRAPTION.
Megan shows the three remaining coins to the Moochick, who goes on a tear, throwing books off the shelves and out the door causing Megan and the Rabbit to duck. Apparently the Moochick is familiar with the magic coins, otherwise he wouldn't have been remotely used as a plot point.
Turns out the book he's looking for he was actually sitting on, so the Rabbit grabs it and runs it in to show the Moochick he's a dumb ass. I have to ask, wasn't the Rabbit shorter and wearing blue pants the last time we saw him? I guess the pants got removed because, you know, magical heat wave.
To speed this nonsense up, because you know this is just a filler segment to move the plot forward, the magic coins were formerly the property of one Niblick the Troll. Uh huh. Who just happens to live "far away" (WHAT IS DISTANCE. WHAT IS GEOGRAPHY.) in an area called the Crimson Canyon, beyond some desert. There's a lot of goddamn canyons in Pony Land. It's starting to remind me of Los Angeles. [Dove: I'm praying for an earthquake.] [bat: ♫ I wanna see the ground give way ♫]
More bad news: the Moochick cannot undo the wishes and their consequences, as the coins belong to Niblick. Uh huh. So Ginger Bread says they'll just go see Niblick and ask him to reverse the magic. Sure.
The Moochick helpfully informs the Ponies that Niblick is cranky, more so than other trolls who are "crotchety and ill-mannered". You know who wouldn't have a problem with that? TWILIGHT SPARKLE, THAT'S WHO.
I guess Megan doesn't either, as she takes off and leads the Ponies out of the Mushromp, in a direction that's apparently the way to the desert. Sure. Whatever. Who needs a map. [Dove: The last time Megan had a map, she had no idea how to use it.]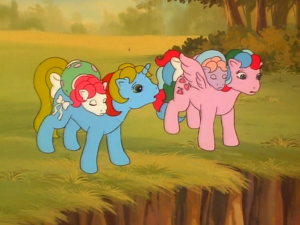 Back to the other group. Guess what, Whizzer's pond idea is a no-go, as that too has dried up. It's weird seeing dying Baby Sea Ponies lying on the backs of the Pegasi and Unicorns. Also, why didn't the Unicorns just WINK them to where there's water? Huh? WHAT IS THE POINT OF MAGIC.
If we ever do a podcast about My Little Pony (we keep discussing it but we haven't made it happen) there is going to be a 20 minute episode of me screaming about this cartoon not having a show bible.
Anyway. Ribbon reassures Whizzer that it's not her fault, how would she have known the water would dry up so fast. (Um.) Danny wants to know if there's another place they can go and Molly is rehashing the plot point of finding water for the Sea Ponies. Honey, those are Baby Sea Ponies. The adult Sea Ponies are either a) dead or b) have magically transported themselves to some body of water. WHY NOT MAGIC DOESN'T HAVE ANY FUCKING RULES IN PONY LAND.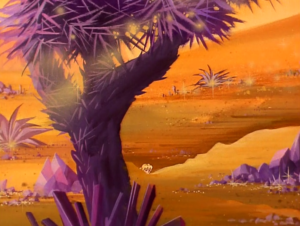 Moving back over to our White Girl Savior and her group, we've entered a desert landscape that looks like something out of a New Age book. I mean, I'm not totally complaining; it's pretty much the coolest looking desert, most likely the coolest looking landscape I've ever seen in this cartoon.
Heartthrob is bitching that it's too hot for flying and her complexion. Uh huh. Megan ignores her and announces they're rationing water. She then pours a large cup full and hands it to Spike, saying everyone gets one cup. Um. How the fuck does your canteen hold that much? Because that's impossible. UNLESS IT IS MADE OF MAGIC AND I DON'T THINK SO.
That's when Spike sneezes, blows fire, and evaporates his cup of water. Ha ha. So funny. (Ugh.) Galaxy takes pity and says the stupid baby dragon can have some of her water. IF GALAXY DIES FROM DEHYDRATION IT'S SPIKE'S FAULT.
What the. Megan begins to shake her canteen, which is OPEN, and nothing comes out! She then says they have to find water soon or they'll be as "bad off as the Baby Sea Ponies". OH HELL NO. THE BABY SEA PONIES ARE AQUATIC CREATURES. YOU ARE NOT, MEGAN. THERE IS A GIANT DIFFERENCE. ALSO HOW COULD EVERYPONY HAVE A CUP OF WATER WHEN YOUR DAMN CANTEEN IS OBVIOUSLY EMPTY!?
Wind Whistler says they've come to far to turn back so the way out is forward. Okay. Somepony asks Megan how much farther it is. DOES MEGAN HAVE A MAGICAL MAP? I DON'T THINK SO. Once again, the Ponies unable to critically think for themselves and relying on Megan to do the thinking for them. Even Spike is too thirsty, complaining he's too thirsty aloud when the animation doesn't have him talking, just walking with his tongue hanging out. Lord, spare me from this nonsense. How do I have six minutes left?
Fuck. Megan just told the group to "CHEER UP!" I fucking hate you, Megan.
"A SONG MIGHT MAKE US FEEL BETTER!" OKAY I REALLY FUCKING HATE YOU, MEGAN. [Dove: You know what dehydrated people fucking love, Megan? Using their voices. Totes awesome. When you've got a killer case of drymouth and a massive headache, the #1 cure is to sing a fucking song. I hope you spontaneously combust, you fucking mook!]
Apparently Megan is familiar with death marches and how singing makes you less likely to realize you're going to die.
While this utterly asinine song plays in the background, I'm going to blow your minds with some information: Megan was voiced by Bettina Bush, who is a woman of colour. Who at age 14 was voicing the ultimate White Girl Savior trope. Apparently she also voiced Rainbow Brite, which explains a few things about Rainbow Brite, yet another blonde white girl "savior" character. I cannot blame her for the crap that Megan is spewing all over the floor, because Bettina was just doing her job. What a strange world we live in.
To sum up this horrible musical number, even if you're dying of thirst in the desert or being attacked by a villain of the week, singing a song makes EVERYTHING ALL BETTER. Although I firmly believe in the power of music, I have many qualms with this "simplistic" lesson. Ugh. Could you writers just not handle writing morals and lessons properly in this series??
"Singing made us even more exhausted!" Spike laments. Remember when Spike was the major downer character, as opposed to what G4 Spike is like?
Magic Star collapses, begging for water. Wind Whistler walks up to one of the large purple crystals (I think they're stand-ins for cacti) and she calls to Galaxy: "Use your horn on the cactus!" (Gee. Look. I was right.) So, sure enough, Galaxy slams her horn into the side of one of the large crystal cacti and water comes gushing out. EVERYPONY IS SAVED. [Dove: So. Much. Water. If they left that "cactus" running, I'm pretty sure it would fill a swimming pool.]
Having smashed a hole in another cactus, Galaxy bathes in the life-giving liquid, while Megan and Spike are on their knees, drinking as much as they can from their cupped hands. WHERE IS YOUR GODDAMN CANTEEN, MEGAN, WHY ARE YOU WASTING ALL THAT WATER!?
"Too bad we can't take any to the Baby Sea Ponies!" Megan complains as we are treated to a SWIFT SIDE-WIPE back to where Molly, Danny, and the other Ponies are standing beside yet another dried up body of water. Danny kicks at the dirt and since there's nothing more they can do, they move on to look for any source of water. I'd like to point out that someone drew the Baby Sea Ponies with their eyes and mouths open, which completely contradicts the fact they had their eyes and mouths shut for the majority of this episode. WHAT DOES CONTINUITY MATTER!
Back over in the desert, which has lots its purple crystal plant life and is beginning to look a lot like some national park in Utah, Galaxy confides to Megan that she feels the group is being followed. Spike immediately panics. That's all Spike ever does. Damn, I never thought I would miss G4 Spike this much.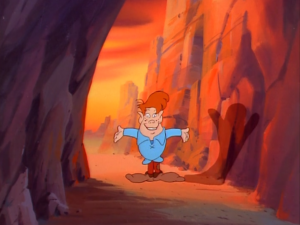 Just then, when they've suddenly and unexplained-ly entered a canyon, Megan and Spike gasp aloud as a shadow appears on the wall. A humanoid-looking creature springs out onto the path in front of them. "HIYA HIYA HIYA HA HA HA! MY NAME'S PUCK WHO ARE YOU?!" Wow, that was totally terrifying.
Just what I needed in this episode. A character that is as if not more annoying than every other character. [Dove: Shhhh! The writers take shit like that seriously.]
Megan introduces herself, because at least she's polite in this scene, but Puck whirls around and doesn't let her finish, smashing his finger into Magic Star's nose very rudely. Ugh. Of course, being a goddamn hobgblin (okay, I'm sure some kid watching this in 1986 was old enough to know who Puck is because they had pretentious parents who read them Shakespeare early on or conversely, their parents believed in fairies and the like, which is the cooler option, IMHO) you know this will end poorly. And right away, Puck announces he bets they seek Niblick the troll (I guess they couldn't use Knoblick for a childrens cartoon *snort*) because, and I quote, "He's the only one who would live around here."
YET HERE YOU ARE, PUCK.
Also creepy: PUCK DOES NOT BLINK AND HAS TINY BLACK PUPILS IN A SEA OF WHITE FOR EYES.
And with that, Puck offers to take them all to Niblick's house. What a guy, er, hobgoblin. Megan's like, "Well, we have a guide!" and you know what, you were singing stupid songs and death marching the Ponies across a desert so shut your mouth. On and on they walk, but Galaxy is still feeling as if they are being followed. And looky there, a pack of blue monsters that look like a cross between Slimer and Ghoulies come running up being the Ponies, screaming.
At this point, just go with it.
Megan demands Puck get them out of here, so everyone runs after the stupid hobgoblin, who yells for the Ponies to trust him, he knows all these gullies! And that's when he promptly leads Megan and co into a dead end! Like you didn't see that one coming.
Spike goes full on emo goth, placing the back of his wrist to his forehead and yelling, "GOODBYE CRUEL WORLD!" like he's actually gonna die. For once, Megan doesn't panic, doesn't even yell. She pulls the three magic coins from her pocket and says they'll have to use one. HOW DOES SHE KNOW IF ANY OF THEM WILL WORK IN THIS SITUATION??
(My bet is on the one with the shaking hands.)
(Well, I was wrong. Bet lost.)
"GOBLINS ARE AFRAID OF LIGHT!" Megan informs everyone that she apparently knows something about goblins, even though it's never been stated that these blue things are goblins. She takes the coin with the lighted candle and holds it up, wishing for light. Everything goes bright and the blue goblins are screaming and covering their eyes, in pain. They go running back out of the canyon, abandoning their attack. "And the magic didn't rebound on us this time!" Magic Star announces.
That sounds like an ominous thing to say, Magic Star.
Down to two magic coins, somehow the group makes it to a… I would call that a plateau, but it's kind of not? Anyway, Megan, Spike, and the Ponies all fall asleep. A mysterious shadow appears but it's only Puck, doing hand springs and back flips, announcing the sun is up, it's time to go. GO WHERE?? [Dove: I want to pin that idiot to the ground with a sword. I hate him.]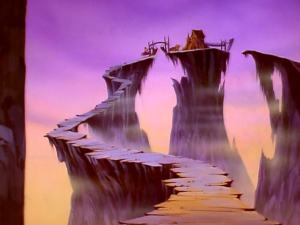 He says Niblick's house isn't far, they walk two steps, and Puck announces, "There it is!"
Of course Niblick the troll lives in a creepy hut (?) with a drawbridge, that is only accessible by some sketchy looking pathways that have no safety rails. Of course.
For some reason, we see what appears to be a redheaded prince (I don't think he's a king) with a majestic white steed standing at the edge of the pathway, calling out for the drawbridge to be lowered. The… humanoid thing that I guess is supposed to be a troll yells back that the only way that will happen is if the prince hands over his crown.
Aghast at the proposition, both the prince and the horse shake their heads. The prince goes on to demand the bridge be lowered, as he is off to fight a dragon and save a princess and all I can think is HOW MANY ROYAL HOUSES ARE THERE IN PONY LAND??? Because we know Scorpan was a king, and didn't we encounter another king or something in another episode? I'm not counting the anthropomorphic "glass princess" pig as royalty, that was delusional.
The troll being says crown or no bridge, and something about "this is a living!" when the prince sputters in outrage. We see Megan and the Ponies hiding behind some rather large rocks that weren't there a minute ago, watching this encounter.
After being told to grow a pair of wings if he wants to cross without payment, the redheaded prince removes his crown and agrees to the toll. Yeah, this is going to go poorly. The troll creature is pleased. Fizzy says something about the Moochick being right, that Niblick is a total asshole. I mean, do we know for sure this is Niblick? PUCK COULD BE LYING AND FIZZY COULD BE MISJUDGING. [Dove: The prince kind of seems like a whiny asshat.]
The drawbridge is lowered and the prince rides his horse across, saying he will complain to his father, the king. (KING OF WHAT??) The troll tells him to, quote, "Put an egg in your sandal and beat it." HOW DO JOKES WORK. We also see, suddenly, there are piles of gold coins and gems apparently just lying out in the open, the cache of hoarded payments this troll has collected. Hm.
After the troll, okay it is Niblick, ugh, throws the prince's crown onto the pile, he hears Megan call out, "YOU HOO!" Ugh. She starts walking across the still-lowered drawbridge and basically taunts Niblick by saying does he want to know what happened to his chest of magic coins.
WHAT THE FUCK MEGAN.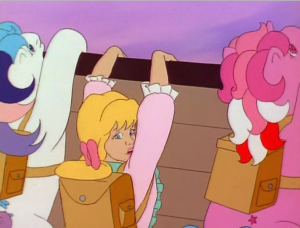 Megan and the Ponies start across, Niblick asking where his coins are. Galaxy stammers a lot before Gingerbread announces they spent them. WRONG ANSWER! Niblick goes into a fit at the thought of his magic coins being spent (were they spent? I would say "used" is more fitting) screaming about his coins, and begins to raise the drawbridge.
HERE'S A PLOT ISSUE. The drawbridge is split, a piece on either side, which means the middle is quite… well it's not as solid as it should be. But then when the prince crosses and Megan attempts to cross it, it looks like one long plank of wood.
BUT THIS TIME, FOR PLOT PURPOSES, AS SOON AS NIBLICK RAISES THE DRAWBRIDGE, IT SPLITS IN THE MIDDLE, LEAVING MEGAN AND THE PONIES CLINGING TO THE EDGES PRECARIOUSLY.
Fade to black. Now it's Dove's problem. [Dove: *cries*]
Final Thoughts:
I remember the magic coin part, at least the bit about the wishes having consequences. But the rest has me drawing a blank. Which isn't all that surprising, because that's been the case with a lot of these episodes.
Honestly, this one has a solid plot idea: magic has consequences! Execution? Sucks. Plot pacing? Non-existent. How the hell did we go weeks from the picnic at the beginning to a dry and dying Pony Land in the span of a cut? That's a very large plot hole. I realize it's all based on running time and getting from plot point to plot point but c'mon.
I'm still upset that we have no clue about how the adult Sea Ponies are surviving a lack of water.
I will give this a solid C. Overall, I think the fact that the bones of the story are pretty solid elevates the grade from where it would be if the foundation wasn't solid. I know the way in which the story is presented dings it a lot, because there's been some stupid moments and why did they bother dragging the Moochick in? It's not like we ever had a Moochick action figure.
Oh well. How ever they manage to wrap this up, it's not my recap to contend with. I just get to comment all over it. Have at it, Dove!
[Dove: I think I side with bat's C here. I like the idea, but not the execution, and the episodes have been so awful lately, we're going to have to start giving better grades. They can't all be F- affairs. The coin thing bugged me – what are the odds of three wishes being accidentally granted? At first I thought it was that they had wished using the wrong coin, which is what made it backfire, but no, the scene where they wished for rain showed that the wish just fails. I know it's a ridiculous thing to quibble over – especially in a world of talking ponies and magic coins – but there has to be some kind of rule in place. See how many times bat has thrown a fit because the Unicorn magic doesn't make sense. It's not because bat's dramatic (although she is) [bat: It's true. I am. Sometimes without reason.], it's because nothing makes sense and it's not unreasonable of us to want a little sense and consequences in this show.]