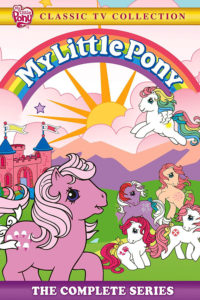 Title: The Magic Coins (Parts 3-4)
Summary: The baby Sea Ponies find a chest full of coins that turn out to grant wishes. They start out harmlessly, by wishing for food and a gigantic bubble (MLP means never having to give context… it won't help), but then our favourite spoiled brat, Baby Lickety-Split, wishes for it to never rain ever again. And Ponyland dries up. Sadly, the lack of ponds for the (apparently fresh water) "sea" ponies doesn't stop them SHOO-BE-DOO-ing at everyone.
While they still have coins left to make wishes on, there is a new mechanic in place which means the picture on the coin has to match the wish. Oddly, this wasn't in place when Baby Lickety-Split made the world-destroying wish. So Team Good Guy have to find Niblick, a troll who apparently owns the coins, to set things right. On their way, they meet an irritation in humanoid form, named Puck.
They find Niblick tormenting a prince and taking his crown as payment for crossing a bridge, and the idiotic Team Good can't see any harm in blurting out they've spent all of his magic coins. The episode ends with him pulling up the drawbridge, leaving Team Good clinging to the edge of it by their fingertips. (Honestly not sure why they didn't just slide down it, but y'know, TENSION.)
Initial Thoughts: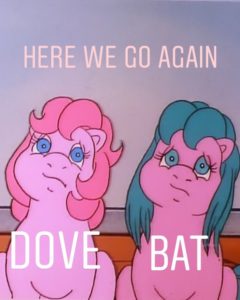 I seem to remember this as being one of the better episodes, though my brain led me to believe that there would be more wishes and more going wrong, so I think once again, we're at "pretty good concept, pretty terrible execution". But who knows? These final two episodes might change my mind. It seems unlikely.
I realised as I started this recap that we only have 9 stories to go (18 episodes) in Season 1. I got very excited about this. It feels like we're finally getting somewhere. 50 episodes is a lot. And that's just season 1. Despite the loathing for the plotting in most cases, and Megan in every case, I'm still really enjoying working with bat on this. (In other news, I grew up in an emotionally manipulative household, and the previous statement could well be my way of saying, "bat, please don't leave me alone with MLP.") [bat: I'm not leaving. I'm in this for the long haul, with you, Dove!]