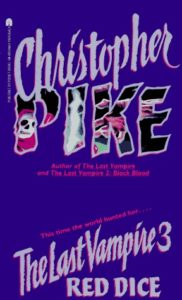 Title: The Last Vampire #3: Red Dice by Christopher Pike
Summary: Alisa and her former FBI partner, Joel, learn of a government plan to capture them in order to steal and analyze their vampire blood for the purpose of duplicating it, and when Joel is caught, Alisa risks her life to free him.
Tagline: This time the world hunted her…
Initial Thoughts
I remember nothing about this book. I know I've read it. I've probably even read it multiple times, though not since my early 20s, if not even before that. But I have no idea what the plot is here, or even who, besides Alisa, is around.
ALISA NEVER GONNA DIE BECAUSE I'M GODDAMN PERNE IS BACK.
Let's do this.