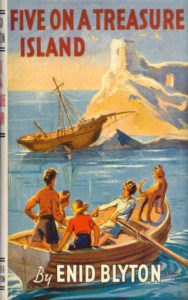 Title: Famous Five #1: Five on a Treasure Island by Enid Blyton
Summary: The very first Famous Five adventure, featuring Julian, Dick, Anne, not forgetting tomboy George and her beloved dog, Timmy! There's a shipwreck off Kirrin Island! But where is the treasure? The Famous Five are on the trail – looking for clues – but they're not alone! Someone else has got the same idea. Time is running out for the Famous Five, who will follow the clues and get to the treasure first?
Initial Thoughts
This will be my second Blyton ever, and I only read the first last month. I know she's an author deeply embedded in British childhood (if not other places, too), but here in the USA, I didn't hear about her except sometimes in other books that referenced Blyton's work as a part of the characters' childhoods.
I really enjoyed the last book I read (Secret Island), and I hope to like this one just as much. I love stories about characters on islands, I love stories about characters searching for treasure, I loved Treasure Island when I was a kid — surely nothing can go wrong now.
Onwards to adventure!
[Dove: I really loved this series back in the day. And sure, I obviously reached a point in life where I found it a bit too earnest, but most Brits will fondly recall reading Blyton. And I honestly can't wait to see what Wing thinks of it. Because on the one hand, it's so joyful (and the endless food – lettuce for everyone!) and on the other… it was written by a comfortably wealthy white woman on the back end of two world wars, so there's a bit of distrust for anyone who is not a white Brit. Also, I fear Wing's reaction to the gender roles – George and Anne in particular, so… here goes.]