Title: Five get into Trouble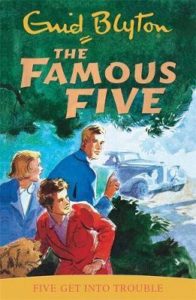 Summary: Curious about the big house on Owl's Hill, the Five go into the grounds one night….only to find that the big wrought-iron gates have closed mysteriously behind them.
Initial Thoughts:
Everything about that summary is wrong. For one thing, they don't go into the grounds because of some random curiosity about the house; they go LOOKING for the house for reasons. For another, more important, thing, that ellipsis should have three dots, not four, because the sentence doesn't end during the dot part.
Anyway. I remember loving this book, and my own copy is incredibly battered and soft.
But what I DON'T remember is ever being aware of how bloody old Julian is in this. Okay, if book six was set at Easter, and they were thirteen (Anne), fourteen (George and Dick), and fifteen (Julian), and book seven is the following Easter (so…they're the same ages?), then THIS book, which is Easter again, is another year entirely. JULIAN IS SIXTEEN? In my head Julian is never that old. Even Anne is fourteen by now. [Dove: I think the last book was summer from the comments about the moors being cold in the summer, but it wasn't clear. But otherwise your maths lines up with mine.]
That…that isn't how I ever thought of them, when I was young and reading these. It completely changes everything. THE FAMOUS FIVE ARE OLD ENOUGH TO BE POINT HORROR CHARACTERS.
…damn, now I want to read that. Five Find a Body. Five Accidentally Run Someone Over. Five and the Kirrin Island Phantom. Five Visit Fear Street. [Dove: *blink* Well, I think we've found Necro's NaNo project!] [Necromommycon:OMG, that sounds like fun. I think I have to try this. ] [Wing: Well this sounds delightful.]