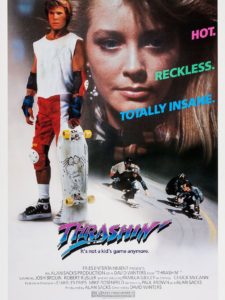 Title: Thrashin'
Summary: Two skateboarding gangs "battle" each other for supremacy and it's complicated by romance. That's basically it.
Someone on the internet actually likened this to "West Side Story on skateboards".
I don't think so.
Tagline: Hot! Reckless! Totally Insane!
(I find it hilarious anyone would find this film 'hot'.)
Note: I watched this for the first time probably somewhere around 2009? So I have a general memory of it.
Initial Thoughts:
Skateboarding was still a huge thing when I was a child, mostly because it was starting to be taken seriously and tricks/stunts were getting a lot more complicated. So Hollywood attempted to cash in on it by making a movie about it. A lot of the "extreme" (read: for the time) sports/activities in the 1980s had films made about them: BMX bikes, there's probably a dirt bike movie I don't know about, break dancing, flash dancing, dirty dancing…
Wait, Dirty Dancing is set in the 60s, right? (No, I have never actually seen it.) (YOU CAN'T MAKE ME.)
Originally Johnny Depp was set to play Cory, since he was conveniently dating Sherilyn Fenn at the time, but because he was Johnny Depp and on 21 Jump Street at the time… Well, the producers didn't approve him so the role was recast with Josh Brolin.
Viewing this through hindsight, I honestly would have had a difficult time believing Johnny Depp could ride a skateboard, let alone do what would need to be done to make it remotely accurate and/or interesting.
According to Wikipedia, Brolin had been offered the role on 21 Jump Street that Depp was ultimately cast in, but turned it down… to what, make this? Kind of a dumb ass move. But, then history would be way weirder, so okay.
It's hard to convey how huge this movie was for the time. It featured actual pro skateboarders who would become household names; you probably know Tony Hawk. There was also Tony Alva (go watch Lords of Dogtown), Christian Hosoi, and Steve Caballero. The soundtrack featured many amazing bands and singers; freaking Red Hot Chili Peppers (the original lineup with Hillel Slovak) are featured as a band in the film.
And, because this will get Wing's attention, the titular theme song, Thrashin', is sung by the one and only Meat Loaf! (I don't think there was a music video for it; this was the best I could find.) [Wing: Well, this certainly did get my attention, and means I need to watch this damn movie immediately and then come back and read the recap. Having watched this video I am … excited. That's a word.]
I'm gonna add that the only real reason I ever went to dig this film up was because it was the film debut of Brooke McCarter (aka vampire Paul in The Lost Boys) and not because I'm actually interested in skateboarding. I'm not. I had a skateboard once, with Snoopy on it, but I haven't got the best balance and I'm terrified of injury, so I never really used it much. But I always thought skateboarders were hot. I think that's common of many of us who were born in the early 1980s. It's a thing.
(Though, really, go watch Lords of Dogtown. It's more character-driven and based on real-life people, and is a really interesting film.)
Okay, let's kick it! A Thrasin' we will go!