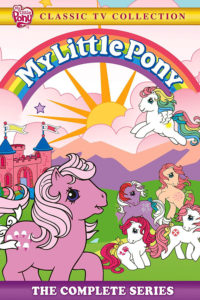 Title: The Quest of the Princess Ponies (Parts 3-4)
Summary: A bunch of mean girl Princess Ponies can't figure out who should be their queen, and the villain of the week steals their magic. You know, I'd call that problem solved, but the writers don't agree, so behold the next thrilling instalment and two completely off-key songs.
Initial Thoughts: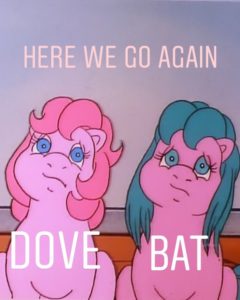 I only remember the end of this, not what went on before, and that's not really a good thing.
My most important thought is: NINE EPISODES TO GO! [bat: Amen.]
I've really loved the experience of having shared pain with bat. I feel like our friendship is now utterly fireproof. This is a trauma we have endured together. I've also really liked the feeling of having recapped the MLP episodes, because nobody else has.
I'm also well aware of why that is. They suck. I genuinely believed that the series would be fairly mediocre, with a few highlights. And I suppose I was right. I just didn't realise the song "Nothing Can Stop the Smooze" was one of three highlights (the other two were the specials, Catrina and Nightmare/Midnight Castle) and "fairly mediocre" is a bar that is way out of the writers' reach.
Basically, I am fed up with this stupid show, and I can't wait to reach the end.
On the other hand, the princess ponies are so cute. And I do love the Bushwoolies.