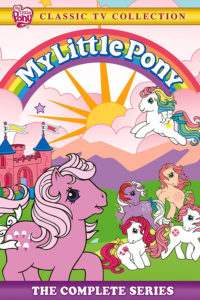 Title: Puppy Pony
Summary: When the Ponies discover Clifford the Big Red Dog a huge puppy has mysteriously been dumped on the doorstep of Paradise Estate, they set out to make the animal abandoner pay! No, no they don't. They make friends with said puppy and build it a huge dog house for the winter.
Grade: Read to Find Out!

Initial Thoughts:
Welcome back for another installment of My Little Pony 'n Various Characters-of-the-Week That You'll Never Remember. I swear, Dove and I are fervently slogging through these, regret clouding our minds every single step of the way. THE EPISODES ARE NOT GETTING ANY BETTER, PEOPLE. [Dove: This episode may be the greatest example of "you can never go home" in history.]
We've finally reached one of those single episodes, a one-shot that doesn't require us to split it between two recaps. A quick glance tells me there's four more one-shots after this, but about a billion multi-part episodes on top of that. Oh mysterious creators of Dream Valley, be merciful and end my suffering quick.
(It's kinda hard to go from a rewatch of all seasons of Vikings to pastel-coloured talking cartoon horses but here I am. If only Floki would show up and yell nonsense about the pagan gods and blood sacrifices at Shady. I would watch that.)
After that misleading GLASS PRINCESS crap, I am not holding out hopes for this episode being any good. Setting the bar low early on! Let's watch.