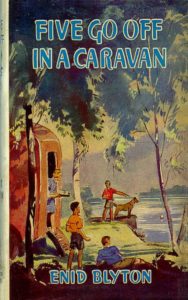 Title: Five Go Off in a Caravan
Summary: The Famous Five are having a wonderful caravanning holiday. And when they discover a circus is camping nearby, they hope there'll be plenty of entertainment.
But two of the circus performers are strangely sinister. The children soon realise that they're not clowning around — but can they get help in time?
Initial Thoughts
That title is a lie. They go off in two caravans. [Wing: I appreciate your attention to this detail, a la my annoyance over that whole Smuggler's thing last time.]
Which brings me to perhaps the most disturbing news of the entire series to date: I THINK JULIAN KNOWS WHAT SEX IS. I mean, at least vaguely. He knows it exists. I think. (He may also be having it with a series of farmers' wives and daughters.) [Wing: Wait, is this not what we're supposed to assume with him popping off to talk to the wives and daughters as they travel?]
But I'm getting ahead of myself.
Initially, when I asked to recap this book, I only remembered the caravan part (not the significance of there being two caravans, just that they went off without adults in a caravan, which I was enormously envious of). The amount of freedom these kids have is mind-boggling to me. I mean, I am old enough to remember when it was normal for children to leave home in the morning in summer and only go back home for meals and when it got to be dusk, so we were basically away from adults for hours and hours at a time in the summer, but that was with the understanding that we were somewhere nearby. Like, in town, and preferably in the neighbourhood. Not off up the highway to some other town, or parked out in the country somewhere in a horse-drawn vehicle.
I really do love this series. It achieves a strange mix of cozy, meal-driven comfort and outrageous, I-would-never-have-been-allowed-to-do-that adventure.
[Dove: This is one of my favourite stories in this series. This is exactly the kind of thing I'd have loved to do as a kid. I didn't go camping until I was in my late twenties, and when I did, I loved it. Tiny and I were incredibly resourceful in how to make tea without a kettle.]
[Wing: I was taking a drink when I saw the "Anne should just poison them all" tag and nearly choked to death.]