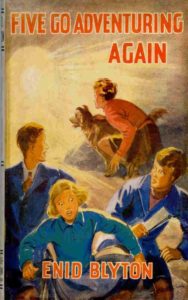 Title: The Famous Five #2: Five Go Adventuring Again by Enid Blyton
Summary: Spending Christmas at Kirrin Cottage, the Five were not expecting an adventure. But they found one – and became involved in a tense running battle underground.
Tagline: Julian, Dick, George, Anne and Timothy the dog
(Okay, that's not a tagline, but it's the closest thing this book has to one. Note the absence of Oxford comma, and try to imagine my irritation.)
Initial Thoughts:
I know this was one of my favourite Famous Five books when I was young, but for the life of me, I can't remember why.
I'm also SHOCKED that there was an era in publishing in which someone could write a series book set at Christmas and not mention Christmas in the title or have a Christmas-themed cover. This was published in 1942, and you'd think they'd have pulled out all the stops to play on people's nostalgia for non-war Christmasses, but no. You can't tell from the front or back cover that this has anything to do with winter at all. [Dove: That's very un-Christmassy. To the point where I always forget this one is set over Christmas holidays.] [Raven: I was once Christmas shopping in Leeds, and one shop was playing Sunny Afternoon by the Kinks to fly in the face of the usual jingle bell fare. Loved it, it's now part of my Christmas Song Rotation.]
[Wing: I am utterly charmed by this one, too! It's not quite as fun as the first book, but I love George so, so much.]