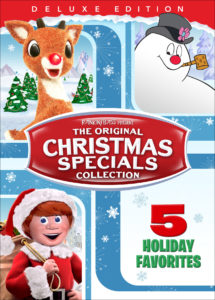 OH IT'S CHRISTMASTIME AND IT'S CHRISTMASTIME AND IT'S CHRISTMAS-CHRISTMAS-CHRISTMASTIIIIIIIIIME!!!!
It's my favorite time of year again and for Nostalgic Bookshelf I've started this article that turned into something a bit different from what I originally planned.
The Christmas episode, that one special episode a franchise usually creates in time for the holiday season. Sometimes they may be twice as long as a usual episode which means they don't normally air in regular syndication, but if they're normal length the stations won't care enough to pull them from rotation.
You also have commonly retold Christmas stories such as "Frosty the Snowman," "Rudolph the Red-Nosed Reindeer," and "The Nutcracker" whose plots are so specific they tend to simply be re-adapted as their own tales instead of being used as the basis for an episode.
Sitcoms and cartoons have plenty of stock plots for easy episodes, "Two Dates At The Same Time," "Miscommunication = Cheating Partner," "Character Gets Drunk With Power," "New Job Causes New Problems," but none are as predictable as Christmas episodes. It can take a lot of effort to breathe new life into these ideas, and sometimes you have to either be really, REALLY funny or willing to make things really, REALLY bleak to stand out from the crowd.