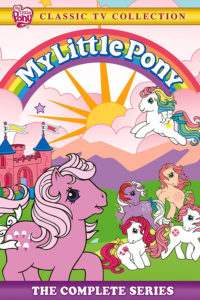 Title: Baby, It's Cold Outside (Episodes 1-2)
Summary: Climate change has finally hit Dream Valley! [Dove: "Fake news!" says Megan.] Er, Ponyland? Where ever the hell this cartoon takes place. And, oh wait, it's not actually climate changing. It's the work of an evil… penguin? Well, I've lived to see dolphins take over Springfield; I guess a maniacal penguin king destroying the Ponies with magic blizzards isn't that much of a stretch.

Grade: F+

Initial Thoughts:
;pwegwpaffebryku;nbbnprbnwpnphwf;avms'a;kdsg;sndg;wn;ynsseradvwwqghh.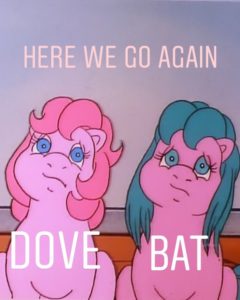 Translation of the above: WELCOME AGAIN TO THIS NIGHTMARE CARTOON HELL. Yes, I'm back again, so soon after that very special after-school episode starring Spike. I'm really unhappy to have to write another recap so soon — that last one was absolutely shite and taxed me greatly — but this recap puts us less than four episodes away from the completion of Season 1. Seriously, if Dove and I were in the same country, we'd probably drink in celebration. I suppose the fact we're separated by the Atlantic ocean and several time zones won't stop us from drinking in celebration, it would just be more fun it we were together. [Dove: Agreed. And there would be drink!]
Really, honestly, we have this series set up and divided equally so we finish this freaking nightmare by the end of 2019. Can you see it, Dove? THE END IS ALMOST IN SIGHT. [Dove: I knew we were finishing season 1 soon, I didn't realise we'd finish the whole show before the end of the year. I feel better. Then a bit worse, because there are more MLP shows neither of us know anything about, but have agreed to torture ourselves with.]
I think we have stopped caring about the grading. These are all poorly written episodes and the plot lines are hackneyed and it's become clear that everyone was "omg how are we going to fill these last four slots on the board?? TODD WRITE US SOMETHING, STAT!" because, truly, Dove and I could write better fanfic than what's being churned out in these scripts. (No, I am not going to write MLP fanfic. Ask Dove for hers.) [Dove: We did briefly consider trying to rewrite series 1 so that there would be some plot, that magic rules were consistent, and the characters actually had, y'know, character, but we quickly realised we'd be deleting all but the first three entries of the show (movie, Catrina, Nightmare/Midnight Castle). Ain't nobody got time for that.]
Glancing at the plot summary, this sounds almost like some sort of rip off of the Care Bears' 1984 television special. Which I know I've watched, maybe not in two decades, but you can damn well be sure the Care Bears were something I loved at the age of 3. There also might be a bit of Snow Miser mixed in but those Rankin/Bass specials have always upset something in my brain so I am far less familiar with The Year Without a Santa Claus. (I hate that one with the big-eared Baby New Year.)
Okay let's just get this crap over with. Then I get a nice long break until mid-July, when my final recap of Season 1 will go up. I'm so excited about Season 1 being finished. I want a goddamn participation ribbon for making it all the way through. [Dove: What we could do is go through our collections, list duplicates and have a swapsies if anything seems suitable? That would be like a prize for dealing with this nonsense.]