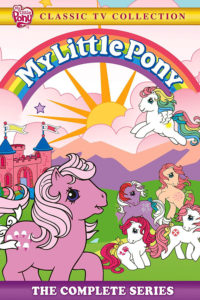 Title: The Golden Horseshoes
Summary: Mimic comes down with a MYSTERY DISEASE so Megan & the Ponies lie, cheat, and steal their way to collecting 4 MAJIKAL GOLDEN HORSE SHOES that will "save" Mimic. The usual nonsense happens. Stop expecting amazing shit to happen. Set your bar right on the ground because that's where it belongs.
Grade: It's complicated. See "Final Thoughts" for reasoning.

Initial Thoughts:
Back to back recaps are killers, you know. Yes, welcome, again, to another one of my miserable attempts to recap My Little Pony 'n Friends, because either you're a sadist or a masochist. I'm probably a little bit both, tbh. Dove escapes yet again with just commentary. Lucky, lucky Dove.
No, I mustn't lie; I asked to recap The Golden Horseshoes because it was one I (seemingly) remember watching when it initially aired. What have I learned on this journey? That my memory is shitty when it comes to this cartoon. Honestly, the only thing I remembered for certain was the hot take on child abuse/endangerment in the entertainment industry, aka Night Shade and his Tale of Woe.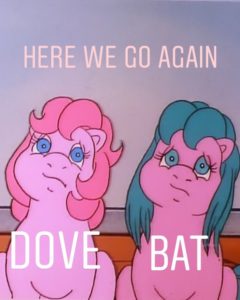 So whatever really happens in this episode, I specifically asked to watch it and suffer through it, all based on this particular memory: the deification of Mimic.
Back in the Stone Age of G1 Pony toys, for those too young to remember buying them brand new in Toys'R'Us or KayBee Toys in a mall, Mimic's toy was released in Y5 as one of the Twinkle-Eyed Ponies, second wave. There were six Ponies in that wave and I can tell you right now, six year old me was not having it with the colours the designers picked. I think I was still very much in my "I wish I was girly but I'm too much of a fucking tomboy" phase and I have always been a very visceral person (part of that is having an artsy brain, part of that is being a Taurus) so the only one of the six I wanted was Locket. Granted, down the line I would come to own Tic-Tac-Toe (I think through a garage sale or something) but I don't remember ever gaining the others from that set for my collection.
Then this episode of the cartoon happened and I wanted a fucking Mimic.
At that point, finding her was hard. I don't think, based on the colours, these were very popular with girls. I don't think they were produced in near the same numbers as the original TE Ponies. Face it, initially, you're going to see a pea green Pony with a red Macaw as her cutie mark and think "wtf was the designer smoking?" Plus they chose a mold with a pose that was notoriously difficult to make stand on its own. Great going, Hasbro!
Anyway, fast forward some 15 years or so and eBay exists now and someone figures out there's a ton of collectors who still want a Mimic. So they charge outrageous up-marked prices for theirs, in whatever shape they may be in, and they manage to sell them, because MIMIC. Honestly, I can't go that far back in my emails (or can I?) (actually, no, I can't, boo) but it seems I came into possession of a "slightly trimmed mane and tail" Mimic toy somewhere in 20??, uh, early 2000-something. I think I thought paying $25 (or was it $50?) for Mimic was outrageous but 2000-whatever me had not yet met 2010 me, who paid $600 for a piece of nice paper with artwork screen-printed on it, even if it was only 1 of 10 ever made. Whatever, we do what we do to get the things we collect. (I happen to truly love that goddamn expensive piece of paper, where as I'm not sure where Mimic has ended up. I think I last saw her in my garage. My, how fickle I am about Mimic now.)
[Dove: When I first began collecting, my innocent little brain decided that Mimic was the pinnacle of a collection. She was the one that signified that you were one of the powerhouses in the collection community. She proved you would lay down seriously money to collect. And when I got her, I thought I had arrived. And then I realised all I'd done was leave the "vague hobbyist" arena and step on to the entry level tier for collectors. It was quite humbling to step into the bidding war with a brand new credit card attempting to buy an Argentina Sugarberry, only to find the starting bid was above my credit limit. I don't know how Raven found such a beautiful version of her, but she really is perfect. Her hair is soooo soft. I also have a "Dark Mimic" which I bought at PonyCon 2018. I would love to credit the creator, but unfortunately I didn't keep a record – if you made her, please leave a comment.]
[bat: Ooo, that Dark Mimic is pretty. Nice find!]
And none of that has anything to do with the recap except to give you context about why I remember this 2-part episode. I mean, I could totally be watching the last three episodes of The Witcher instead but nope, here I am, trying to remember why I liked this episode, beyond MIMIC.
Without further adieu, and more rambling, let's get to the recap.