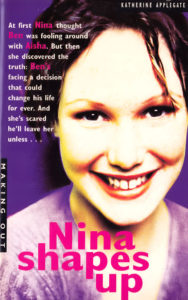 Title: Nina Shapes Up
Front Blurb: At first Nina thought Ben was fooling around with Aisha. But then she discovered the truth: Ben's facing a decision that could change his life for ever and she's scared he'll leave unless… Nina shapes up. [Dove: That is literally fuck all to do with this book. That's a recap of the last book, and a throwaway line in this one.]
Back Blurb: They've all grown up together on a tiny island. They think they know everything about one another… but they're only just beginning to find out the truth.
Nina shapes up because she's desperate to keep Ben's love. She's terrified that if he regains his eyesight, he won't need her any more. And if Ben can see Nina, will he still love her? [Dove: as before.]
Initial Thoughts:
This is where everything starts to blur together for me. The titles, beyond Zoey Fools Around, Nina Won't Tell, and Aisha Goes Wild, don't really have much meaning, to be honest.
I'm going to tell you right now: Nina does nothing that comes close to shaping up in this book. But in her defence, she wasn't unshaped to begin with.
Don't get me wrong, I continue to love the hell out of these books. I just find the titles to be word soup. $name $verb $thing [Rosey: The blurbs and titles are so inaccurate for the most part. I get that they had a formula they want to stick to, but surely they could have come up with things that actually reflected the book?] [Wing: I wonder if the person writing the blurbs wrote them early on, without having read the books and only a synopsis of the overall series.]