My Little Pony: The Prince and the Ponies (S02E13)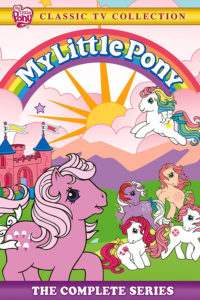 Title: The Prince and the Ponies
Summary: The Ponies recieve a mysterious invite to a party at a palace. Without question, they attend. The writers then commence a story about enslavement and product placement, in this series finale.

Grade: A big fat fuckin' F. Because F is for finale, kids.
Initial Thoughts:
*cues up appropriate song*
This is the end, beautiful friend
This is the end, my only friend
The end
Welcome, friends, to the last ever Season 2 and utterly worthless series finale episode of My Little Pony 'N Friends. Yes, it seems fitting that I be the part of the duo that closes this chapter of our lives. Dove started this whole project with her review of My Little Pony and Friends: The Movie, although it was posted third in the series, after I explained Rescue/Escape From Midnight Castle was *technically* the originator of this Pandora's box of stupid.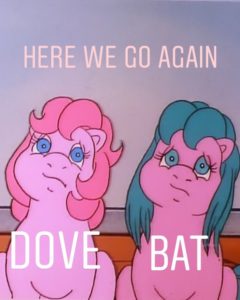 We have survived so much stupidity I'm not sure either of us will ever be the same. From white girl savior tropes, cages/nets, baybee twak, crab cops [Dove: The JOHN CENAs of Ponyland.], a whole menagerie of fantasy creatures and talking animals/bees, oodles of poorly written villains/villainesses, buy our merch, SHOO-BEE-DOO, Danny, Spike, super bad animation, continuity errors, plot says so, smash cuts, and everything in between.
Of course, I would be remiss if I didn't point out that I STILL DO NOT KNOW HOW MAGIC WORKS IN PONYLAND.
I feel like I have a lot to say but I also feel like it deserves to be written at the end of the recap, or in a final "very special" post where Dove and I chat about how this series has turned our brains to mush and disillusioned us of the very toys that once (and in some cases, still do) made us happy.
So, let me set the scene. It's the final episode of the series. Hasbro has already co-opted several episodes in order to shill new toys in a stable-but-starting-to-fade toy line. They had one last shot at shilling two new types of Pony: New Born Twins and First Tooth Baby Ponies.
We've already shilled Princess Ponies, Big Brother Ponies, and now New Born Twins with a slight rehash of Baby Pony but NOW WITH A FIRST TOOTH. As for the New Born Twins I remember these, very well, and I'm 99% my first set was Milkweed and Tumbleweed. I think, if they weren't, then it was Doodles and Noodles. These are all terrible names. [Dove: Especially because either Snuggles or Snookums had already been used as a name, so that's confusing.] Anyway, I remember my mother loved these because they were a different, smaller mould than the standard Baby Pony mould and they came with different kinds of accessories than the Baby Ponies. We all hated the Baby Pony diapers, though. Those fucking things were nightmares and the stupid Velcro tabs always ripped, just like real diapers.
The First Tooth Baby Ponies? That implies that the Baby Ponies are running around gumming everything or at best have their baby teeth. Either way it is not… a pretty picture. Besides, if the Baby Ponies are magic mirror'd clones of the Adult Ponies, why wouldn't they have teeth? I HAVE QUESTIONS AND I HAVEN'T EVEN STARTED THE DAMN RECAP.
I guess it's something that Hasbro went with different Baby Ponies, giving us (potential clones of) Tic-Tac-Toe and Quackers and Fifi, oh and I mustn't forget North Star and Lickety-Split. I know for certain First Tooth Baby Fifi was my first from that series. [Dove: But why is her mum so-soft when Baby Fifi isn't? EXPLAIN THAT, BAT?!] [bat: MARKETING'S FAULT!] I think I have all of them except Baby Bouncy. I know I wanted Baby Graffiti but I have no idea why. I think it was just the name. I'm not sure I ever got her.
Moving on, there is a titular prince in this episode. Remember how, waaaaaaay back when, during Escape From Midnight Castle, Spike was semi-protected by Scorpan? Who, at the end of the special (sorry, 30+ year old spoiler ahoy) was turned back into a human prince?? He's literally shown wearing a… tiara? A gold chain of office, and a robe edge in ermine. I mean, hello! What a prime opportunity to bring the show FULL FUCKING CIRCLE, am I right?
It ain't happening. I'm allowing you to have full disappointment early on.
But, one of the show's very favorite special topics does come up: enslavement! Because that's the trope it wants to go out on!
Without further adieu, let us begin the very final episode of My Little Pony 'N Friends.
Recap:
?My Little Pony, My Little Pony, I NEVER HAVE TO LISTEN TO THIS SONG AGAIN!? [Dove: If we were IRL friends, I would personalise the ringtone for my number on your phone. Then I would call you every day. Be thankful we're thousands of miles apart.] [bat: …but if you call me, then you'd never hear the ringtone, Dove. I'd have to call you so you could hear it.]
Farewell, unchanged title sequence animation, that shows Ponies – specifically Baby Seaponies SHOO-BEE-DOO – that we haven't seen for ages. I mean, I'm sure Dove is ecstatic we haven't had to deal with Flutter Ponies since… whenever was the last time a Flutter Pony showed up? No Bushwoolies, either. I kind of miss those Sasswoolies. Not enough to wish they were in this episode, but still.
HEY. WAIT A MINUTE. WHY IS MEGAN RIDING MAGIC STAR? WHO WAS AN EARTH PONY! WHO MOST DECIDEDLY NEVER HAD WINGS AND WAS NEVER A PEGASUS!! HOW AM I JUST NOTICING THIS MASSIVE ERROR AFTER 50 SHOWS???
I GUESS I'M GOING OUT ON A LOW NOTE ALREADY.
We open on Spike's hand holding a fancy decorated envelope that reads "To the Little Ponies" with a bunch of flourishes. FIRSTLY, HOW DOES THE MAIL SYSTEM WORK IN PONY LAND. Secondly, WHY IS SPIKE IN CHARGE OF THE PONIES' MAIL? Spike announces it's from the Palace de Branfor(d?) before tearing it open and reading it. Okay, I answered my own question: Spike is in charge of the mail because he's the only creature in Paradise Estate that has fingers and opposable thumbs.
So, the Ponies have been invited to a weekend party and the invitation basically demands they bring the New Born Twins – insert shot of said New Born Twins all snoozing in their double strollers, looking nothing like the toys – and here's the kicker: the Palace is throwing a party in the New Born Twins' honor, even though they have zero to do with them. Isn't this rude? Like, throwing a surprise party is one thing but this is like, OH HAY WE'RE THROWING YOUR NEW BORN TWINS A HUGE WEEKEND BEER BLAST AND YOU NEED TO BRING THEM EVEN THOUGH WE TOTALLY ARE THROWING A PARTY IN THEIR HONOR WITHOUT ASKING OR NOTIFYING YOU.
I mean, it's the Ponies. Even if Megan was around to possibly be cautious of this, the Ponies are going to bite, hook, line and sinker. Because the Ponies are stupid. [Dove: And Megan would cut a bitch who tried to be as bossy and entitled as her.]
IMMEDIATELY, because this episode runs barely 10 minutes long, the First Tooth Baby Ponies are whining about not being invited. For some reason, they only used five of the first wave; Baby Fifi – the only one I remotely care about – isn't there. Figures. At minimum, they seem to talk in higher voices but have lost the baybee tawk bullshit. Win?
Heartthrob informs the First Tooth Baby Ponies the party is for the New Born Twins and that she's sorry. Why the fuck be sorry? You're getting a free party for the New Born Twins thrown at the palace's expense. For children I highly doubt you've given physical birth to. Because mirror reproduction. Which knowing that the New Born Twins don't share names with any of the Adult Ponies gives me all sorts of questions but for once I don't really want answers. I MEAN, THIS EPISODE DIRECTLY FOLLOWS THE ONE AND ONLY VISIT BY THE BIG BROTHER PONIES, DO THE FUCKING MATH. [Dove: My headcannon is: clone = magic mirror; new pony = the old fashioned way.]
From here on out, it's FTBP and NBTP, because I'm already fucking tired of typing that shit out.
Flouncing from the room, the FTBP seem to be led by Baby Tic-Tac-Toe and Baby Bouncy, who are pissed off. The rest just look sad and/or bewildered. Baby Tic-Tac-Toe complains the NBTP get all the attention, while Baby Bouncy insists they do "sumthin' 'bout it". So we went from baybee tawk to… twoddler tawk? NEITHER OF THEM IS CUTE OR FUNNY, PEOPLE.
Back in the other room, Cherries Jubilee announces everyone's set for the palace. I have questions. There's six Adult Ponies, Spike, and just two strollers full of NBTP, so that's four NBTP. Posey has the handle of one stroller in her mouth, in which what appear to be Sniffles and Snookums are sleeping. Magic Star has the other stroller in… mouth, which appears to hold Milkweed and Tumbleweed.
Really, if there's supposed to be any sliver of genetic resemblance in these NBTP, wouldn't Milkweed and Tumbleweed be Posey's daughters? Same yellow body, same pink hair, the names are plant-based. IT MAKES A MODICUM OF SENSE. I mean, Big Brother Tex has very red-magenta hair with a purple streak, but he has a yellow body, so it wouldn't be hard to see him hooking up with Posey and fathering Milkweed and Tumbleweed. DID I JUST SOLVE A MYSTERY?? DID I JUST ANSWER A QUESTION NO ONE ASKED?? [Dove: I always see it as Tex and Floater. Though I go back and forth on whether they breed to make babies, or they're just related somehow and, obviously, find other romantic partners.]
While I'm at it, Sniffles and Snookums have purple bodies and pink hair (Snookums) and lavender hair (Sniffles). We all know Slugger was hot to trot with Buttons through out the Somnambula episode, so it kind of fits that Buttons is the mother. Body colors fit, the hair colors are iffy, but Slugger's cutie mark is a baseball glove and bat with baseball, and Buttons' is, well, buttons. The twins have knitted mittens as their cutie marks. I mean, if you look at it just right and ignore any questions, the theory that Sniffles and Snookums were the daughters of Slugger and Buttons works. (In the UK, Sniffles is denoted as a boy but in the US all the twins are basically defaulted as girls.) [Dove: Totally with you there.]
Still, doesn't explain why Magic Star is pushing their stroller.
In walk the FTBP, performing some weird acrobatic bullshit. Baby Bouncy is balancing perfectly on a red rubber ball, riding it while she balances Baby Lickety-Split, Baby Tic-Tac-Toe, and Baby North Star across her back/wings, with Baby Quackers riding on Baby Tic-Tac-Toe's back while clothed in a baby duck "suit", complete with bill mask over her muzzle.
Okay, I just spent five minutes combing through stuff to find there was never an official "Baby Pony Duck Suit" released. There was a handful of "animal themed" suits that were produced for the Baby Ponies, but a duck was never among them. SO BULLSHIT, HASBRO, THIS WAS A LIE.
Of course, as soon as the FTBP enter the room, Baby Quackers yells "LOOK AT ME IMMA DUCK QUACK!" and it immediately cuts to the Adult Ponies gasping as, unseen, the FTBP collapse in chaos and end up thrown about the room, complete with Baby Quackers hanging from the ceiling fan. She struggles for a few seconds before Heartthrob flies up and hovers below, so Baby Quacker can be brought down safely on Heartthrob's back.
Heartthrob asks why she's gone to all this trouble. Wait, that makes no sense. Does Heartthrob actually mean "WHY THE FUCK ARE YOU CAUSING ALL THIS TROUBLE? OH WAIT, IT'S FUCKING OBVIOUS, IF I KNEW ANYTHING ABOUT PARENTING! YOU BABY PONIES ARE JEALOUS AND WANT TO GO AND BEING THAT WE PONIES HAVE ZERO PARENTING SKILLS, WE JUST DON'T GET IT."
Instead we get Baby Quacker bitching that "only baybees" get noticed "round here". This is just as bad as baybee tawk. Ugh. As soon as Baby Quackers finishes, the NBTP begin to laugh riotously, which is creepy, as if they know they're garnering all the Adult Ponies' attention and are relishing in it.
Man, I hate this episode and I still have over 9 minutes to go.
Ribbon explains newborns need a lot of attention and Cherries Jubilee adds that they don't love the FTBP any less. Uh huh. Somehow, knowing how narcissistic and "mean girl" the Ponies can be, I would believe the opposite of that statement.
(Note: Although Heartthrob called her "Quacker", her official name is Baby Quackers because she is a carbon copy clone of adult Twinkle-Eyed Quackers. So that's what I'm sticking with for this recap. [Dove: I noticed the botch and started questioning my whole existence. I'm glad it was a TV show error.])
And with that, the Adult Ponies just WALK RIGHT OUT OF THE ROOM. NO GOODBYES, NO NOTHING. JUST ABANDONING THEIR OLDER CHILDREN TO GO ATTEND A PARTY THROWN FOR THEIR NEWEST BORN CHILDREN. WHAT THE FUCK. WHO'S IN CHARGE OF THEM?? SPIKE?? WHERE ARE ALL THE OTHER BABY PONIES?? WHY DO I HAVE TO ASK THESE QUESTIONS?? [Dove: Well, if they can babysit the newborns, do they need babysitters?]
We smash cut to a background matte painting of a sprawling… would this be British or French architecture? I'm honestly not sure. Maybe a poor mashup of both? It's kind of like a British manor but it has a dome and too few chimneys, and I was only at Hampton Court palace once and I didn't even get to go inside. The garden has one giant not-running fountain with a statue but also there's like massive hedge walls but no flowers? WHO RESEARCHED THIS??
Zooming in to the front entry doors, one opens and a white male in a powdered wig with huge curls on the side answers. I'm guessing this is the butler? He's dressed in French style and promptly speaks English with a French accent, and even a single French word. Well, there, question answered. [Dove: WHY IS EVERYONE SUDDENLY FRENCH?]
The Ponies are invited in and Ribbon immediately decides the palace is glamorous. I got news, honey, this is Versailles. It's a fucking knock off twice over and the layout makes zero sense. Oh and Heartthrob retorts that she hasn't seen anything as glamorous since she looked in a mirror that morning. Wow. Just… wow.
The… butler? announces a bedroom has been prepared for the Ponies and dinner is at 8pm sharp. If I didn't know this was supposed to be a weekend-long party, I'd be confused. In the bedroom, there's six massive four-poster double beds complete with canopies. I mean, I guess? Ponies aren't small. But where's cribs for the NBTP? "Bedroom? THIS IS MORE LIKE A BARN!" Cherries Jubilee was apparently raised in a mansion, because this looks nothing like a barn. Ribbon thinks it's sumptuous and Heartthrob thinks it's too showy. MY GOD THESE PONIES ARE STUPID AND MEAN.
Ribbon laughs but soon gasps as a blonde human female just wanders into the Ponies' bedroom. It's not Megan. She's tall and skinny and dressed in a red/orange/magenta dress with sheer sleeves but also her ears look pointed like an elf's. She asks if they have seen her brother then asks if they can help rescue him. WELL?? WHICH IS IT? Also, the fake French accent is going to get old real fast.
Cherries Jubilee points out the Ponies just arrived, to which… the princess?? cries, "Zey took heem two years ago!" WELL OKAY WHAT THE FUCK HOW ARE THE PONIES SUPPOSED TO HELP WHAT KIND OF SCAM IS THIS??
Suddenly there is pounding on the door. The princess (?) freaks out and runs through a plot says so conveniently placed doorway that wasn't there a minute ago into an adjoining room. Ribbons and Cherries Jubilee follow her but she disappears completely. The knocking is the butler, who announces dinner is served. Huh. Yet again, and for the final time, HOW DOES TIME WORK IN PONYLAND??
Super special side wipe to some other room in the palace. Four well-dressed gentlemen are standing around as a woman with yet another bad fake French accent yells that Poochie wants filet Mignon. The woman is the Duchess something-or-other, I can't make a name out no matter how I try. The men flock around her, assuring her it will be done. A girl with brunette ringlets pets the dog in the Duchess' arms, saying she wishes she had a "nice pet" like Poochie. Uh oh. The Duchess assures her "petite fillet" she will very soon have a pet.
Cherries Jubilee greets the Duchess, who springs into the air, demanding to know who let the horses in. She also has pointed elven ears and is now speaking with a fake French accent mixed with a New Jersey accent. I am so fucking confused. [Dove: Those are the two accents that exist in the world. Occasionally some weird Scottish knock-off too.] [bat: You've forgotten Heartthrob's terrible Southern accent.]
The daughter explains to her mother the Duchess that the Ponies are The Little Ponies and the Duchess is all, oh right! And immediately says "BON-JUR PONIES!" in a Jersey accent. Something tells me this "duchess" is a fake.
The Ponies… bow? It's not a curtsy. And try to speak of being honored but the Duchess cuts them off and says it's time for grub, she's starving. Yes, this is going well. Not suspicious in the least. She hurries her daughter out of the room, carrying the little dog in her hand as if it's dead. I mean, look, its tongue is sticking out and I'm pretty sure it has Xs for eyes! What the fuck, animators??
Side wipe to a banquet room that looks unlike any banquet room I've ever been in. I will give credit when it's due: the animators realized that Ponies do not use chairs, so they just left them standing at the table, while the human(?) guests are all seated on the opposite side. For some reason we briefly see the NBTP's strollers in the wide shot. Okay.
The Duchess bangs her fists on the table, rattling all the dishes, demanding more cushions. She's seated at the table in what looks like a normal fashion, albeit the chair is gaudy AF and I can't say it doesn't fit in with the decor, because there's no decor to fit in with. A servant brings another cushion to prop up the Duchess' ass. Why not bring a booster seat?
One of the gentleman seated to the Duchess' left is explaining (to the Ponies?) about how ever since the Duchess took the throne – immediately the Duchess cuts in and tells him to "watch it". Well, there's your plot twist. The Duchess isn't likely to be an actual duchess and has somehow usurped the throne. Let me guess, mystery girl is queen? Princess? The "missing" brother is the titular "prince" in the episode title?
Sigh. Well, I still have to sit through this for the recap.
The Duchess, after the gentleman grovels and changes "took" to "ascended", announces she's happy the Ponies are here, with their NBTP. Her daughter pops into frame and I am very much reminded of Darla.
Why… why would you bring new-born twins, let alone BOTH SETS, to the banquet room? We get a shot of all four in their strollers, cooing loudly before returning to sleep. The Duchess demands the NBTP be taken to the Ponies' rooms. Uh huh. "Napping" is totally going to happen.
Heartthrob, oblivious to what the fuck is about to happen, announces there was a strange girl in their rooms. The Duchess forgets to whisper and immediately inquires of the gentleman to her left, "I thought you locked Suzette in her rooms!" His excuse? SECRET PASSAGE!
Suddenly, the Duchess' head is 50 times larger than her body, which is real odd since she was proportioned normally seconds ago. Sigh. She tells Heartthrob she was seeing things. While Heartthrob gets angry and insists she totally did see a girl in their rooms, the Duchess picks up a whole chicken (turkey?) with her knife and fork and begins to gobble it whole. Man, this is a shitty episode to end the series on.
"Watch yer mouth, sister, you could be put out to pasture, ya know!"
BUT, because there's a whole PLOT B involving the FTBP – which will undoubtedly collide with PLOT A – we return to Paradise Estate where the totally unsupervised FTBP are kneeling in a circle when Baby Tic-Tac-Toe announces she has an idea, in baybee tawk, of course.
Oh, my bad, Spike is there. STILL NOT AN ADULT.
Baby Tic-Tac-Toe decides they need to, as a group, "kwrash" the party. Uh huh. All five get up and gallop away while Spike sits there, reaching out futilely, saying it's a bad idea. He also decides if they're going, he's going with them. Yeah, I will not miss G1 Spike at all. [Dove: Is any Spike of any generation good? I find him insufferable in FiM too. I haven't seen much of Tales or the G3 movies though.]
Over at the palace, the Ponies are returning to their rooms. Cherries Jubilee is loudly announcing her opinion that being upper class doesn't make one "classy". Well, duh. Heartthrob is having some sort of medical malfunction, as her head bobs up and down while the rest of her body moves normally. Maybe it was something she ate? Are you seeing this, Dove? Heartthrob wants out of the palace. Well, you're the ones who decided a random invite to a party being thrown in honor of your new born children was worth attending!
And that's when Heartthrob finally notices what we've already seen: the NBTP are missing. I told you, "napping" would happen! [Dove: As always, A+ parenting!]
Yes, Cherries Jubilee, NEW BORN TWIN PONIES TOTALLY ESCAPED THE ROOM ON THEIR OWN FOUR HOOVES WITHOUT ANY HELP. WHAT THE ACTUAL FUCK. The Ponies run to find their neglected children but the doors open and three faux French soldiers stop them. As they advance on the Ponies, one announces they are all under arrest.
Now we've got some kind of hostage crisis on our hands.
OUT IN THE DARK, GALLOPING AWAY WITHOUT KNOWING WHERE THE FUCK THEIR HEADED, SPIKE RUNNING TO KEEP UP, HERE GO THE FTBP, OF TO RUIN THE PARTY FOR THE NBTP, BECAUSE JEALOUSY IS A COMMON FEELING LEARNED EARLY BY ALL PONIES.
HERE'S A GODDAMN SONG TO SPEED UP EXPOSITION BECAUSE WE'RE HALF WAY THROUGH THE EPISODE AND HAVE TO WRAP THIS UP FAST.
Wow. The last stupid G1 song I have to sit through. All kinds of final moments in this recap.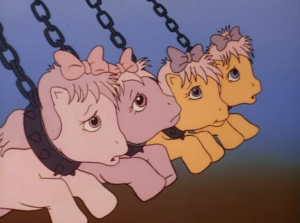 Let's recap: the FTBP are "mad" at the NBTP and wish monsters would "meet" them. They also want the "new born brats" to be electrocuted by lightning. There's talk of someone turning the NBTP into "pets" with spiked metal collars (ala Escape From Midnight Castle?) before the FTBP would break into laughter and jeering as the NBTP were "choking". Yeah, this is an excellent song for children. I know we have sat through so many songs through out this series but this is one of the goddamn worst and probably the most disturbing one of all.
Spike attempts to temper the FTBP by reminding them the NBTP are just "babies" and the FTBP are talking out of "spite" WELL, WHERE DO YOU THINK THEY LEARNED SUCH BEHAVIOR, SPIKE? OBVIOUSLY THEIR MEAN GIRL "MOTHERS".
You know, rewatching these cartoons makes me thankful that I, for the most part, ignored the characterizations of the Ponies and created my own personalities for various Ponies as I played with them. All the canon personalities created by this cartoon series have made me hate 99% of the Ponies I would regularly play with in toy-form.
Spike: "You don't want to see them hurt!"
Baby Tic-Tac-Toe: "Why not? It sure would serve them right!"
EXCELLENT JOB AT PARENTING, PONIES.
Ponies have neither empathy or sympathy. They're jealous, spiteful mean girls who take no active part in their community unless it benefits them. They rely on others to solve their problems, care for their "children", and make tough decisions. DON'T BE LIKE THE LITTLE PONIES, KIDS. [Dove: … is this cartoon responsible for the Karen epidemic?]
I get it. Most kids who grow up with younger siblings have a jealousy phase. But it's true of only children, too, who go through a similar jealousy issue when they find themselves in a social situation or school setting and aren't the center of attention. It's important for kids to learn and grow from these situations, into well-adjusted adults. Unfortunately, this cartoon is botching the fuck out of this lesson and it pains me, watching it.
Welp, the Adult Ponies have been thrown into a proper dungeon, complete with barred door, which is properly drawn so they cannot walk through the bars. Kudos for getting one thing correct in this final episode.
Cherries Jubilee is so focused on "saving" the NBTP, she can't even figure out that the Ponies need to get out of the dungeon first. Let alone none of the Ponies SEE THE DUDE SITTING IN THE CORNER OF THE CELL until he starts talking in a cheesy faux French accent about how he knows every "corner and timber" of "zee palace". I JUST WONDER WHO THIS GIT COULD BE.
"There's no way out of this dungeon. I AM THE PRINCE PHILLIP DE BRANDFORD!" What the fuck kind of introduction is that? Maybe pause? Maybe introduce yourself before you smash all hope?
Oh. The "duchess" was formerly Prince Phillip's scullery maid. For those not familiar with the term scullery, it basically means bitch worked in the kitchen doing prep work with food stuffs. She wasn't even the cook / chef, she was lower than that. But watch, this cartoon will twist it into her being the cook.
"The Duchess is… your cook!?" Called it. Thanks, Ribbon.
And the way Ribbon says that, like, screams privilege. Even Heartthrob has to put her two cents in. And I'm wondering, since when the fuck do the Ponies have servants? I mean unless they're invisible or always off-screen, I've never seen them or heard mention of them. The Ponies just always have baskets of picnic foods ready to go. Or ice cream. Or whatever. Yes, I know Cupcake bakes but that's more of a hobby then a job. Let me guess, they get food BY MAGIC MEANS. Because otherwise those Ponies would starve, they wouldn't be able to turn the oven on. [Dove: You know how the Sasswoolies always rock up with woollycakes? I figure they just have teams of the little sassballs in the kitchen at all time. Those fuzzy little buggers can cook. And they're so agreeable!]
After Cherries Jubilee demands Prince Phillip help them, he points out obstacle number one: the metal barred door, which for once is built in a way nothing can slip through the bars. I know it's 30+ years after the fact but I feel like through some sort of time travel the writers / artists heard Dove and I bitching about this and finally fixed this issue.
Escape isn't entirely impossible. There is a key, on a ring, held on the belt of the sleeping guard. OH SHIT UNICORN MAGIC HAPPENS! Buttons concentrates and her horn glows and the key gets "tugged" but Cherries Jubilee is there to announce NO GOOD because Ponies are never positive and encouraging, only negative and discouraging.
I don't know what the fuck just happened but one of the Unicorns just magic'd the belt buckle open, slipped the belt from around the guard's waist, then floated the key ring over to the cell, which Prince Phillip grabbed from the air and immediately used to unlock the door. Now we know Buttons just tried using her magic to get the key but this time, MAGIC JUST HAPPENED ON ITS OWN BECAUSE THE SHOT CLEARLY SHOWS THE UNICORNS STARING IN SHOCK WHILE DOING NOTHING.
Prince Phillip and the Ponies exit the cell, which immediately slams behind them. For some reason, Prince Phillip left the key in the lock, basically abandoning their tickets through the castle. Of course the noise of the door slamming shut awakens the guard, who runs after the Ponies, but his pants fall down, revealing red boxers with white polka dots. You know, because his belt was removed. He crashes to the ground.
Prince Phillip touches a stone in the wall, revealing a secret door. I have serious issues with how this works but at this point, I'm already so over this episode, I will not go into detail complaining about it. He leads the Ponies into a secret tunnel, just as the door slams in the guard's face. Ha ha.
Outside the palace, Spike and the FTBP are standing in front of a wall while Spike complains there's no way in. Um. Did you bother to go around the house until you came to the double stairway entry? Did you just pick a random fucking wall and decide it was the entryway? This is dumb.
Baby Tic-Tac-Toe announces if she "think hard enough" there will be a way in. Um. She's not a Unicorn. Suddenly a door that was NOT THERE OR EVEN HINTED AT appears in the wall and opens, revealing Suzette. Now, there is a wooden frame drawn around that "secret" door. So, bullshit. Absolute bullshit. [Dove: Gosh, that's awfully convenient.]
Suzette insists the FTBP and Spike must come with her. Okay, sure, why not.
Prince Phillip opens another secret door into a hallway and is shocked to see the palace guards all standing there. He literally shouts a bunch of French words as he and the Ponies run the gauntlet, right through the middle of the guards, and the guards just brandish their swords before we side-wipe to the next scene.
Which is Suzette leading the FTBP and Spike into a room with a weird landing/balcony staircase. She tells them to "Look!" and Spike and the FTBP all do a double take complete with sound effect.
"Not Darla", the "Duchess"' daughter, has the NBTP on the floor of her… nursery? and all of them are wearing metal collars on metal chains. The NBTP are screaming and hollering, trying to get away as "Not Darla" pulls on the chains and yanks them back, telling them they are now her pets, just like "Mama's". I mean, there are GIANT PADLOCKS on the metal collars, probably weighing down the NBTP. This is decidedly dark and disturbing, a place this cartoon has gone many times before, but at a new level. I mean, Dove and I have discussed multiple times how much this show loves story lines that involve enslavement. This is just a new level of low, enslaving newborn babies. [Dove: On a lighter note, surely Not-Darla will regret it. Those baby cries are insufferable.]
The FTBP realize their wish has come true but Baby Lickety-Split admits she no longer feels good about the desire to see the NBTP chained and enslaved. Uh huh. Baby Quackers announces they must save the NBTP, running into the hall. But as the others follow, Suzette screams about the guards being there, drawing the guards' attention. Why do characters do that??
That's when the FTBP all get angry expressions, lower their heads, and begin to charge the guards, because the guards aren't going to stop them from saving the NBTP. Um. So many questions. One of them is WHY DO ALL THE FIRST TOOTH BABY PONIES ALL HAVE THEIR "FIRST TOOTH" IN THE SAME POSITION IN THEIR MOUTHS? HELLO?!
Else where in the hall, Prince Phillip and the Ponies are cornered by a guard against a table (?) Prince Phillip grabs a vase off said table and throws it at the guard, who catches it and drops his sword. Prince Phillip does a fancy dive and roll, grabbing up the sword. Sure. Why not. He immediately begins to duel two guards at once. Who the fuck do you think you are, Porthos?
Buttons, Posey, and Cherries Jubilee literally pull the rug out from under the two guards, causing them to fall. Prince Phillip congratulates the Ponies on doing something for a change before another "secret" door opens and Suzette grabs Prince Phillip and pulls him into a tight hug. Um. I have a real hard time believing their just siblings. [Dove: I missed the "my brother" comment earlier and kept wondering if they were married or something.] [bat: Well… maybe they're the faux French versions of Jamie and Cersi?]
The Ponies just wander into the secret passage. I guess all the guards have been rendered incapacitated and/or have given up chasing them. Makes complete and utter sense. Suzette sees them and announces their friends arrived and then we have the ultimate product placement: "THE FIRST TOOTH PONIES!" Firstly, they aren't friends, they are CHILDREN. CHILDREN OF SAID ADULT PONIES. Secondly the proper product name is FIRST TOOTH BABY PONIES. The script writers couldn't even get that right??
"WHAT?!" Cherries Jubilee apparently has the most lines of any of the Ponies in this episode.
Suzette announces the guards are chasing the FTBP and they must be helped. Okay, you abandoned children to go run through secret passages to randomly find your "brother", hug him, then inform the Ponies their children are in grave danger. Sure. Also, I seem to remember the FTBP going on the offensive and trying to attack the guards.
As I was saying. We see the guards fleeing towards a room with staircases on either side, as the FTBP chase them. With swords in their mouths. Baby Bouncy immediately engages in swordplay with a guard, flying over him as they duel. As they reach the landing, Baby Lickety-Split headbutts him over the railing, sending him sailing to his death. Oh we can't have that? Baby Ponies can't be murderesses? Fine. He lands in the conveniently placed fountain and surfaces, spluttering.
Two guards appear and one knocks the sword from Baby Bouncy's mouth. Prince Phillip randomly appears on the opposite balcony (because plot says so) and immediately jumps to grab the chandelier, swinging on it, to throw himself into the three guards who are now just standing there instead of actually harming the FTBP. They all roll down the stairs.
"TO MAR-GET'S ROOM!" Prince Phillip yells. Does he actually mean Margaret? I swear, this shitty faux French stuff is insulting.
"Not Darla" is still torturing the sobbing and wailing NBTP when the "Duchess" arrives and tells her to forget the Ponies, they have to return the Prince back to the dungeon. How? Your guards have all failed at doing so. Prince Phillip yells at the "Duchess" but Suzette screams the guards are coming. "LET THEM!" Prince Phillip announces, as the guards run and grab him, Suzette, and the Ponies. Prince Phillip demands the guards look at their "Duchess" and how she treats "innocent, defenseless babies!" as we're shown the "Duchess" and "Not Darla" standing over the chained NBTP.
"Men, "'ose side will you choose?" Geez Prince Phillip, you're kind of cocky, maybe the guards are down with children being enslaved. Weirder shit has proved true on this series.
Do I even have to say it? Of course they choose Prince Phillip. The guards cheer their swiftly changing allegiance as the "Duchess" quakes and sweats(?) in fear. Prince Phillip announces she can have her old job back, as we cut to a scene of her and "Not Darla" being tossed into the kitchen. They land in a giant tub (?) of soapy water filled with dishes (??!), sputtering as they surface. "You had to have a pet, didn't you!" Bellows the "Duchess" at her daughter. I'm not sure why we were shown a huge tower of dishes wobbling but whatever. [Dove: So… it's all good then? For trying to steal the throne, their punishment is… being working class?]
SMASH CUT TO PRINCE PHILLIP ON THE THRONE. MY GOD, WHAT A TERRIBLE OUTFIT. He looks like a discount Sir Elton John without the flair and pageantry. Or glasses. He's telling the Ponies he owes them a "great debt" for helping to restore him to his throne. NO YOU DON'T. THE PONIES DID SHIT. THREE OF THEM PULLED A RUG OUT FROM UNDER GUARDS. NO UNICORN ACTUALLY MAGIC'D THE KEYS OFF THE GUARD'S BELT. YOU'RE JUST SAYING THAT BECAUSE THEIR NEW-BORN TWINS WERE CHAINED AND YOU DON'T WANT TO GET SUED.
"I'd say we're about even," Cherries Jubilee tells Prince Phillip while the NBTP giggle along with FTBP.
THE END. FOREVER.
Final Thoughts:
What a fucking disaster.
I'm struggling to keep my thoughts strictly to this episode, because I want to talk about this series as a whole and this episode is a near-perfect example of how fucking stupid the majority of the episodes are. This is tough. Keep it focused, bat.
SO MANY FUCKING MISSED OPPORTUNITIES. As I said, they had a whole loose thread right there with Scorpan that they could have tied in a neat bow, bringing the series full-circle. But no. I don't think many cartoons in the 1980s had a lot of foresight; it was all about SELL THE TOYS and the cartoon was the marketing vehicle of choice to shill the toys to children. Was storytelling a point of pride and purpose? Nope. I mean, He-Man and the Masters of the Universe was all about whatever fucking weird names the designers came up with while high and sure, there's a much more stable backstory to He-Man compared to the Ponies but the point is still the same: 10-minute bite sized chunks of animation used for long-form commercials.
Unfortunately, even in this era of the Internet where we're able to find a lot of trivial info, I cannot find much if anything about how the decision was made to kill the cartoon. I know there was something in The Toys That Made Us episode that focused on My Little Pony but I don't have Netflix anymore and I'm too lazy to go find a way to watch it and find that info [Dove: Oh, but that episode is sooo good, bat.]. I don't remember it being really focused on; more like sales were down, the Ponies were into a sixth year of toy production, and things like that… they die off. It's inevitable. The next hot toy comes along. Yeah, I know, there were about 4 more years of MLP toys that followed but I can tell you that my interest seriously waned around age 10 and I was almost totally over MLP toys by the time 1992 rolled around.
BRINGING THIS BACK TO MY POINT, I wish I knew what the message was when it came to this episode, and the handful prior to it, about the show being cancelled. Did anyone care? Were they just there to ride it out and get it over with and who cared what was written so long as it was animated and able to shill that last drop out for the new toy lines? We know, from all my CAPSLOCK RAGE in these recaps, that no one cared enough to really make a show bible to guide the writers. So why would it be any different when it came to the final episodes?
Or was it a surprise announcement? One that shocked the writers? Did the writers have plans? Beyond shilling the toys? We aren't going to know. At this point, I don't know why I'm bothering to invest any care into this, it just bothers me.
It makes me sad that the final episodes of this godawful series are dedicated in such a very visible fashion to three different toy lines, without proper introduction or reason. Shoehorning two different lines into a single episode is really insulting. Yeah, I've said it above, the purpose of the cartoon is to sell product but Season 2 was like ridiculously transparent at the cash grab. At least with Season 1 it was all HEY HERE'S THE PONIES THIS IS FUN OH YEAH YOU CAN BUY THEM AS TOYS!
Season 2 is loud, obnoxious, and offensive in the HEY WE FUCKING MADE PRINCESS PONIES! BUY THEM! OH AND NOW THERE'S BIG BROTHER PONIES! BUY THEM, TOO. AND HERE'S BABY PONIES THAT HAVE THEIR FIRST TOOTH AND ALSO NEW BORN TWIN BABY PONIES BECAUSE HASBRO NEEDS MONEY DEMAND YOUR PARENTS DRIVE YOU TO THE TOY STORE RIGHT THIS MINUTE AND BUY BUY BUY!
I know, storytelling has never been a strong suit in this series. Yes, we've had some memorable moments – none are coming to mind but that's what recaps are for – but looking back at G1 when I lived through a pretty-damn-awesome reboot that was built by someone who grew up with G1 and realized the potential and chose story telling and world building instead of shilling toys… it's like night and day. [Dove: At the risk of creating a tangent, I'd say G4 went too far in that direction. They built this wonderful amazing world that even grownups want to play in, and what do they do? Release the same six toys over and over for a decade. #StillBitter]
What can be said about this episode that I didn't say in the recap? It's dark AF. It's another chapter in the "let's enslave ______!" in the series' history. Let's show again how terrible the Ponies are to one another and also how completely fucking stupid they are. Also, let's throw in random humanoid characters that have never been seen, that are also living in Ponyland, and have them interact with the Ponies but of course make it dark and fucked up, because kids can't grasp anything but basic "good vs evil" concepts. And on, and on, and on, et all, ad nausem.
I'm burned out. I'm frustrated and disappointed, and Pony magic will now never be explained.
I guess that's it. What a bummer way to end a recap, especially a recap that marks the series ending. I'm sure Dove and I will do some sort of overview final thoughts post, because along the way a LOT has been discussed behind the scenes. If we can remember all of it. This has been a long journey and I'm pretty sure we're both exhausted.
Until then, goodbye Ponyland.
[Dove: I can't believe we're finally at the end of all this. It's been a wild ride, but I feel like I've forgotten most of it, for all the reasons bat points out. Storytelling is not a priority, and they actually suck at shilling the toys too. Nothing about the series really sells me on any of the playsets (except the movie on Paradise Estate, maybe).
But back to the recap at hand. I've already forgotten the entire story. Party, babytalk, fisticuffs, end with everyone laughing heartily. If I had my way, I'd at least swap Somnambula to the end, so the series ends on a proper story, because this is just a damp squib. Utterly unengaging. And WHY IS EVERYONE FRENCH?]