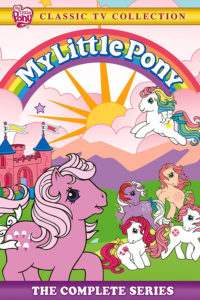 Title: Woe is Me [Dove: So. Fucking. True.]
Summary: A hobo with horrible luck takes shelter with the Ponies. Disaster and destruction of various play sets follows. Buy our merch so your little brother can destroy it, says Hasbro.

Grade: D+

Initial Thoughts:
I'm back! I mean, did I ever really leave? No, I just got a break from this utter nonsense. Turned a year older, clearly not all that wiser, since I've returned with another recap of a very stupid episode — actually, it's probably easier to list the decent episode(s?) of MLP instead of the stupid, since the stupid ones are a dime a dozen — and Game of Thrones is on its way out the door into history so I need a distraction from all that.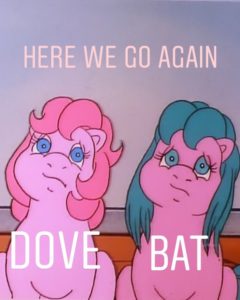 This episode is one I have vague memories of, in that I remember the… would you even call it a "guest star", I mean it's clearly the "insert character of the week" who shows up so the Ponies have something to do / solve / torture. Just like in the giant random puppy episode, there is no Megan in this installment, so the Ponies have to use their tiny brains and think for themselves how to get out of this mess. No white girl savior tropes this week!
Shall I repeat that? THERE IS NO STUPID MEGAN THIS WEEK WHICH IS A GIFT TO ME!!
Better get into this before I get entirely too happy over that turn of events, because you know nature abhors a vacuum, thus something will fill that vapid hole where Megan is missing…
[Dove: I never thought about it until you mentioned it, but how unimaginative must the writers be if the basic plot of the unverse is: "There are multicoloured ponies living in a magic land, some do magic, some fly, some don't. Run with it." And their first act is "Welp. Let's get a human. And if she's not around, we'd better write in extra characters, because otherwise, WE HAVE NO PLOT."]