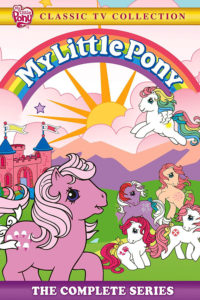 Title: Spike's Search
Summary: Spike suffers from an inferiority complex when his "flame" is "too small". Megan makes things worse by telling Spike, it's not the size of the flame, it's how you use it. Spike runs off to find more dragons with Danny for accompaniment. WAIT, WHY IS DANNY BACK??

Grade: (a big fat) F

Initial Thoughts:
Welcome back to yet another recap in which Dove and I chronicle our descent into the 17th circle of hell that is known as My Little Pony and Friends. [Dove: Actually, it's 'n Friends. The apostrophe makes it cool.] At this point, can you even find differences in our recaps? Excluding the title changes, they're practically the same.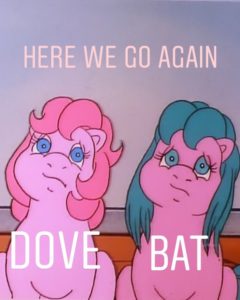 This show sucks but we're not quitters. We fight the good fight and continue to sit through this dreck, slowly losing our minds. We will be different people by the end of this nightmare, but stronger and more wary of taking on complicated recap projects, perhaps. (I say this as I've already committed myself to at least two other cartoon recap series that are non-MLP related. I'm stupid, what can I say.)
If I didn't hate Spike already, I get the "very special Spike-centric" episode to recap. Didn't I already do one? You know, I shouldn't have felt sorry for that plastic toy Spike that got thrown away by my babysitter, seriously, I manage one act of (strange) kindness (compassion? empathy??) and I'm cursed by a fucking little purple dragon for the rest of my life.
Oh well. I'm already nauseated by the fact I am stuffed to the gills with antibiotics, why not make myself feel even worse by tacking this recap?! [Dove: I'm coming at this after a two-day buying binge at PonyCon, followed by watching the final episode of FiM. I'm utterly broken. I suspect I'm going to be very bitter throughout this recap. (If you didn't well up during the final few episodes of season 9, you're probably made of stone.)] [bat: I am 9 episodes behind AND they have not aired the final three episodes in the States yet. So I am clueless as to what happens.] [Dove: Note from the future, the above was true for half the recap, but life intervened and we both were away from this recap (which can only be a good thing) for a few weeks. So if anything seems to not match the PonyCon/season finale timeline, that's why. Also, bat has now watched the finale. She has a heart of stone. I ugly cried. All three times I watched it.] [bat: I CRIED AT THE FLUTTERSHY PART! My heart is only 2/3rds stone.]